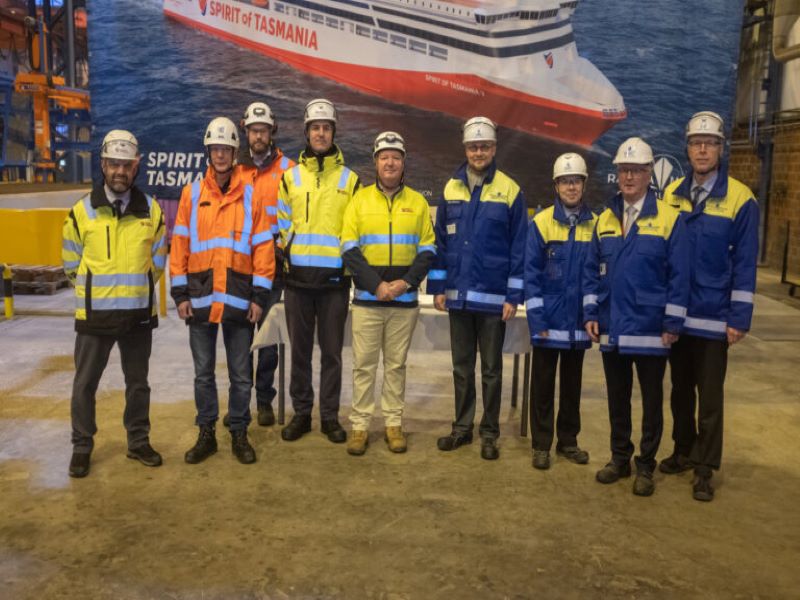 Rauma Marine Constructions (RMC) has commenced building the second liquefied natural gas (LNG) driven car and passenger ferry for Spirit of Tasmania (TT-Line Company) in Finland.
The company held a steel-cutting ceremony for the new ferry, Spirit of Tasmania V.
RMC started construction on the first vessel in February this year and conducted the keel-laying ceremony in late October.
The ferries will operate on the world's southernmost sea route between mainland Australia and Tasmania.
They will sail on an 'extremely challenging' route across the Bass Strait between Geelong, Victoria and Devonport in Tasmania.
The vessels will feature advanced dual-fuel engines that can operate on LNG.
With a gross tonnage of around 48,000 metric tonnes, each ferry can accommodate 1,800 passengers.
RMC plans to deliver the Spirit of Tasmania IV in the first quarter of 2024, and the Spirit of Tasmania V in late 2024.
Spirit of Tasmania CEO and managing director Bernard Dwyer said: "As the new dimensions indicate, these ships are much bigger than the current vessels – featuring substantially larger capacity for passengers, passenger vehicles and freight – and will be a major contributor for the economy of Tasmania for 30 years to come."
RMC CEO Mika Heiskanen said: "As the production of the first Spirit of Tasmania vessel is proceeding well, it is wonderful to continue the production of the line in good collaboration with the client."
Recently, RMC delivered the new fast passenger ferry, MyStar, to Tallink Superfast, which is a unit of Estonian shipping company Tallink Grupp.