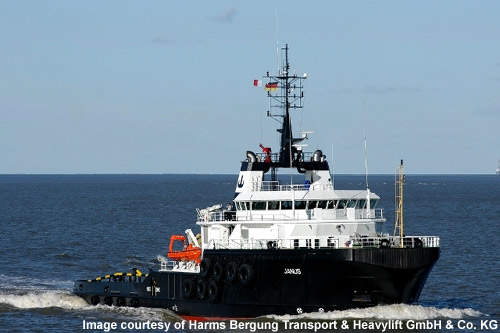 The AHT JANUS was launched in October 2007.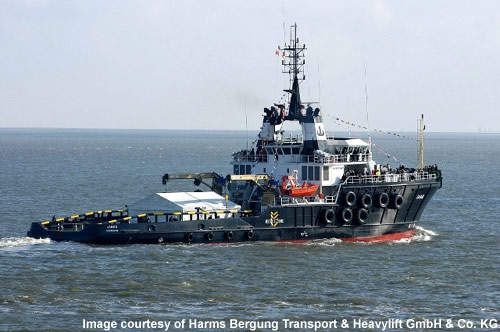 Her first project will be in the North Sea towing an FPSO into position.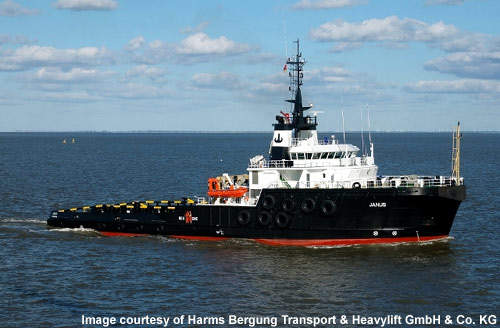 The AHT JANUS is outfitted for 27 crew.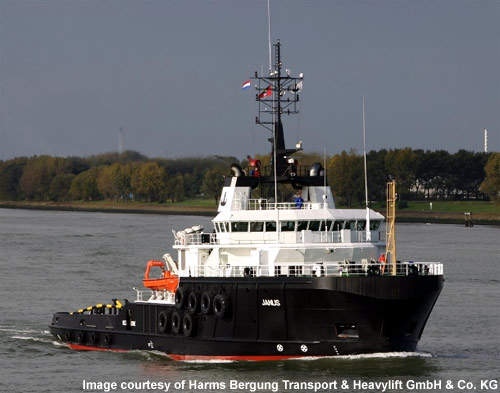 The AHT JANUS is an ocean going tug and will be able to complete projects all over the world.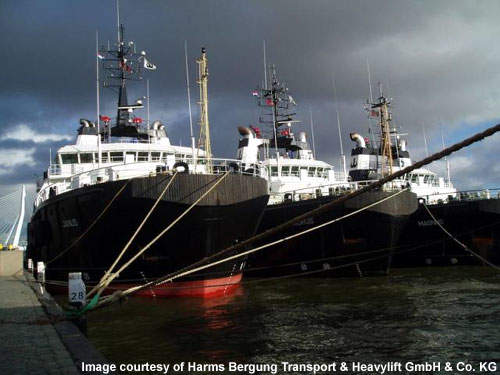 The JANUS with her two sister ships in harbour.
The AHT JANUS is the newest ocean-going tug to join the fleet of Harms Bergung Transport & Heavylift GmbH & Co KG of Germany. The tug was constructed at the Mützelfeldtwerft shipyard (yard number 254) in Cuxhaven, Germany, and was launched in October 2007.
The vessel has an overall length of 65m and a perpendicular length of 58.85m. The overall breadth of the ship is 18.5m and the design draught is 6.8m. The vessel is designed to carry out towing projects across the world, with its first service towing the FPSO Sevan Hummingbird from Rotterdam to the offshore Chestnut Field in the UK sector of the North Sea.
ACCOMODATION
The ship has berths for 27 crew, with seven officer cabins and nine crew cabins. There is also a galley, a mess, stores and sanitary facilities.
PROPULSION SYSTEMS
The vessel is powered by four MaK Diesel engines (2 x 6 L 32/40 and 2 x 8 L 32/40 main engines with a maximum output of 14,000kW at 750 rpm). The engines are connected to two gearboxes with a clutch to drive the two controllable pitch propellers and a diameter of 4.5m.
"The vessel is designed to carry out towing projects across the world."
These are two Schottel-type SPC 119-4 XG controllable pitch propellers with a speed of 140 rpm. The auxiliary propulsion systems are three 330 T-LK CP Schottel transverse thrusters (with a 400kW output capable of 1,470rpm and a propeller diameter of 1.29m).
The vessel also has two flap type performance rudders and can make a maximum speed of 17.2kt.
The ship has two firefighting pumps driven by the main engines with a capacity of 1,200 cbm/hr at 14 bar. The ship has a bunker capacity of 2,440 cbm for heavy fuel oil and 190 cbm for marine diesel oil.
WINCH SYSTEMS
The towing winch on the AHT JANUS was manufactured by Hatlapa and has a capacity of 150t, pulling with a speed 10m per minute (300t pull at 5m per minute). The towing cable has a length of 1,600m with a diameter of 76mm (a spare 76mm towing cable has a length of 1,200m).
There is also a work winch with a 300m cable. For chain handling there are two wildcats for both 3in and 5in chain and storage in two chain lockers of 33.75 cbm.
The vessel has a working deck area of 297m² and is equipped with two Palfinger Marine hydraulic cranes (3t, 12m), two towing pins and two Karmoy stoppers. There are also two tugger winches (10t at 15m per minute) on the aft deck. A 50 hp rescue boat is installed on the starboard side.