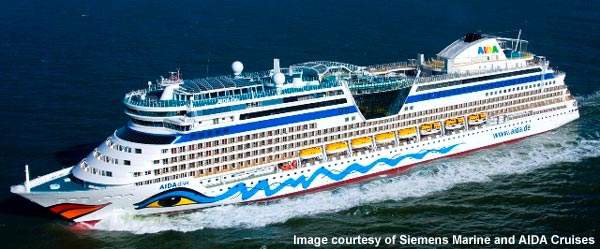 The Aida Diva is the first of six new builds for Aida Cruises, worth more than €2bn.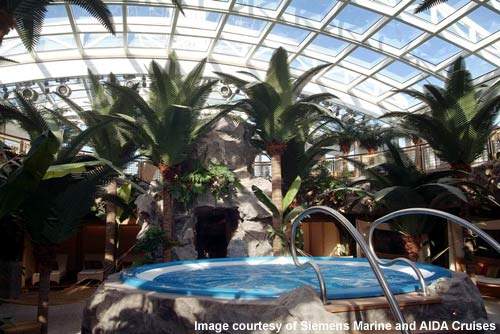 The Aida Diva has a 2,000m² 'wellness oasis'.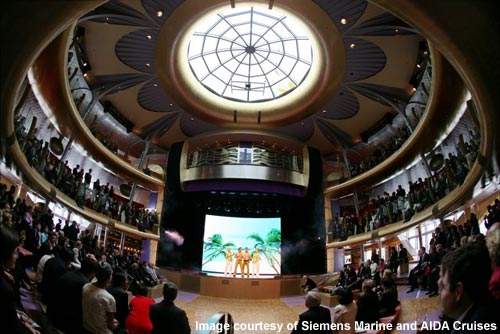 The Aida Diva's three deck-high, glass-enclosed 'Theatrium'.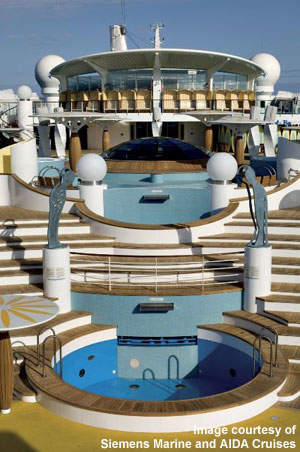 Part of the Aida Diva's pool deck.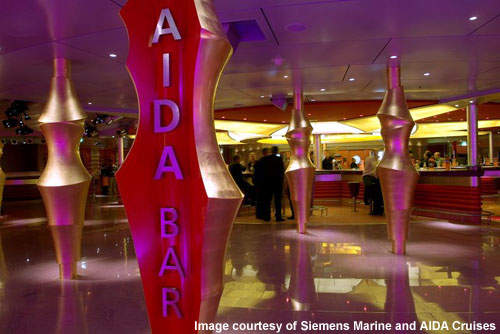 The Aida Bar.
The Aida Diva is the first of a €2bn order for six new ships being constructed for German-based cruise operator Aida Cruises, a subsidiary of P&O.
The Aida Diva, which cost approximately €315m, was built by Meyer Werft at its Papenburg yards and is the first in the Sphinx-class of vessels that will have a gross weight of 69,200t. The Aida Diva is able to carry 2,050 passengers (1,025 double-occupancy cabins) and has a crew complement of 646.
"The Aida Diva, which cost approximately €315m, was built by Meyer Werft at its Papenburg yards."
The Aida Diva was delivered in 2007. The Aida Bella was delivered in April 2008 followed by the AIDAluna in March 2009 and the AIDAblu in February 2010. The AIDAsol is expected to be delivered in 2011, while the sixth and final ship, the AIDAtime, will be delivered in 2012.
Cabin configuration
The ship's accommodation includes 18 suites (24m² to 44m² ), 439 balcony cabins (14.5m² to 17m²), 218 window cabins (14m² to 16.5m²), 368 inside cabins (13.5m²) and 133 four-berth cabins. All of the balcony and window cabins are fitted with a sofabed. The proportion of outside cabins is 65% and of these, 69% have balconies.
Spa and sport facilities
The Aida Diva's fitness and spa facilities are located above the bridge. This facility has been designed around the concept of a 2,000m² 'wellness oasis', which is covered by a sliding glass roof. The area has palm trees, cabana-style beds, hammocks and a large Jacuzzi.
The spa features 14 treatment rooms (offering shiatsu, massage, thalasso and hot stone treatments), sauna and steam room (lit by fibre optic lighting). The sports facilities on board cater for a wide range of interests including golf, squash, volley ball, running and fitness track, climbing wall and many other sports. The squash courts are of a special all-glass design, which was supplied and installed by the German company ASB. The floor of the squash court is also constructed of glass (developed by Horst Babinsky) and is mounted on a sprung aluminium base using rubber mounts.
Entertainment
Rather than a traditional theatre, the Aida Diva combines the main show facility and atrium as a three deck-high glass-enclosed room called the Theatrium, which has a total floor area of 3,000m² and a substantial stage at the stern end of the lower deck (the stage can be moved and reconfigured if required for different shows).
Other entertainment areas on board include the pool deck (a variety of pools, cabanas and bars), which has its own stage and disco, the Anytime Disco (interior and exterior dance floor), AIDA Bar, Crew Bar, Piano Bar, Kids Theatre and the TV Studio.
Restaurant concepts
The Aida Diva offers several restaurant choices for passengers, such as the Rossini, Buffalo Steak Restaurant, a sushi bar, the Markt-Restaurant (market restaurant) and Bella Vista, which offers pizza and pasta 24-hours a day. An international restaurant called "Weite Welt" (wide world) serves a huge range of cuisine from Chinese to Scandinavian (buffet style). There are also eleven bars and a casino.
Propulsion and power
The ships propulsion and power systems (SISHIP PAX technology) were supplied and installed by Siemens Marine Solutions. The ship is powered by two diesel-electric main propulsion synchronous units each with an output of 12.5MW, which allow speeds of more than 21kt.
The diesel-electric propulsion systems have also been designed to be environmentally friendly with drastically reduced exhaust emissions at normal loads. A SISHIP DRIVE MV system allows RP3 50% (meaning there will always be 50% propulsion power even with flooding of one water tight section).
The ship has two bow thruster motors of 2,300KW and two stern thruster motors of 1,500KW each. Power is provided by four generators of 12,000kVA and is distributed by two main switchboards (11kV), four main ring units (11kV) and eight distribution transformers (1,000 to 3,500 kVA).
"The ship includes state-of-the-art communications systems."
The engine room onboard is controlled by the SISHIP IMAC system, a process control system which controls and monitors all of the ship's main systems digitally (uses local area networks that cuts down on the quantity of cabling required onboard) and also provides a safety management system, air conditioning control and a fully redundant emergency shutdown system. There are 29 operator stations and 14,000 I/O switches to control the systems.
Ship systems
The ship includes state-of-the-art communications systems. Cisco has installed its Catalyst 3560 and Catalyst 2960 compact switches for use in mobile telecommunications and internet applications in conjunction with Sea Mobile Enterprises (service was initially provided by Geolink, which was acquired by Sea Mobile in early 2007).
To address the problem of cooking smells emanating from the galley and the removal of waste gases, the Aida Diva features oxytec air purification systems, which use a UVC/ozone cleaning system (using a photolytic oxidation process).
Lighting
The ship's lighting system is managed by the DALI light management system (from Siemens) and the lighting units were supplied by Osram. The lighting systems for the public areas of the ship were designed by Hilton Jones and installed by Martin Professional. Many of the entertainment areas on board are lit using LED (light emitting diode) systems.