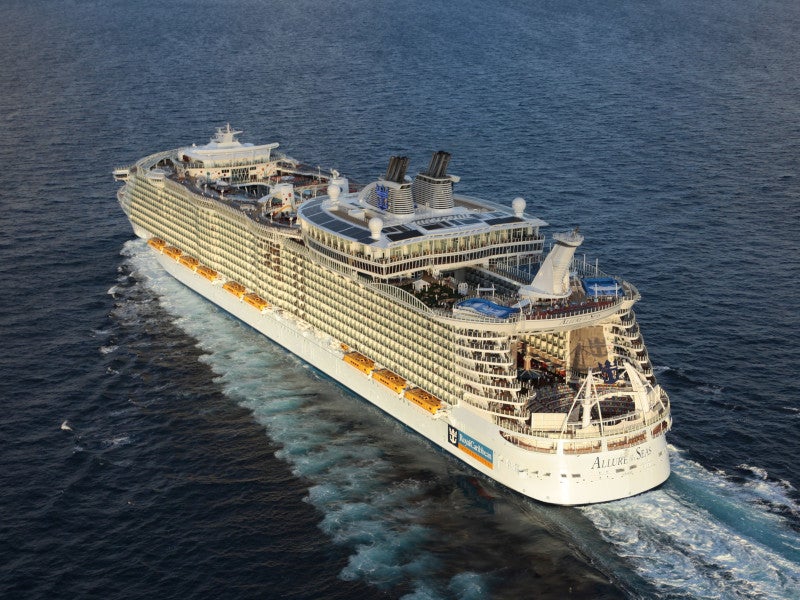 Allure of the Seas is an Oasis Class cruise ship operated by Royal Caribbean International. Credit: Royal Caribbean International.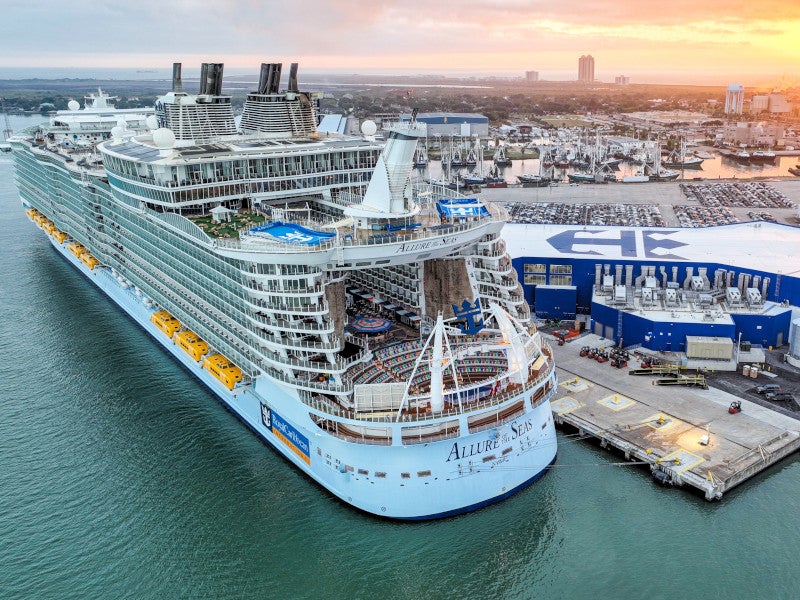 The vessel was delivered in October 2010 and embarked on her maiden voyage in December of the same year. Credit: Royal Caribbean International.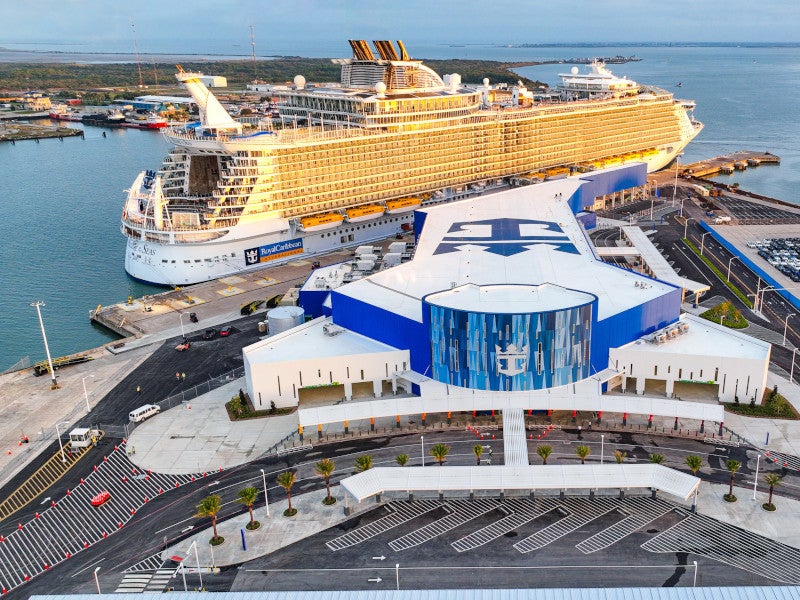 The vessel features environmentally friendly designs such as Tier one NOx systems and an advanced emissions system. Credit: Royal Caribbean International.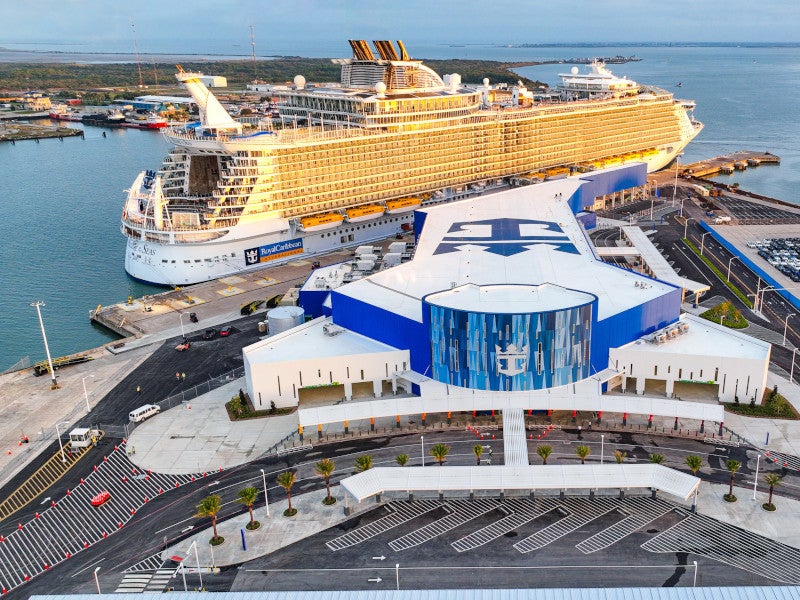 The vessel features environmentally friendly designs such as Tier one NOx systems and an advanced emissions system. Credit: Royal Caribbean International.
Allure of the Seas cruise ship is owned by Royal Caribbean International, a US-based cruise operator.
Delivered in October 2010, the Oasis Class vessel is the sister ship of the passenger ship Oasis of the Seas. The ship was constructed at STX Europe's Turku Shipyard with an investment of $1.2bn.
Her keel was laid at the shipyard in December 2008 and her maiden voyage took place in December 2010 in the east and west of the Caribbean.
The ship was out of service in February 2014 as she underwent repairs at Grand Bahama Shipyard in Freeport, Bahamas, after experiencing bearing wear in one of the propulsion motors.
She underwent a 58-day, $165m transformation in 2019 to include new features such as the Ultimate Abyss, the tallest slide at sea, three new water slides, redesigned Adventure Ocean kids and dedicated spaces for teens.
Design and features of the cruise ship
Allure of the Seas is 1,187ft (361m) in length and 215ft (65m) wide, with a gross tonnage of 225,282t. The vessel spans 18 decks, of which 16 are passenger decks and accommodates 5,484 passengers and 6,780 in double occupancy. The vessel features a total of 2,742 staterooms and loft suites.
The vessel features Tier one NOx systems and an advanced emissions system that removes 98% of sulphur emissions. The ship is also fitted with an advanced wastewater purification system that can treat 530,983 gallons per day. Other features include a reverse osmosis/desalination plant and ballast water treatment system.
Accommodation onboard Allure of the Seas
The Allure of the Seas offers five types of accommodation and includes a wide category of rooms and suites.
The Royal suite class offers three categories of loft suites. The 1,524ft² Royal Loft Suite can accommodate six people, and has its own baby grand piano, inside and outside the dining room, a private wet bar, a whirlpool, a library and an 843ft² (78.3m²) balcony.
Passengers of the Royal suite have the option to book as Sea, Sky and Star class with each class offering special services and amenities from check-in, exclusive access to lounges and concierge services.
Loft suites are spread across 2,000ft² and feature spacious living areas, double-height ceilings, balconies, and floor-to-ceiling windows offering sea views. The bathrooms are fitted with rain shower heads and natural stone and glass tile accents.
Junior suites are also on board, with each type offering different features, interior designs and views.
The ship's other accommodation includes balcony staterooms such as Central Park balcony, Boardwalk balcony and standard staterooms. The ship also offers staterooms with views of the Central Park, Boardwalk and Promenade neighbourhoods.
Facilities onboard the Allure of the Seas
Allure of the Seas has the same facilities as Oasis of the Seas. The ship has seven neighbourhoods along with an AquaTheatre, spa and fitness facilities, a pool and sports zone, an entertainment area and a youth zone.
The landscaped Central Park neighbourhood on deck eight features a themed garden with tropical foliage and an on-site horticulturalist. It includes Giovanni's Table restaurant, Vintages wine bar, Park Cafe gourmet market, Parkside Gallery boutique shopping area and a portrait studio.
Deck four includes Royal Promenade's mezzanine level and promenade bridge. Guests can visit jewellery shops and dine at restaurants and bars. The promenade features Rising Tide, a bar that moves slowly up and down between three decks.
A pool and sports zone are located on deck 16. The deck includes four pools for all ages, four bars and a lounge with whirlpools and a restaurant. The zone also features a sports deck with basketball and volleyball courts, two Flow Rider surf simulators, a miniature golf course and a zip-line.
Vitality at Sea Spa and Fitness Centre is located on decks five and six. The spa includes solo and couple massage suites, a thermal suite, a youth spa and a beauty salon. The fitness centre has a kinesis centre providing studio fitness and yoga classes. The centre has 158 cardio and resistance machines, as well as the largest jogging track at sea.
Allure of the Seas dining and entertainment
Allure of the Seas features 18 distinct restaurants including the Izumi Japanese cuisine, Izumi Hibachi & Sushi, which offers a full teppanyaki menu, fresh sushi rolls and sashimi.
The Sabor Taqueria & Tequila Bar features authentic Mexican dishes, including hand-made tableside guacamole. Guests can also indulge in a curated beverage menu of tequilas, mezcal and Mexican beers, including sangrias and margaritas.
Suite guests and Pinnacle member exclusive, Coastal Kitchen restaurant offers an infusion of Mediterranean influences with California's bountiful farmlands and a robust wine list.
Boardwalk on deck six features a carousel, two rock climbing walls and an AquaTheatre, along with six restaurants, Joney Rockets and Boardwalk bars and a variety of shops.
Deck two is home to Entertainment Place, which offers guests the chance to play at Casino Royale, watch shows at a 1,380-seat theatre and listen to live music in a jazz and blues lounge.
There are also ice shows at Studio B, family shows and comedy acts at Comedy Live and dancing at Blaze nightclub.
The ship's Youth Zone is exclusively for kids and teens and offers Adventure Ocean youth programmes.
The Youth Zone has a toddler nursery, an open gym area for activities and games, a science lab for interactive science activities and a dedicated workshop space for crafts. It also has a teen disco and teen lounge, a youth spa and a fitness centre.
The cruise ship's engines and propulsion
Allure of the Seas features six Wartsila 46 diesel engines with a total power output of 97,020kW. It is propelled by three electric azimuth thrusters of 20MW each and four bow thrusters each with 7,500hp. The ship can travel at a cruising speed of 22 knots.