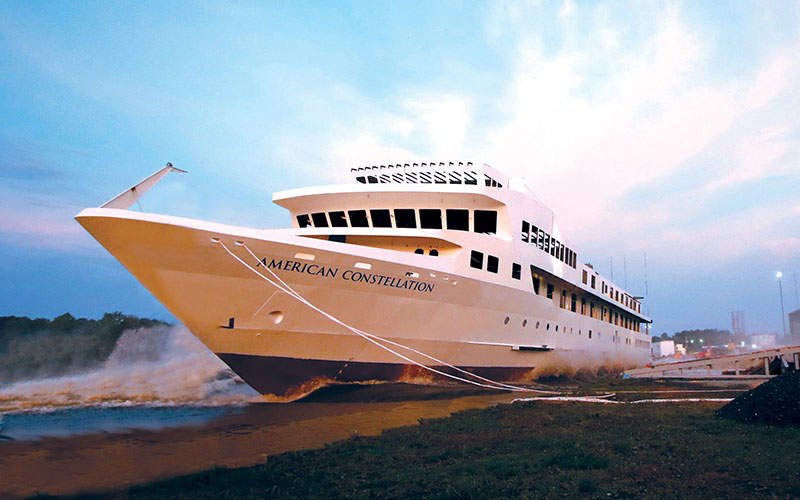 American Constellation is the fifth in the series of coastal cruise ships launched by American Cruise Lines. Image: courtesy of American Cruise Lines.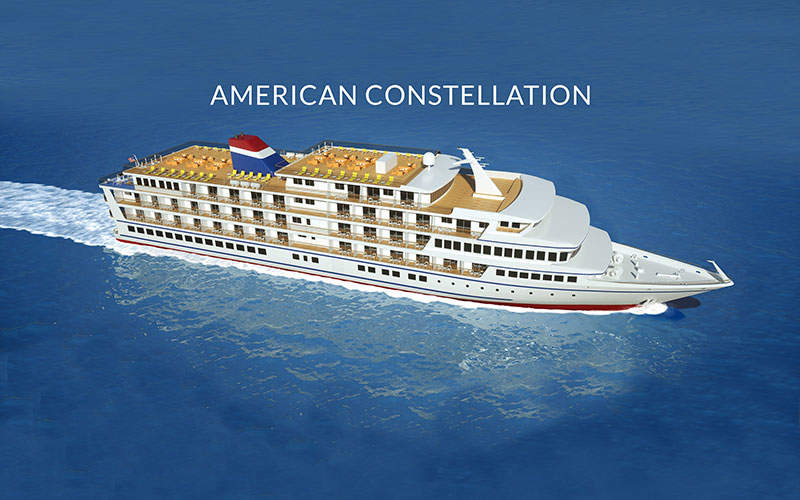 American Constellation was delivered in the first half of 2017. Image: courtesy of American Cruise Lines.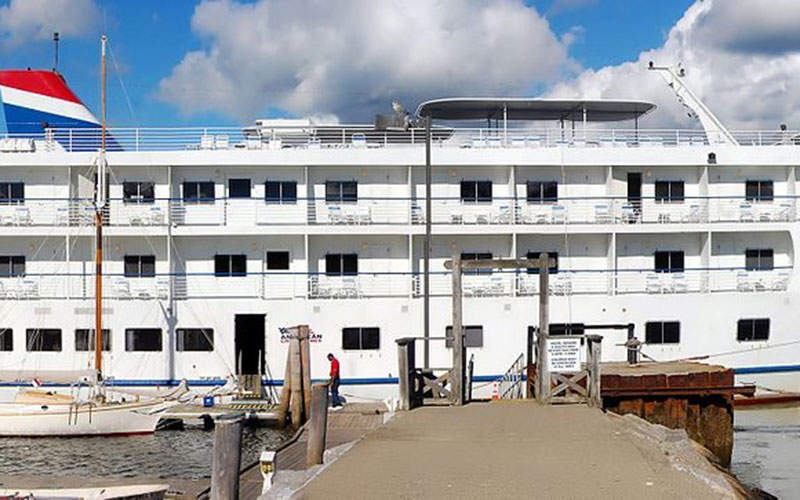 American Cruise Lines also owns Independence, a coastal cruise ship built in 2010. Image: courtesy of Centpacrr at en.wikipedia.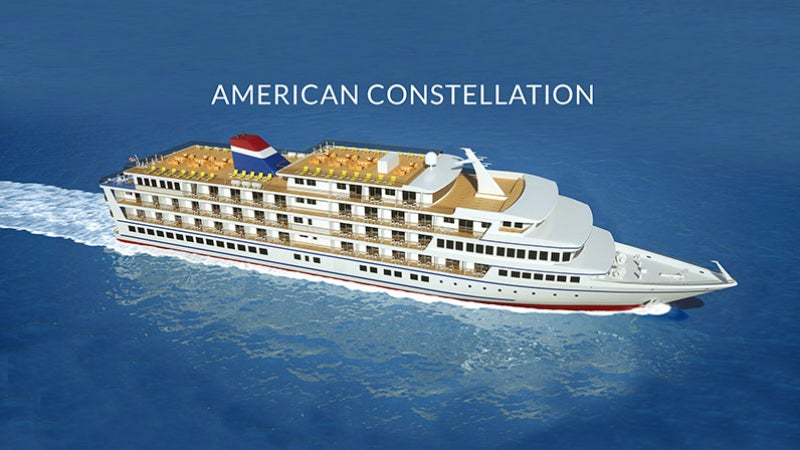 American Cruise Lines, one of the biggest cruise companies in the US, launched American Constellation, a new coastal cruise ship, into the waters of Wicomico River, Maryland, US, in July 2016.
The new ship is part of the company's continued expansion of its all-American made fleet and increased the total number of ships in the fleet to nine. The vessel was designed and built by Chesapeake Shipbuilding in Salisbury, Maryland, US.
Construction of the vessel was initiated in October 2015 and delivery was made in the first half of 2017. The ship began its inaugural cruise in May 2017.
American Constellation design details
Featuring American Cruise Lines' signature design, the new coastal cruise vessel is designed to navigate the inland waterways of the East Coast, taking its guests to the port, which larger ships cannot access.
The ocean-capable vessel, with full-active wind stabilisation, features well-appointed staterooms, spacious lounges, furnished balconies, observation decks, private balconies and other additional features such as zodiacs and kayaks to entertain guests.
Deck plan
American Constellation features a total of six decks, including one main deck and a sun deck on the sixth level.
The main deck houses seven AA-class staterooms, a dining hall, a galley, ship's office, and a vestibule. Deck 2 features 28 AAL-class staterooms, three Class-A staterooms, one AA-class room, one single stateroom, a lounge and a vestibule.
Deck 3 features 19 AAL-class staterooms, two AAC-class staterooms, three veranda suites and a single stateroom. Deck 4 has 15 AAM-class staterooms, one veranda suite, two single staterooms, and a pilot house. The fifth deck offers six owner suites, an exercise room and open space.
Accommodation aboard the new coastal cruise ship
The new cruise ship offers its guests a variety of accommodation options including single staterooms with or without private balconies, A and AA class staterooms, AAL, AAC and AAM-class staterooms with private balconies, veranda suites, and owner's suites.
The 226ft² single staterooms offer modern amenities that include a large picture window, twin size beds and sizable bathrooms. Staterooms with private balconies are 250ft² and feature a twin bed, a large sliding glass door, spacious full-sized bathrooms, and a walk-out private balcony.
The 260ft² Class-A staterooms feature a spacious living area with other passenger amenities including a desk, satellite TV, and a large oversized picture window. Class-AA staterooms  are centrally located with 302ft² space and offer expansive views through a large opening picture window. The Class-AA also features a large closet and hotel-size bathrooms.
The 350ft² AAL-class staterooms have an interior entrance, private walk-out balcony, and a large sitting area. They offer panoramic views and all the comforts of home. The AAC staterooms are of the same size as the AALs and also offer the same comfort levels, but additionally feature sliding glass doors and a private walk-out balcony.
The elegantly furnished AAM staterooms located on Deck 4 offer privacy during the cruise and feature floor-to-ceiling sliding glass doors, which lead to a private walk-out balcony.
Veranda suites have a generous 450ft² of relaxing space and include a private walk-out balcony, full hotel-sized bathrooms, and large living area with a sliding glass door. The suites are well-furnished with additional facilities including a private deck, private walk-out balcony, sitting area, writer's desk, sliding glass door, and a full hotel-sized bathroom.
Amenities and features of American Constellation
"The new coastal cruise vessel is designed to navigate the inland waterways of the East Coast, taking its guest to the port, which larger ships cannot access."
The cruise ship is designed to provide utmost passenger comfort featuring a wide range of facilities, including complimentary Wi-Fi, elevator access, grand dining room, exercise room with the latest equipment, and satellite TV and DVD player in all staterooms.
The cruise features include stateroom service, laundry facilities, individual climate control option, and evening entertainment with music and history from on-board historians and naturalists. Guests are offered breakfast room-service, complimentary cocktail hour each evening, a culinary programme featuring locally-sourced ingredients, and personalised service.
Technology used on cruise ship
American Constellation is installed with Rolls-Royce stabilisers, which provide a comfortable and smooth cruising experience. Environment-friendly systems are installed to treat waste water and minimise other emissions.
Advanced technology communication, sound, safety, humidity and temperature control systems are installed to provide guests with a memorable travel experience.
Itineraries
The ship sailed on its first cruise, the Grand New England itinerary, in May 2017. The cruise included a round-trip from Boston, Massachusetts, after sailing for two seven-night cruises on the Chesapeake Bay round-trip from Baltimore, Maryland.