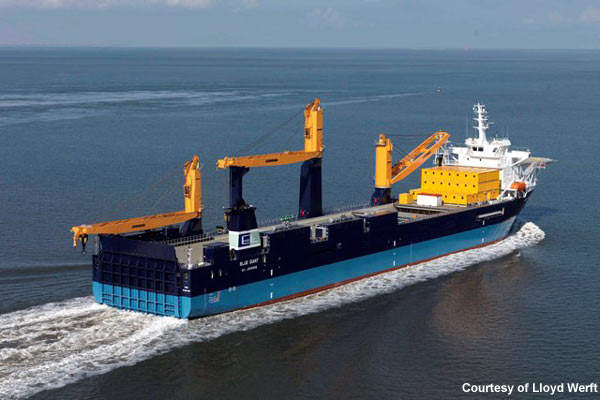 The Blue Giant is second in a series of four Combi Block ships.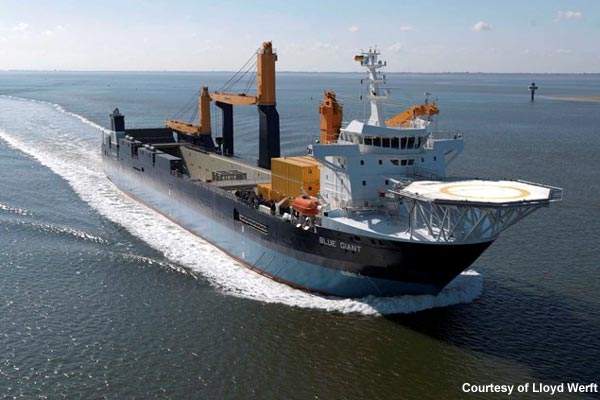 The ship has a multitude of transport modes.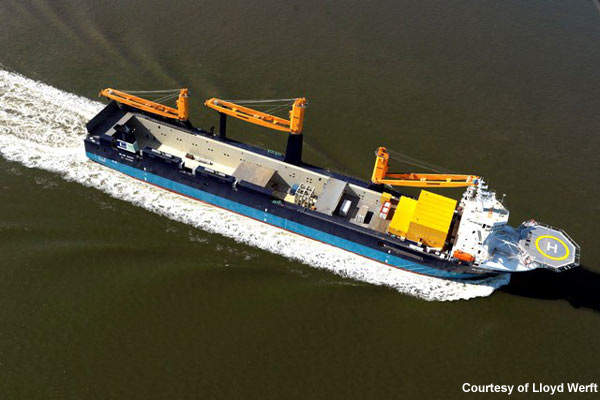 The Blue Giant is on a five-year charter to a Mexican oil services company.
The Blue Giant is a heavy transport support vessel built to serve the construction and maintenance of oil and gas platforms. The ship, which cost €100m to construct, was built at the Lloyd Werft shipyard in Germany and was christened on 1 August 2008. On 3 October 2008 the ship sailed for Mexico under a five-year charter to Blue Marine Technology to serve the Mexican offshore oil industry.
Facilities
The 11,000t Blue Giant provides diving support, platform inspection, well maintenance, dry dock (for vessels up to 130m long) and onboard workshop facilities. In addition, it is designed to transport floating cargos and has a 700t Ro-Ro capacity.
The ship is equipped with two starboard Liebherr electro-hydraulic cranes with a single lift capacity of up to 350t (18m outreach) and 700t combined, and a single portside Liebherr crane with 200t (31m radius) capacity. The Blue vessel is also equipped with a DP2 dynamic positioning system; accommodation for 199 crew; a 6.00m × 6.00m moonpool; and a 16.7m × 16.7m helicopter platform.
Technical
The Blue Giant has a gross tonnage of 17,341t, an overall length of 172.5m, a breadth of 25.4m, a docking draught 11m, and a fully loaded summer draught of 6.6 m. The cargo hold is 132m × 18m × 9.4m and can hold 1,383 containers.
There are 20 pontoon-type tweendeck covers to subdivide the hold at a height of either 6m or 4.7m. The main deck is strengthened to withstand a loading of 16t/m² and the centreline docking blocks can support a load of 150t. The side docking blocks are strengthened for 90t.
The cargo holds are fitted with SOLAS -II-2, REG 54 systems along with CO2 and sprinkler systems. The vessel is equipped with two Becker rudders, twin screw and three bow-thrusters and can achieve a speed of 16kt at 5.6m draught and 15.5kt at 6.6m draught. The main engines are two diesel units of 4,500kW output and there are three bow thrusters (2 × 1,000kW and 1 × 760kW) and two stern thrusters of 600kW.