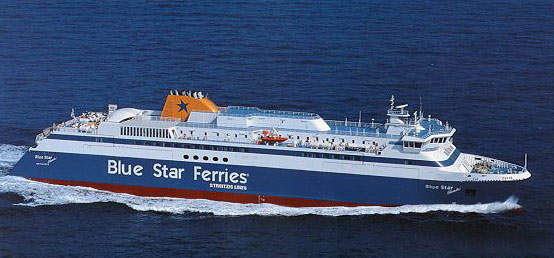 Blue Star Ithaki on route to Pireaus.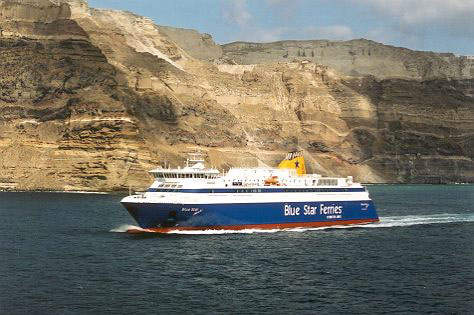 Blue Star Ithaki on transit to Santorini.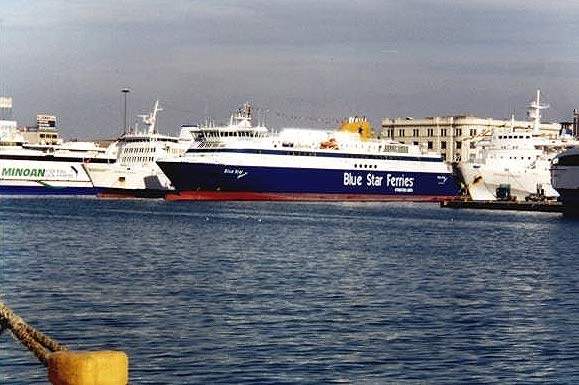 Blue Star Ithaki in port.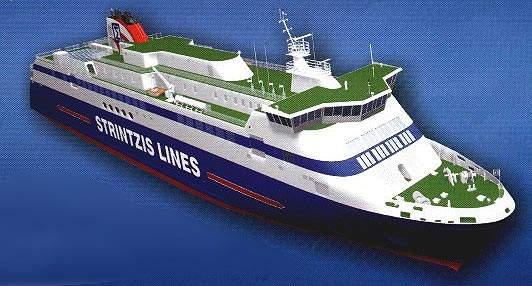 A model of the Blue Star Ithaki.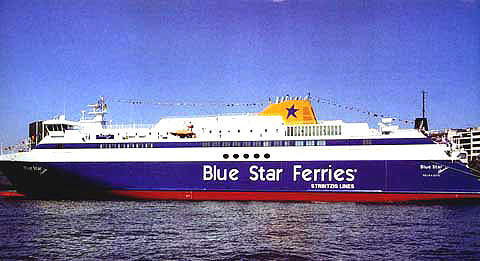 The Blue Star Ithaki preparing to leave port.
The Blue Star Ithaki is the first Korean-built ship to enter Greek service. The ferry was ordered by Strintzis Lines, built at Daewoo Heavy Industries yards in Korea and is operated by Blue Star lines. Two similar ships have been ordered from Daewoo for 2002 delivery (with an option for a third).
The ferry trades on the Piraeus to Paros, Naxos and Santorini route, also passing via Syros and Ios twice a week.
SHIP DESIGN
The Blue Star Ithaki has an overall length of 123.8m and a length between perpendiculars of 111.8m. It has a beam of 18.9m and a 4.9m draught.
The depth to the main deck is 7.25m. The ferry registers 10,193gt, or 3,058nt, and it has a deadweight of 1,857dwt.
The ferry can carry a maximum of 1,500 passengers, however, due to the relatively short journey times, there are only a small number of cabins. These are limited to one 'two-plus-two' berth deluxe cabin and four 'two-plus-two' berth standard cabins. There are, however, 84 aeroplane chairs for relaxation. There are also 24 crew cabins, housing a maximum of 40.
FACILITIES
On-board, the ferry has very good amenities. There are three main lounges. The central lounge has a capacity for 92 passengers, while the Panorama lounge can seat 64. There is also a yacht club lounge, which can hold 87 people. The main cafeteria can hold 204 people, while the Ionian café can seat 120.
Vehicle access to the ferry is by ramps, both in bow and stern. The passengers board the ferry either via an access gangway at the bow, located aft of the bow vehicle ramp, or else using an escalator at the stern.
The stern vehicle ramp is 10.5m in length and 7m high, whereas the bow ramp is 12m in length and 4.2m high. Cars are stored on the main and upper deck. Access between the two is by means of a hoistable ramp measuring 36m in length and 3m in height.
The main deck has a free height of 4.4m and is long enough for 105 cars and 21 trailers. The upper deck is 2.5m high and can accommodate 94 cars.
SHIP PROPULSION
The Blue Star Ithaki is powered by 4 Wärtsilä NSD 9L32 engines. Operating at 750rpm, these main engines give an output of 4,140kW each. There are also three Wärtsilä NSD 6L20 auxiliary engines. Operating at 1,000rpm, these have an output of 990kW each.
The engines are linked to two 3.9m diameter Kamewa propellers, working at 185rpm. The engines consume 380cSt oil at a rate of 70t/24hours. This gives a maximum speed of 25 knots or a service speed of 24 knots. For manoeuvring, there is also a Kamewa 950kW Bowthruster. For stability, there is a Blom and Voss stabilizer.
The fuel tanks have a capacity of 480m³ oil and 60m³ of diesel. There is also 65m³ of lube oil. There is storage space for 205m³ of fresh water and 550m³ of ballast water.
For evacuation in case of emergencies, the Blue Star Ithaki is equipped with 16 liferafts that are able to hold a total of 1,920 people. There are also two rescue boats.
The home port of the Blue Star Ithaki is Piraeus and it flies the Greek flag.