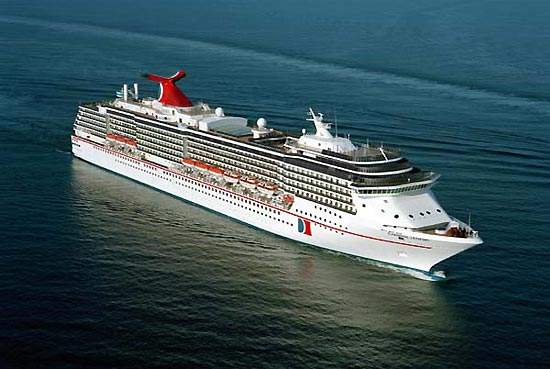 The Carnival Legend at sea.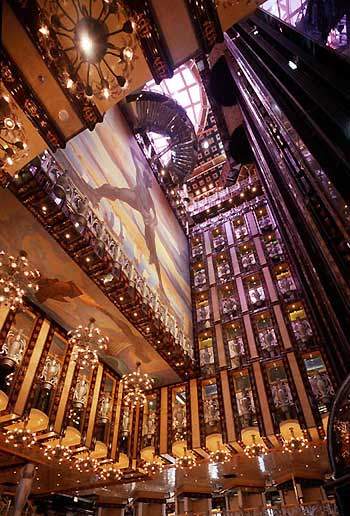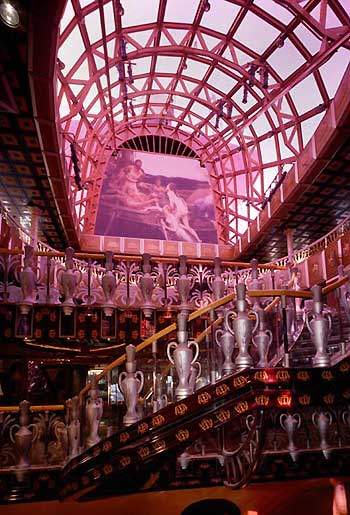 Atrium on the Carnival Legend.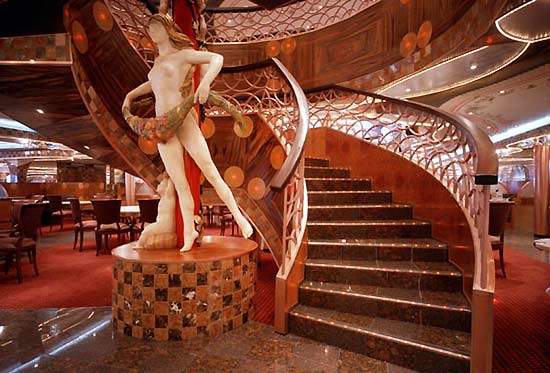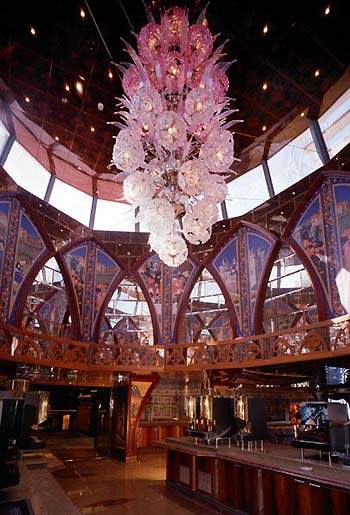 Stairs to the Golden Fleece.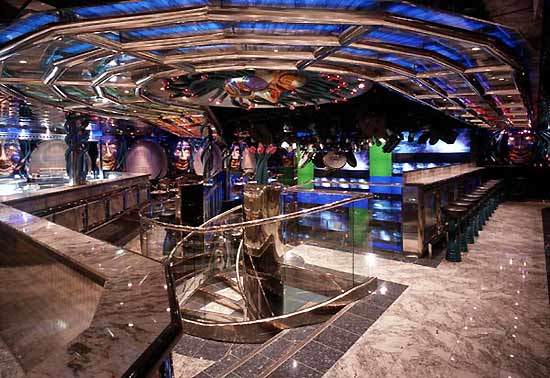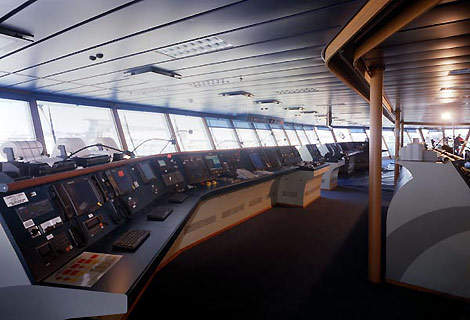 The Truffles restaurant.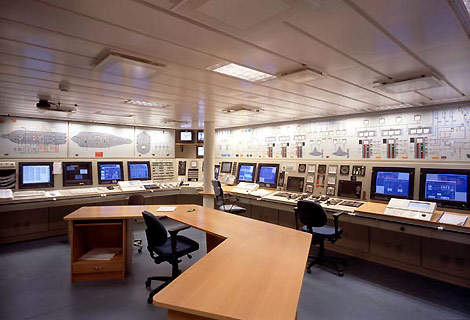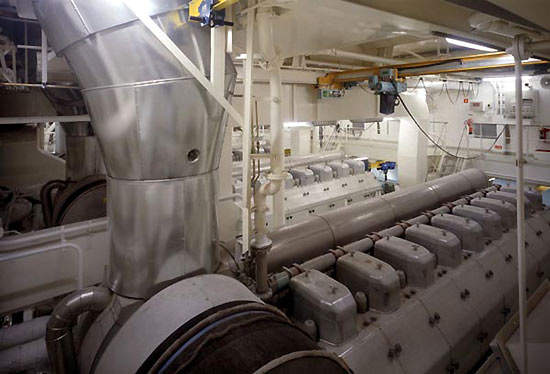 Glass dome over the lido.
The Carnival Legend Panamax-Max cruise ship was built at Kvaerner Masa-Yards' Helsinki shipyard for the Carnival Corporation. It has an overall length of 292.5m or 260.6m between perpendiculars and a maximum breadth of 38.8m. It has a 7.8m draught and an 8m scantling draught. It carries a total of 2,680 passengers (lower beds 2,124 passengers) in 1,062 staterooms. The maximum crew capacity is 961. The relative number of outside passenger staterooms and staterooms with balcony is very high; 80% of all the staterooms are outside staterooms and 70% of all the staterooms have a balcony.
LEGEND'S FEATURES AND FACILITIES
In all, Carnival Legend features twelve passenger decks plus four decks below for machinery and crew spaces. The Atrium stretches over ten decks. The Follies main lounge, which is three decks high, seats 1,170 guests. A new design feature for this 'Spirit-class' ship is the location of the secondary lounge/night club – the Firebird Lounge – underneath the main lounge. The main Truffles Restaurant, is two decks high and seats altogether some 1,300 guests. In order to achieve this, the galley was positioned below the restaurant using escalators for service.
The Golden Fleece is a 'steakhouse'-style supper club located at the top of a soaring ten-deck-high atrium and housed under a red-tinted glass dome that forms the forward portion of the Carnival Legend's massive winged funnel. The Unicorn Café behind
the main pool area is a casual Lido-area has a variety of special dining areas for breakfast, lunch and dinner buffets and 24-hour pizza and ice cream.
There is the two-level health and fitness centre, the Fountain of Youth Spa, four swimming pools, one featuring a retractable dome, five whirlpools, a large casino and more than ten themed bars, lounges and public areas for activities and entertainment. In addition, there is a shopping area, a wedding chapel and large facilities for children and youngsters. There is also a library, a conference centre and a cascading water slide.
ENVIRONMENTALLY FRIENDLY CRUISE VESSEL
The classification society of Carnival Legend is the Italian R.I.N.A., and she sails under Panama flag. Carnival Legend fulfils RINA's new Green Star environmental standard, consisting of two voluntary RINA class notations, CLEAN SEA and CLEAN AIR, setting strict requirements on the ship's design and operation, in order to protect the environment and keep the sea and air clean. The bunker tanks are installed over double bottoms, to prevent accidental discharge of oil. It is fitted with holding tanks for all black and grey water waste, to prevent organic pollution, and must meet the standards. Special requirements ensure garbage is disposed of safely, and ships must not use TBT-based anti-foulings.
The Waste Management Plant consists of two dry garbage shredders for the burnable and un-burnable waste (i.e. cartons, wood, plastic, glass and tins), which is collected from passenger/crew areas and transported to the Garbage Room at Deck A level. The unsorted waste is fed into two heavy duty high capacity shredders. One waste compactor is suitable for compacting cardboard, paper and plastic. Glass (three colours) is collected in bags or containers and stored on board for later delivery to shoreside reception facilities. One tin densifier, capable of compacting 70kg of tin cans per hour is also onboard as are two garbage incinerators which are automatic, multi-chamber, semi-pyrolitic marine type with an incineration capacity of 1,400kW each.
SHIP CONTROL AND PROPULSION
Carnival Legend has an integrated microprocessor-based Machinery Automation monitoring and control System (MAS). MAS includes functions like monitoring, alarm and data logging, main diesel start/stop and safety system, power management system, machinery, ballast, fresh water, bilge, fuel and HVAC control and monitoring systems, ship performance displays and the manoeuvring recorder system. The navigation system is integrated (STN Atlas NACOS) and has an electronic chart system.
Carnival Legend has a diesel-electric machinery system, consisting of six Wärtsilä 9L46D diesel engines, with a total power of 62,370kW each, connected to an alternator producing electricity to the ship's main electric network. The propulsion consists of two azimuthing electric Azipod propulsion units, with a power of 17.6MW each. The brushless synchronous motor, mounted inside the pod of the Azipod propulsion units have double windings. Carnival Legend has three 1.91MW tunnel thrusters in the bow. The service speed is 22 knots.
Carnival Legend has a very high level of plant redundancy. The main systems which have an impact on the safety of the ship have a redundancy built into them in such a way that at least 50% of nominal capacities remains available after any single
failure.