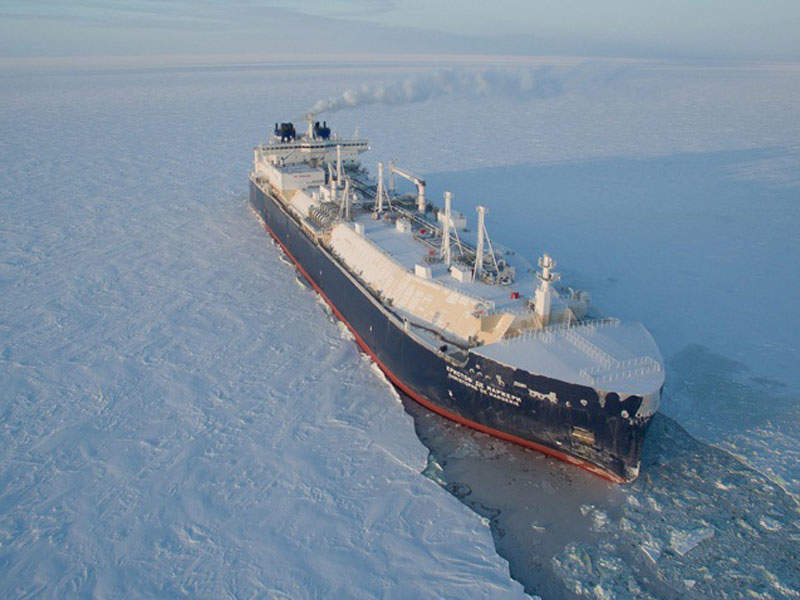 The Christophe de Margerie-class icebreaking LNG carriers are being built by DSME for the Yamal LNG project. Image courtesy of DSME.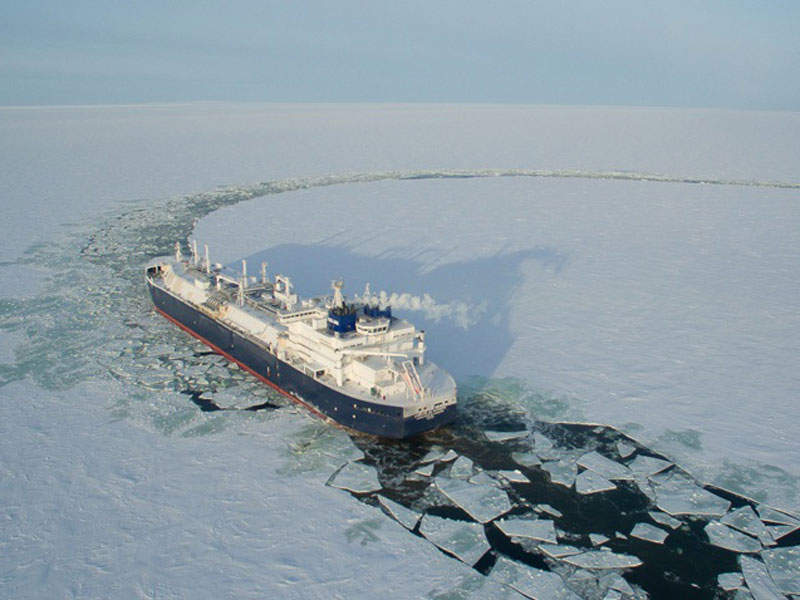 The Christophe de Margerie-class carriers can hold 172.600m³ of LNG. Image courtesy of DSME.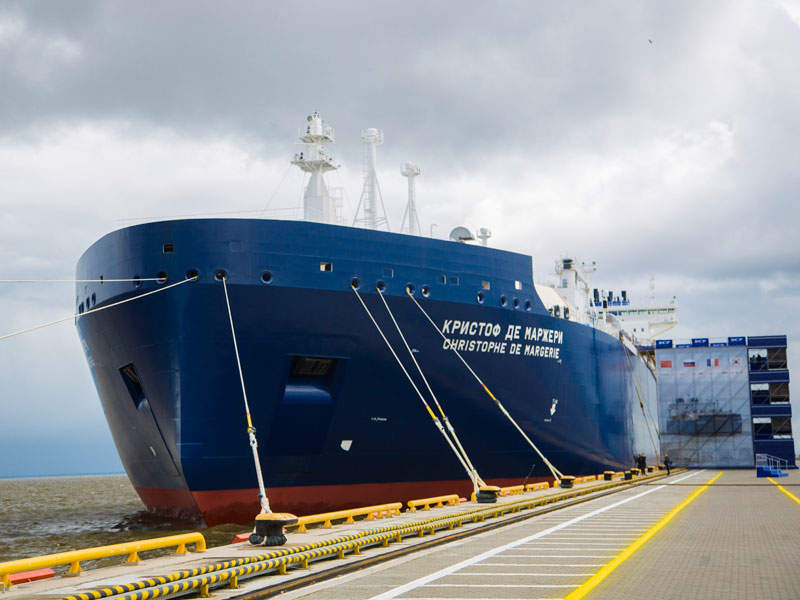 Naming ceremony of the first LNG carrier in the class was held in June 2017. Image courtesy of DSME.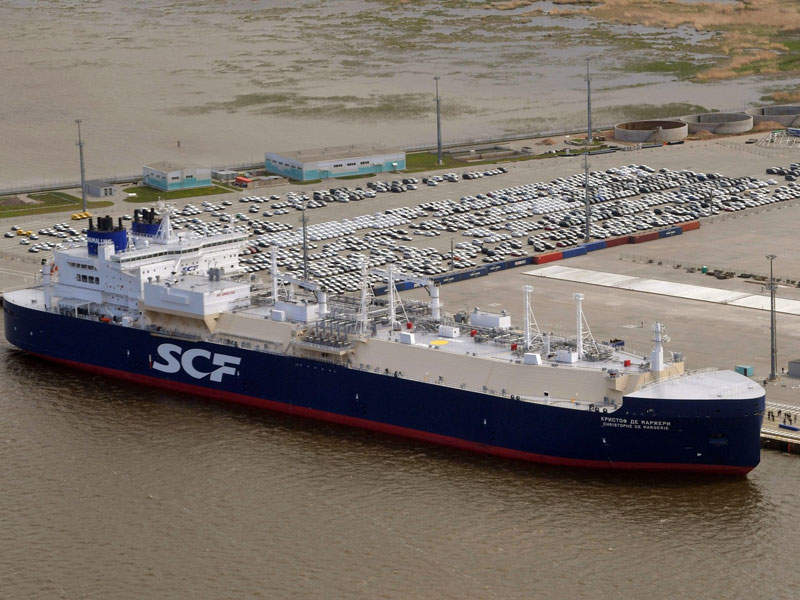 The deadweight of LNG carriers is 80,200t. Image courtesy of DSME.
South Korean shipbuilding company, Daewoo Shipbuilding & Marine Engineering (DSME), has a series of 15 icebreaking liquefied natural gas (LNG) carriers on order to serve Yamal LNG project located at Sabetta on the Yamal Peninsula in Northern Russia.
Worth $4.8bn, the icebreaking LNG carrier fleet is intended to transport LNG produced at the Yamal LNG project to the Asia-Pacific and European markets throughout all seasons of the year.
The tankers can operate on Northern Sea route westward from Yamal LNG plant throughout the year and eastward from July to December.
Built to the Russian Register Arc7 standards, the large-capacity tankers will offer increased manoeuvrability across the thick layers of ice and safe operations in harbour.
Orders and deliveries of the icebreaking LNG carriers
DSME won a tender from OAO Yamal LNG to build, equip, launch and deliver up to 16 Arc7 ice-class tankers at a cost of $320m each in July 2013. The tankers will be classified by the Russian Maritime Register of Shipping and Bureau Veritas.
In March 2014, Russian maritime shipping firm PAO Sovcomflot contracted DSME to construct a single icebreaking vessel for transporting LNG in Kara Sea and Gulf of Ob.
Sovcomflot's icebreaking LNG carrier (hull no. 2418) is the lead vessel in the series. Its steel-cutting ceremony was held at DSME's Okpo shipyard in Geoje, South Gyeongsang, in September 2015, while the launching ceremony took place in January 2016.
The carrier was commissioned by Sovcomflot at Sabetta gas terminal in March 2017, after completing a series of trails in ice conditions in the Kara and Laptev Seas in the first quarter of 2017. It was named as Christophe de Margerie in June 2017.
DSME signed a contract with joint venture companies between Japanese firm Mitsui O.S.K. Lines (MOL) and China Shipping LNG Investment to build three icebreaking LNG carriers to improve MOL's ocean transport services in July 2014.
In the same month, a joint venture between Teekay LNG Partners and China LNG Shipping (CLNG) executed a contract with DSME for the construction of six LNG carriers.
Construction on Teekay LNG Partners' first set of six vessels, named Eduard Toll, commenced in early 2016 and the first steel was cut in April 2016. The LNG carrier was launched in January 2017. A steel-cutting ceremony for the second vessel, named Rudolf Samoylovich, was held in November 2016.
Chinese shipping company Sinotrans signed an agreement with Dynagas and CLNG to purchase five LNG carriers from DSME in December 2015.
Deliveries of all the tankers are scheduled to be completed in Q1 2020.
Christophe de Margerie-class design and features
The icebreaking LNG carrier features an ice-strengthened hull structure, which was fabricated using E-grade high-tensile special steel. Covered with 7cm of steel plates, the bow offers high manoeuvrability in open water and up to 1.5m-thick ice. The stern section is designed to enable navigation in severe ice conditions.
The double-acting tanker capability allows the vessel to break heavy ice in both bow and astern manuoevres.
Each vessel has an overall length of 299m, a width of 50m, a depth of 26.5m, and a design draught of 11.7m. The length between perpendiculars is 282m, the deadweight is 80,200t, and the gross register tonnage is 128,806t. The vessel is manned by a crew of 29 members and is capable of carrying 172.600m³ of cargo.
The tank containment system aboard the vessel incorporates NO96 GW membrane technology developed by Gaz Transport & Technigaz. The ship is also fitted with reinforced plywood boxes with glass wool to provide insulation.
Command and control
The icebreaking LNG carrier comes with two wheelhouses, arranged in a T-shaped layout, to perform operation and control tasks. One wheelhouse points towards the bow section. It features two external winterised wings on the port and starboard sides for monitoring the ship's manoeuvres.
The second bridge is situated at the rear of the deck to perform command and control when the ship proceeds astern.
Navigation and communication systems, including global positioning systems (GPS), GLONASS, radar, Xenon light, and GPS compass, are installed in the bridges to ensure safe navigation.
Safety features of the Christophe de Margerie-class vessels
The vessel is equipped with anti-icing and de-icing systems to protect onboard systems. The engine compartment is enclosed with a 10cm-thick layer of fibre glass.
The equipment mounted on the vessel's deck is designed to provide reliable operation in low temperatures. Thermal-oil heating systems are used to prevent accumulation of snow and ice on the deck.
The mooring points are covered to prevent ice formation and to protect the crew from cold conditions.
Other safety systems installed in the tanker include exhaust gas bypass and cooling systems, piping for ballast system, and life-saving equipment.
Propulsion
The icebreaking LNG carrier will be powered by a diesel-electric propulsion system consisting of four 12-cylinder and two nine-cylinder Wärtsilä 50DF diesel fuel engines, as well as an electric propulsion system. The nine-cylinder variant generates a rated power of 8,550kW, while the 12-cylinder variant is rated at 11,400kW.
The four-stroke Wärtsilä 50DF engines, which run on LNG and light or heavy fuel oils, deliver a total power output of 64.35MW.
Three Azipod propulsion units, which can rotate through 360°, are installed to power the vessel in arctic conditions. Each Azipod unit, rated at 15MW, is coupled to a rudder propeller.
"The vessel is equipped with anti-icing and de-icing systems to protect onboard systems."
Performance of the Christophe de Margerie-class LNG carriers
The Christophe de Margerie-class LNG tankers can sail at a speed of 19.5kt in open seas and at 5kt in 1.5m-thick ice. They will have the ability to withstand temperatures of -50°C when operating in arctic environments.
The vessels are capable of navigating independently through 2.1m-thick ice and 15m-high waves, as well as turning 180° using the Azipod.
Contractors involved
ABB won a contract to supply Azipod propulsion systems, generators, transformers, turbochargers, switchboards, electric drives, and propulsion control systems for the vessels in June 2014.
Through its Korean joint venture company Wärtsilä Hyundai Engine (WHEC), Wärtsilä secured a contract from DSME to supply 54 diesel fuel engines to power nine icebreaking LNG carriers in October 2014.
DSME placed an order for an additional 30 engines to power the remaining six ships in February 2015.