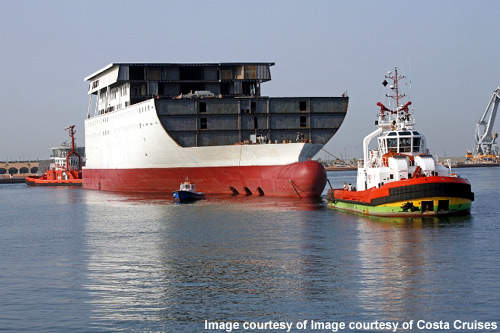 The first section of the ship being transferred.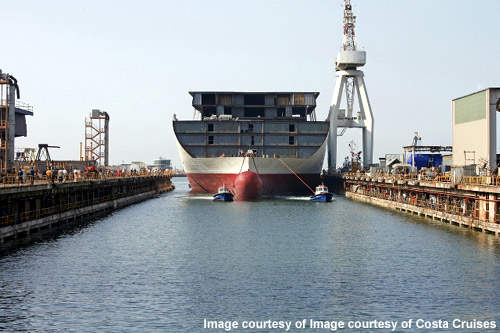 The 114,500t Pacifica can carry 3,780 passengers.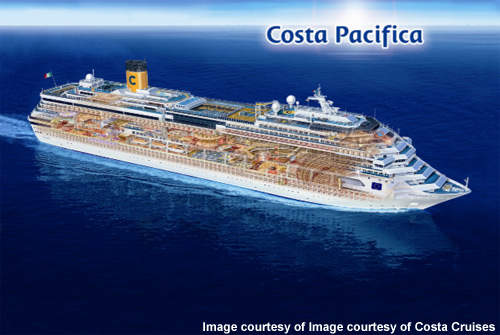 The interiors have been designed by Joe Farcus of Miami.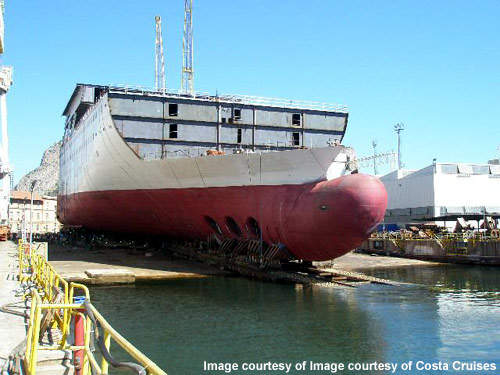 The christening of the Costa Pacifica took place in June 2009.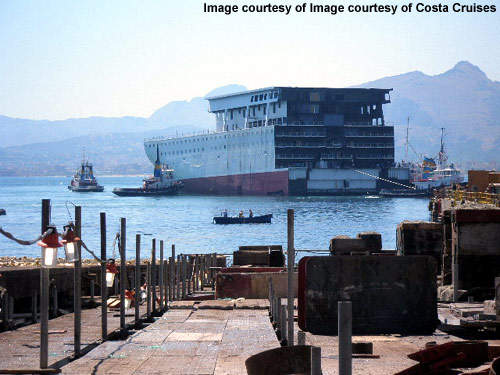 Costa are building five ships in this series to take their fleet complement to 17.
The Costa Pacifica is the third sister ship of Costa Cruises' Concordia Class, joining the Costa Concordia and the Costa Serena.
The ship was fitted out at the Fincatieri shipyards in Italy. It was delivered to Costa Cruises in May 2009. The 114,500t vessel is the largest ship in Costa's fleet. It was christened along with Costa Luminosa in June 2009.
The ship sailed on its eight-day maiden voyage to the western Mediterranean in June 2009.
Costa Pacifica
Designed around the theme of music by the Florida-based architect/interior designer Joe Farcus, the Costa Pacifica includes the most popular recent innovations introduced on Costa's ships such as the 23,000ft² Samsara Spa, a gymnasium and health centre, a central pool area with four pools and a waterslide extending over two decks fitted with a retractable glass roof, children's splash pool, a giant 18m² movie screen, five Jacuzzis, outdoor jogging track, a sports court, and a Grand Prix race car driving simulator.
The interiors also reflect the music theme, with the 'My Way' restaurant, Samsara restaurant, Club Blue Moon, Ipanema Lounge, Route 66 Sports Bar, and La Bamba pool deck. The ship has five restaurants and a bar for each of its 13 passenger decks.
A recording studio allows guests to sing and record their own CD, a service which Costa claims to be the first of its kind in on a cruise ship.
Technical
The Pacifica has 1,504 cabins with a maximum passenger complement of 3,780 and 1,100 crew members. There will be 91 cabins with direct access to the spa, 521 cabins with private balcony, 58 suites with private balcony and 12 suites with direct access to the spa. The ship, which is designed to make 22kt at cruising speed, has an overall length of 290m and a moulded beam of 35.5m.
Itinerary of the Pacifica
Following its launch in 2009, the ship spent its inaugural summer season on seven-night Western Mediterranean voyages. These cruises included calls at the port of Rome (Civitavecchia), Savona (Italy), Marseille (France), Barcelona (Spain), Palma de Mallorca (Spain), Tunis (Tunisia), Malta and Palermo (Sicily). The maiden cruise departed from Savona on 6 June 2009 and included a special two-day stopover in Palma de Mallorca. Guests on the maiden cruise who embarked in Genoa on 5 June were also able to witness the christening ceremony.