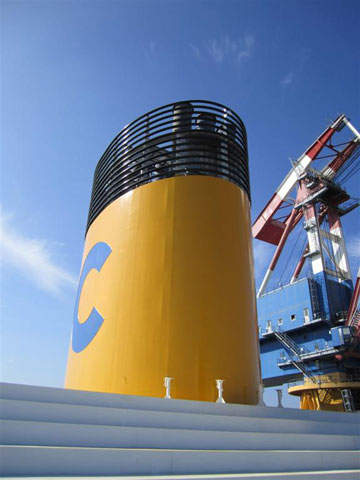 The yellow funnel with a blue C is a signature feature of Costa Cruises.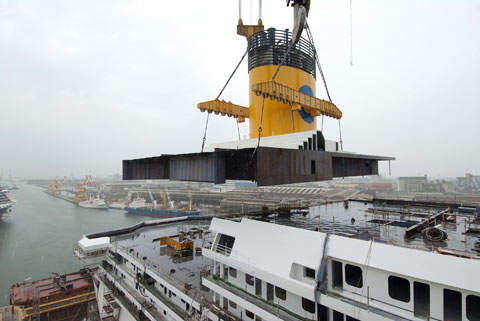 Costa Favolosa entered service in June 2011.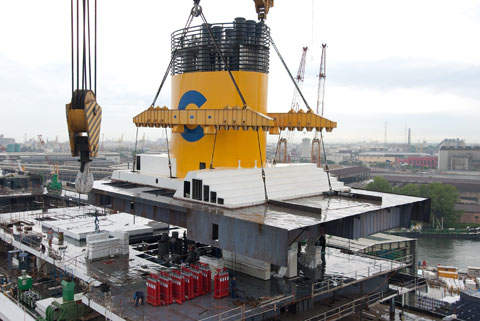 The construction of Costa Favolosa employed 3,000 people.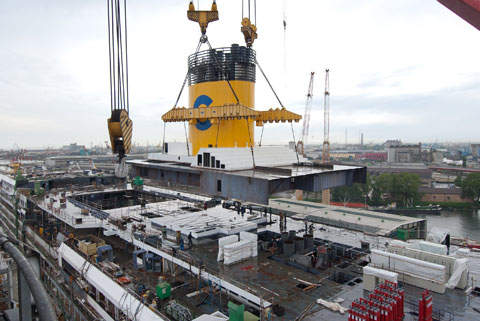 Costa Favolosa under construction at Fincantieri's Marghera yard.
Costa Favolosa was built at Marghera in Venice, Italy, by Fincantieri at a cost of €510m. The 15th member of the Costa Cruises fleet was ordered in October 2007. The vessel was delivered in June 2011, and is the first of two sister ships.
The second vessel in series, Costa Fascinosa, was delivered in May 2012.
The name of the ship was selected from a competition held by the cruise line. Out of the 16,000 entries 25 were shortlisted for online voting. Nearly 42,000 visitors to the company's website voted for Favolosa, which is Italian for 'fairy tale'.
Costa Favolosa made her three-day maiden voyage from Venice to Dubrovnik and Koper in July 2011.
On her first cruising programme the vessel left from Venice in July 2011 for Israel, Greece and Turkey.
Favolosa construction
Costa Favolosa is built as a part of Costa's €2.4bn fleet expansion project, which encompasses construction of five new ships between 2009 and 2012.
"Favolosa is the 15th member of the Costa Cruises fleet."
Costa Luminosa and Costa Pacifica were delivered in 2009 and Costa Deliziosa in 2010.
Nearly 3,000 employees and 7,000 workers were involved in construction of Costa Favolosa, which began in November 2010.
The ship is equipped with Wärtsilä 12V46C diesel engines.
Its interior is finished with fine materials, including woods such as mahogany, pearwood and rosewood, and stones such as marble, granite and travertine. The ceiling of the stern is fitted with Swarovski crystals and the Club Restaurant is decorated with Murano glass.
The vessel was designed on the Concordia class of Costa Cruises and Carnival Cruise Lines, which are subsidiaries of Carnival Corporation.
Favolosa is capable of accommodating 3,780 passengers and 1,068 crew members. It has a gross tonnage of 114,500t, a length of 247.7m and a moulded breadth of 35.5m. Favolosa was designed to cruise at a maximum speed of 23.2kt.
Facilities onboard Favolosa
Costa Favolosa is built with 13 passenger decks and four restaurants. Its state-of-the-art fun facilities include Club Cavallo Bianco, which is the vessel's entertainment area, housing a 4D Cinema, PlayStation World and a bar serving ice-cream.
"Costa's €2.4bn fleet expansion includes five new ships between 2009 and 2012."
For children, the entertainment area has a dance floor, a children's games room, an Aqua Park water playground with a pirate sailing vessel. Sports facilities include an advanced Golf Simulator and a Grand Prix Simulator.
The vessel's Samsara Spa is claimed to be one of the largest wellness centres built on a passenger ship. Spa services include Ayurvedic treatments, body massages using essential oils and a sauna room.
Favolosa's recreation facility is built over two decks, and fitted with a sliding glass roof and a big film screen. The vessel also has an elevated whirlpool tubs in the aft pool area.
Favolosa accommodation
Costa Favolosa has 1,500 cabins consisting of 586 inside and 914 outside rooms. The ship's Gran Suite with Veranda has an area of 456ft² and can accommodate four guests. This suite features panoramic windows, two twin beds, cupboard space, a private bathroom furnished with a whirlpool tub and a shower facility. The living room has an entertainment centre, a sofa bed, lounge furniture and a vanity unit.
"Samsara Spa is claimed to be one of the largest wellness centres built on a passenger ship."
The Samsara Suite is furnished with a queen bed that can be converted into two lower beds, a single sofa bed, private balcony and sitting area. The bathroom includes a private whirlpool bath and hairdryer. Guests lodging in these suites have direct access to the Samsara spa. The Samsara Inside and the Samsara Outside staterooms can accommodate two guests. These staterooms include a sitting area, vanity unit, drawer space, satellite television and thermostat-controlled air conditioning, and a queen-sized bed (convertible to two twin beds). There is also a shower-fitted bathroom.
The Oceanview stateroom has twin beds (convertible to a queen-sized bed), while the Single Oceanview stateroom comes with a single bed. Both staterooms have a private bathroom with shower, thermostat-controlled air-conditioning, and sitting area with desk, vanity unit, drawer space and a sofa.