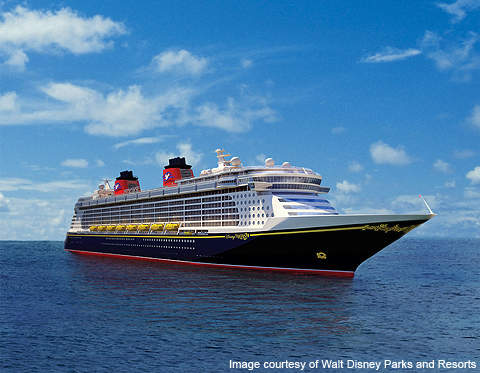 Disney Fantasy, the fourth cruise ship of Disney Cruise Line, was delivered in February 2012.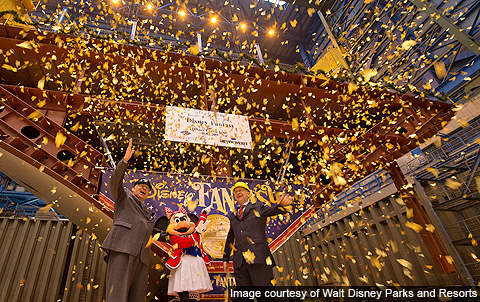 Keel laying celebration of Disney Fantasy.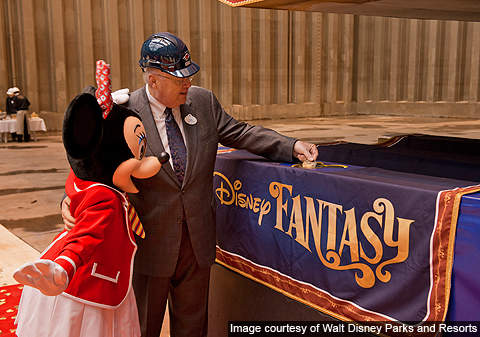 Karl Holz, President of Disney Cruise Line, being assisted by Minnie Mouse during the coin placing ceremony.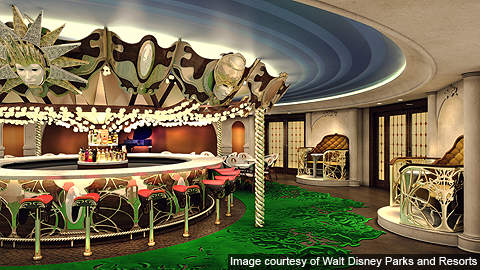 An artist's rendering of La Piazza lounge.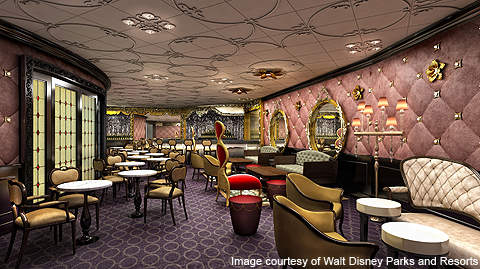 An artist's rendering of Ooh La La lounge.
Disney Fantasy is the fourth cruise ship of the Disney Cruise Line, a cruise brand owned and operated by Walt Disney Parks and Resorts. She is the last of two sister ships built for the cruise liner, by Meyer Werft at its shipyard in Papenburg, Germany. The first ship, Disney Dream, entered service in January 2011.
The vessel was delivered in a traditional maritime ceremony held in February 2012 at the Papenburg shipyard. Maiden voyage of the ship took place on 31 March 2012.
Disney Fantasy design
Disney Fantasy is very similar to Disney Dream. She is, however, furnished with a couple of new design elements and passenger experiences in order to differentiate her from other ships in the fleet.
The ship is designed to demonstrate the glamour of cruising during the 1930s. The sleek style and convenient facilities were designed with family cruise experience in mind. In addition to bright fixtures and furnishings, the ship is made more attractive with woodwork and original paintings and sculptures.
The three-deck atrium lobby features a cascading chandelier made of stained glass with crystal beads, sweeping grand staircase, a grand piano and high fluted columns.
Compared to the cruise ships Disney Magic and Disney Wonder, the Disney Fantasy is approximately 40% larger. The 130,000t vessel has a length of 340m and maximum breadth of 38m.
"The Disney Fantasy includes 1,250 staterooms."
Disney Fantasy construction
A letter of intent (LOI) for the construction of two new cruise ships was signed with Meyer Werft in February 2007. The first ship, Disney Dream, was delivered in December 2010.
The keel laying ceremony for the second ship, Disney Fantasy, was held at the Meyer Werft shipyard in February 2011. The construction process began by lowering the first block of the ship into the building dock. Block construction method, which involves joining pre-fabricated hull sections together, was used to build the ship.
Disney Fantasy staterooms
Disney Fantasy features 1,250 staterooms, which can accommodate approximately 4,000 passengers. The passengers are served by 1,450 cast and crew members.
The Concierge Family Oceanview Stateroom with Verandah, classified as a Category V Stateroom, is located on Decks 11 and 12. The room offers space for a family of five. Classified as Categories 4A – 4D, the Deluxe Family Oceanview Stateroom with Verandah is located midship. The rooms offer accommodation for families of four or five.
The Deluxe Oceanview Stateroom with Verandah has an area of 246ft² and offers accommodation for families of three or four. It features a large porthole window or two small porthole windows.
Built over an area of 241ft², the Deluxe Family Oceanview Stateroom can house three to five people. It features a large porthole window with built-in seating. The Deluxe Inside Stateroom and Standard Inside Stateroom offer accommodation for three or four passengers.
The Concierge Royal Suite with Verandah is the largest stateroom, with an area of approximately 1,781ft².
Dining facilities
Animator's Palate, located on Deck 3, is one of the main dining restaurants. It serves Pacific Rim / American cuisine. Cabanas, located on Deck 11, is an indoor/outdoor casual dining restaurant. Located on Deck 2, the Enchanted Garden restaurant features a 7ft-tall cascading fountain, glass-flower light fixtures, white trellises and ornamental light posts.
Palo is an adults-only restaurant. It offers brunch and dinner. Remy, another adults-only restaurant, offers French cuisine. The Royal Court restaurant located on Deck 3 serves Continental and French cuisine.
Entertainment facilities
The Buena Vista Theatre, located on Decks 4 and 5, midship, has dual level stadium seating. It is equipped with modern digital 3D projectors. Character greetings throughout the ship allows the passengers to meet and greet Disney characters. Another entertainment destination is the Walt Disney Theatre, which is located on Decks 3 and 4, forward.
"The maiden voyage of the Disney Fantasy took place on 31 March 2012."
Bon Voyage lounge, located on Deck 3, midship, allows the families to enjoy beverage or snack throughout the day. Located on Deck 11, forward, the Cove Café is an adults-only lounge. Skyline is an adult exclusive bar and will be located on Deck 4, aft. Meridian is another adult exclusive bar. Currents bar is located on Deck 13, forward. The adults-only lounges, La Piazza and Ooh La La, are located on Deck 4, aft. The Tube is an adult exclusive nightclub.
Pools on the Disney Fantasy include a transparent tube water coaster named AquaDuck, Donald's Pool, Mickey's Pool, Nemo's Reef and an adult only pool called Quiet Cove Pool.
Senses Spa & Salon, Fitness Center and Goofy's Sports Deck are the spa & fitness venues. Youth Clubs on the ship include Bibbidi Bobbidi Boutique, It's A Small World Nursery, Disney's Oceaneer Club, Disney's Oceaneer Lab, Edge, Vibe, D Lounge and arcade.