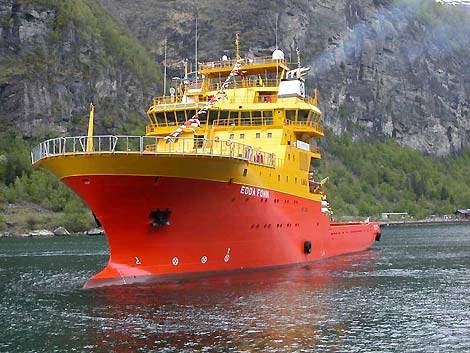 The Edda Fonn is a survey vessel owned and operated by Østensjø Rederi.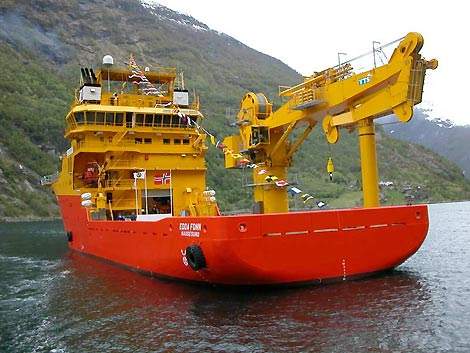 The deck equipment includes two Effer cranes, a Heila provision crane, a Karmøy tugger winch and a Hydramarine wire transponder winch.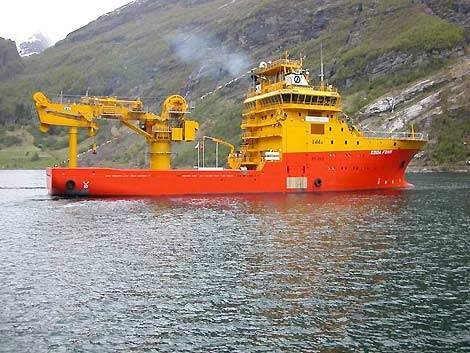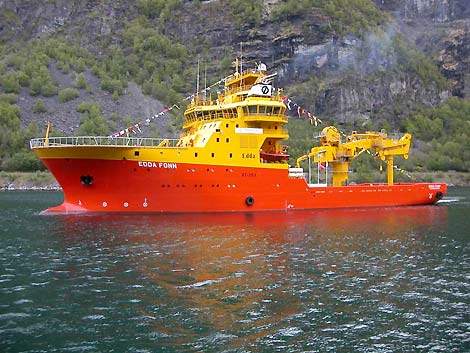 The helicopter deck is designed for Super Puma.
The Edda Fonn is owned and operated by the Haugesund-based company Østensjø Rederi and was built by Myklebust Verft.
The ROV / survey vessel has an overall length of 84.7m, or 75m between perpendiculars, a breadth of 18m and a 9.1m moulded depth. It has a registered tonnage of 4,505gt and registers a deadweight of 2,354t. It has a deck area of 700m², a 41m cargo deck length and a capacity of 800t. The vessel has sufficient storage for 1,113m³ of marine oil, 428.1m³ of fresh water and 1,883.1m³ of ballast water.
DECK EQUIPMENT
The deck equipment includes two Effer 17tm cranes that can carry out a 1.62t lift at 10.29m and a Heila 15tm provision crane that can lift 1.1t at 14.76m. It has a 10t Karmøy tugger winch and a Hydramarine 1.1t 2,500m wire transponder winch. There are two anchor windlass/mooring winches forward and two Karmøy capstans aft.
In order to maintain stability there are three anti-rolling tanks and an automatic / manual active heel system with a capacity of 2,000m³/h.
The accommodation includes 41 cabins with 66 beds. This breaks down into four state cabins, 18 single berths with bathroom, 11 double cabins with separate bedroom and shared bathroom and eight double berth with bathroom.
There is an on-line data room, an off-line room, six offices, a conference room, an enclosed ROV hanger / workshop and an ROV transformer room.
There is also a gymnasium, sauna, sunbed, three dayrooms, duty mess, mess room and galley.
Within the vessel is a 7.2m x 7.2m moonpool as well as a 1,200mm diameter mini-moonpool prepared for a multibeam echosounder. The helicopter deck is designed for Super Puma (9.3t).
PROPULSION AND POWER
The main propulsion is by a diesel electric propulsion plant. There are four 1,820kW diesel powered generator sets giving an output of 7,680kW / 10,445bhp. It provides 690V at 60Hz at a rotary speed of 1,800rpm. There is also a 388kW harbour generator with a 690V / 60Hz output at a rotary speed of 1,800rpm and a 99kW emergency generator producing 690V / 60Hz at 1,800rpm.
The Edda Fonn is driven by two AC asynchronous water-cooled motors each rating 2,200kW (2,992bhp) at 1,192.5rpm. The vessel is equipped with two diesel-electric driven Steerprop ST-35 azimuth propellers. The propellers have a diameter of 3m.
There are also two electrically-driven tunnel thrusters located in the bow with an output of approx. 1,150kW each. In addition, there is a super-silent type and a retractable thruster with an output of 1,350kW.
This gives a maximum speed of 15.5 knots at 30t/day or, for economy, 13 knots at 14t/day. It uses 6t/day for DP-operations (dependent on weather).
SYSTEMS AND CONTROLS
The Nav aids incude Furuno FR-2825 Arpa 3cm, Furuno FR-2835S, Arpa 10cm and Furuno FR-21 radars and a Telchart 2025 w/C-Map vectorised electronic chartplotter. There are a pair of S.G. Brown Meridian gyros as well as an Octans gyro.
Other systems include a Robertson AP9 Mk III Autopilot, Furuno GP90 DGPS, Furuno NX-500 Navtex, Furuno FAX-208A MkII Weather fax and a Taiyo TD-L1550A VHF-direction Finder.
There is also a Furuno FE-700 echosounder with digital depth indicator, a Furuno DS-80 log with remote displays and a Seatex HMS100 helideck monitoring system.
The Edda Fonn is classified by DnV with the notation X 1A1, SF, Comfort-C(3)-V(3), HELDK-SH, E0, DynPos AUTR, CLEAN, ICE C, PMS, ISM