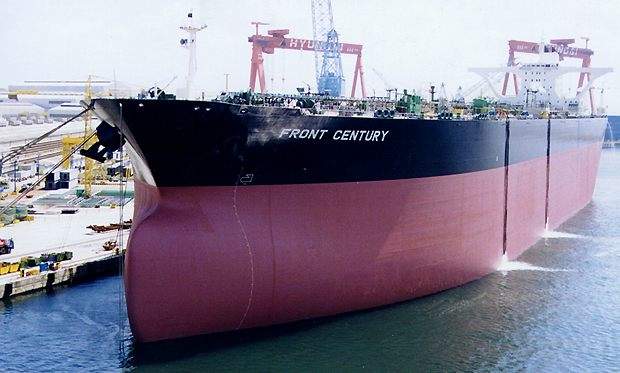 The 311,000 DWT class VLCC, Front Century, built at Hyundai Heavy Industries was delivered to Frontline Ltd on 23 July 1998.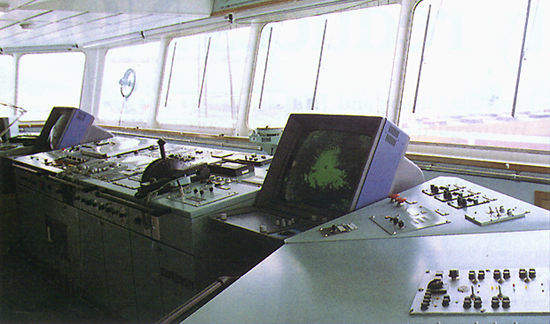 The ship permits one-man bridge operation (NAV1), with functionally arranged wheelhouse and equipment and good visibility.
A loading rate of 20,500m³ can be sustained through the manifolds.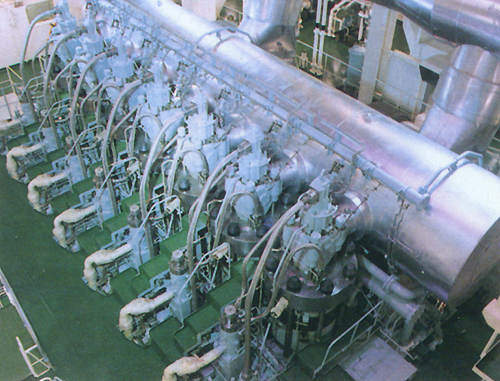 Front Century is powered by a seven-cylinder, turbo-charged Hyundai-MAN B&W 7S80MC (VI) main engine.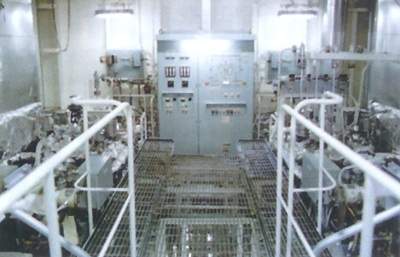 The electric panel.
Front Century is the first in a five-ship double-hulled series of Very Large Crude Carriers (VLCCs) constructed for Frontline by the South Korean builder Hyundai Heavy Industries.
She incorporates a number of energy-saving specifications and novel features to ensure high levels of environmental protection and compliance with Marpol Annex 1 international regulations.
The owner also specified a relatively large bunker capacity to provide sufficient fuel for a round trip between Ras Tanura and LOOP in the US Gulf via the Cape of Good Hope in both directions. This is a significant advantage as bunker fuel is usually cheaper in the Persian Gulf.
Design
The hull form of the vessel has been specifically remoulded to meet Frontline's requirements and differs from conventional VLCCs in having a 'blunt' fore part and a breadth of 58m to reduce hull deflection.
As a result, Front Century benefits from a reduction in hull deformation of around 10%. This has been achieved by strengthening the primary members, double structure and buttress, in particular, the connection between the hold and forepeak bulkhead has been reinforced with cross ties in the wing tanks.
The number of individual components within the hull structures and the size of the painting area in the water ballast tanks have been reduced by using a construction method based on one internal bottom plate for each block.
The shipyard says this reduces the number of maintenance points onboard the vessel. Local strength requirements mean that the bottom longitudinal stiffener of the cargo well has to be 18mm-thick compared with conventional VLCCs which tend to be 12mm.
This approach virtually eliminates the possibility of welding defects and subsequent paint damage since there is no welding seam. Although the material costs to the yard and the owner are much greater, the overall quality of the ship's structure is enhanced.
Vessel propulsion
Front Century is powered by an MAN B&W-Hyundai 7S80MC engine developing 25,485kW (31,920bhp) at 79rpm. This creates a 15.7k service speed with a 15% sea margin.
"Three grades of oil can be handled simultaneously through a two-valve segregation arrangement."
The main engine drives a four-bladed keyless propeller with a diameter of 9.7m and a pitch of 6.46m. The main engine operates on heavy fuel oil with a maximum viscosity of 600cSt at 50°C.
A diagnostic and maintenance support system that uses artificial intelligence and sophisticated data acquisition techniques to detect early signs of difficulties with key machinery has been installed to reduce the heavy workload imposed on engineers.
Cargo systems
The ship has a total of 15 cargo oil tanks with a combined capacity of 336,032m³ at 98% loading. In addition, there are two slop tanks fully coated in tar epoxy with a capacity of 7,030m³.
The cargo pumping system allows for a maximum discharge rate of 15,000m³/h via three main pumps. Three grades of oil can be handled simultaneously through a two-valve segregation arrangement.
All cargo tanks are fitted with a Saab radar type level gauging system and various fixed gas warning devices monitoring hydrocarbon gas levels in tanks, pump room and ballast spaces. All tanks are remotely monitored from the cargo control room.
Automation and control
One man bridge operations have been made possible on Front Century through a package of navigation and other equipment. The vessel is fitted with an integrated navigation system which supports the integration of various bridge operations including route planning, manoeuvring for collision and grounding.