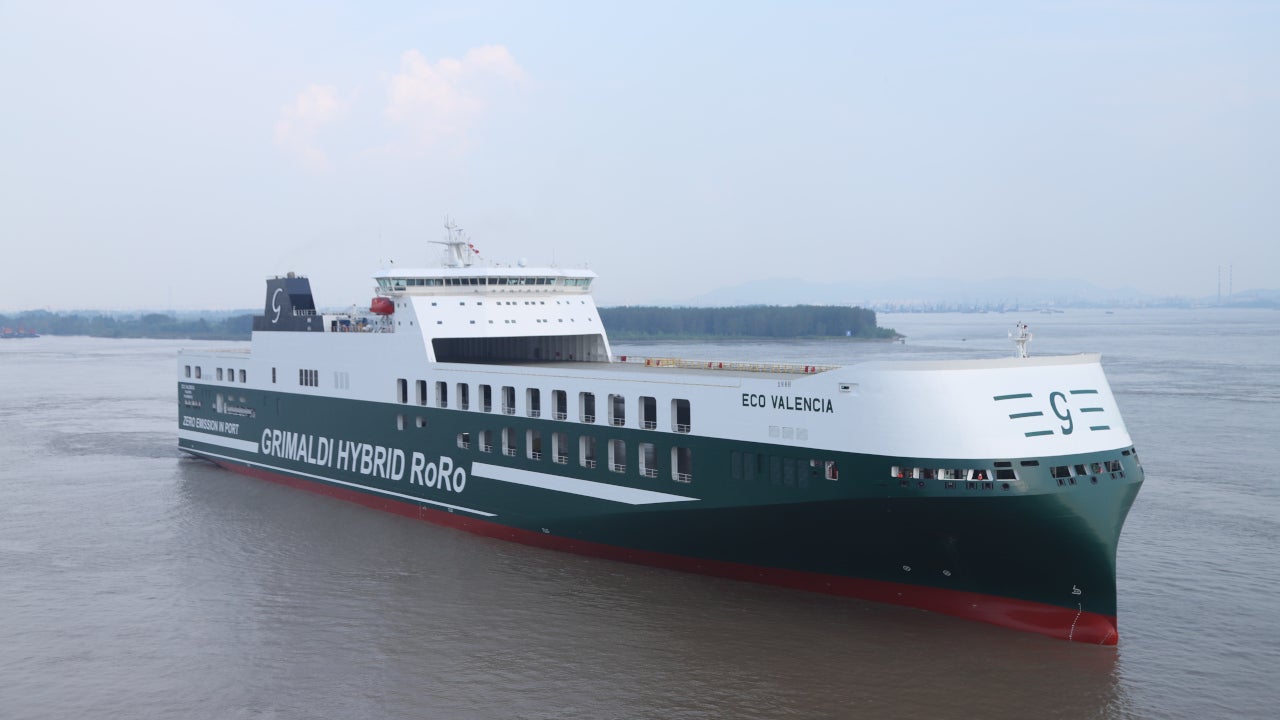 The GG5G-class Ro-Ro vessels will be used for short-sea shipping. Credit: KNUD E HANSEN.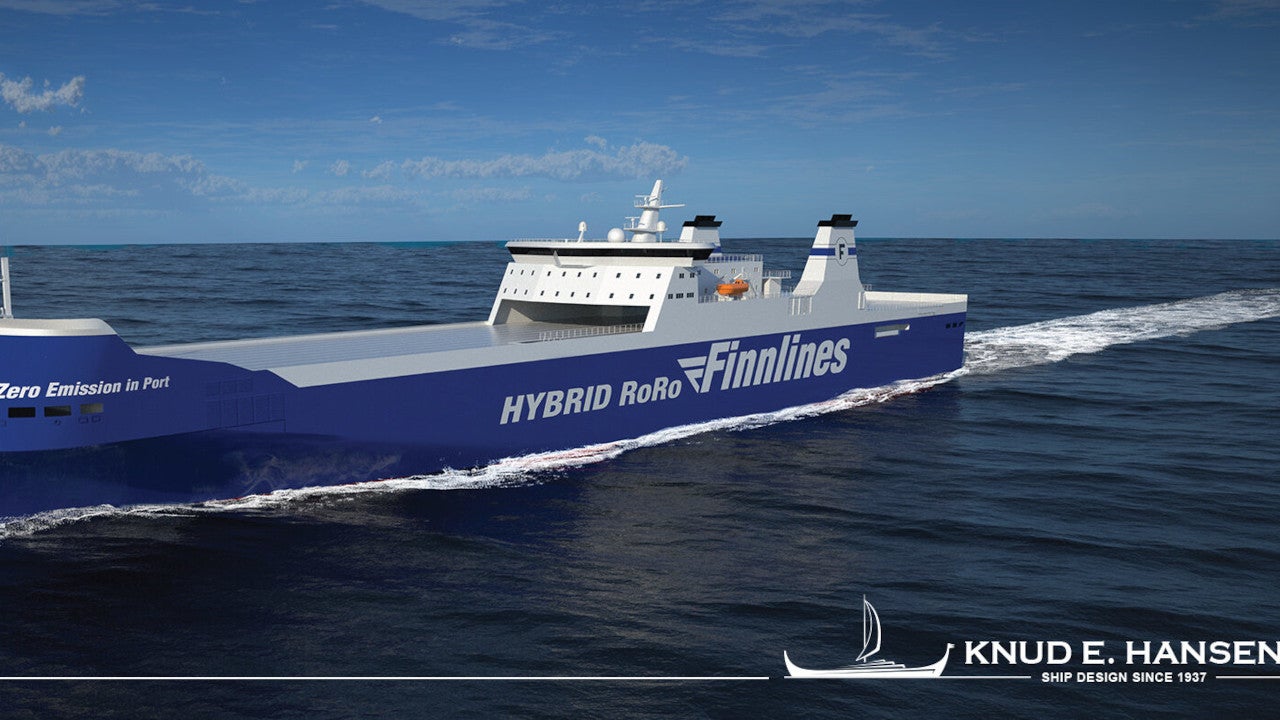 Finnlines' hybrid Ro-Ro ships will have a trailer capacity of 5,800 lane metres. Credit: KNUD E HANSEN.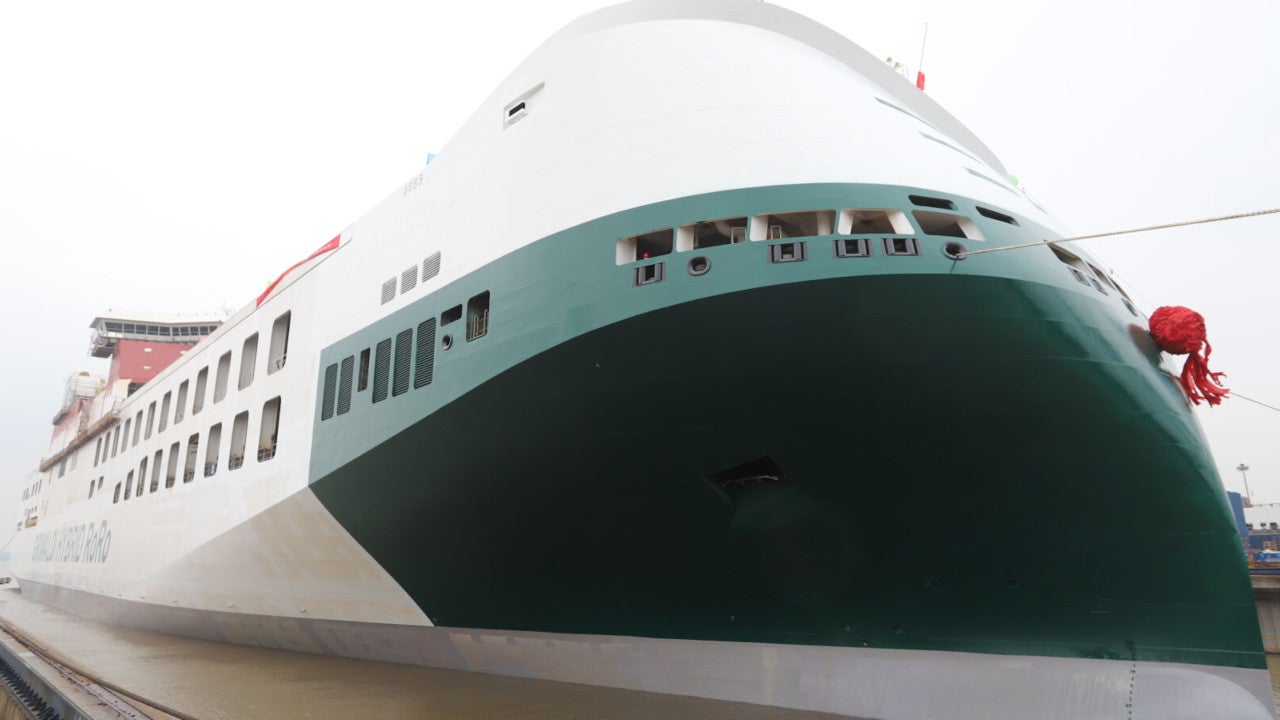 The second GG5G-class vessel was launched in April 2020. Credit: KNUD E HANSEN.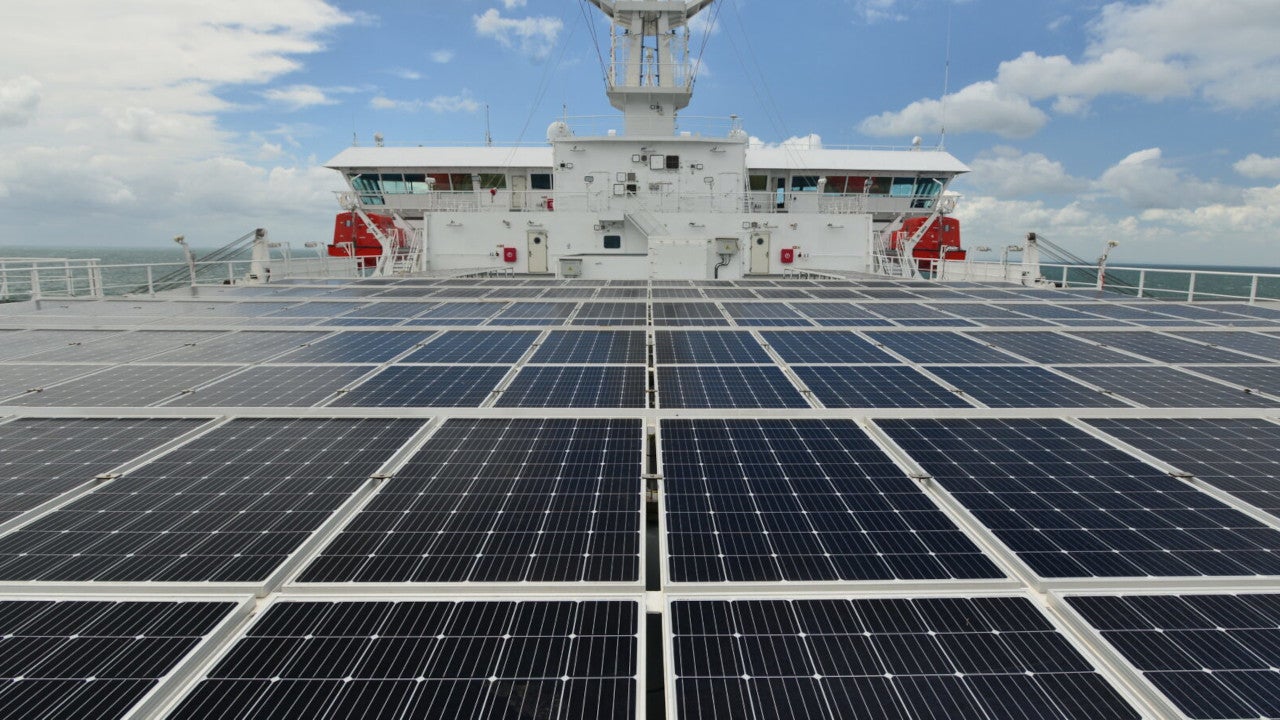 The 600m² solar panels will allow the batteries to charge during navigation. Credit: KNUD E HANSEN.
Grimaldi Green 5th Generation-class (GG5G-class) vessels are new hybrid roll-on/roll-off (Ro-Ro) ships being built by Nanjing Jinling Shipyard for Grimaldi Group for use in short-sea shipping.
The GG5G-class will include 12 hybrid Ro-Ro vessels, of which nine will be operated in the Mediterranean Sea and the remaining three will be deployed in Northern Europe by Grimaldi Group's subsidiary Finnlines.
The vessels are expected to increase operational efficiency by 100% in terms of consumption / tonne of freight transported.
GG5G-class construction
Grimaldi Group placed a $400m order for the construction of six Ro-Ro vessels in May 2018. The order is part of the company's plan to expand and modernise its existing fleet of vessels.
ECO Valencia, the first of the 12 hybrid vessels of GG5G, was handed over to Grimaldi Lines in October 2020. It arrived at the Port of Valencia in Spain in November 2020.
ECO Valencia is claimed to be the world's largest Ro-Ro ship dedicated to short-sea shipping. It will connect Livorno and Savona in northern Italy with Barcelona and Valencia in Spain.
The ship also received Green Plus class award, the highest certification in the field of environmental sustainability, from the Italian Shipping Registry (RINA). The second GG5G vessel, ECO Barcelona, was launched in April 2020.
Construction of Finnlines' Ro-Ro vessel began with the steel-cutting ceremony held at the Nanjing Jinling Shipyard in June 2020. The first vessel is expected to be delivered in 2021, while the remaining two will become operational in 2022.
Grimaldi Green 5th Generation vessel design and features
The GG5G-class vessels have an overall length of 238m, width of 34m and a gross tonnage of 67,311t. The ship can accommodate 31 crew members and 12 passengers. It offers 7,800 linear metres for rolling goods transportation and can carry more than 500 trailers.
The GG5G-class will reduce emissions as it is equipped with electronically controlled engines and exhaust gas purification systems.
The batteries can be recharged during navigation, through shaft generators using peak shaving system and 600m² of solar panels.
Finnlines' GG5G-class vessels
Finnlines' three hybrid Ro-Ro ships will be identical to the standard GG5Gs but will also be strengthened to ice class 1A Super standards. It will replace lengthened Breeze-class vessels on the Baltic – North Sea – Biscay service.
The Ro-Ro ships will be equipped with efficient engines, emission abatement systems, and air lubrication system under the keel to create micro bubble layers to reduce hull resistance.
The vessel will have a trailer capacity of 5,800 lane metres while the car decks will have the capacity of 5,600m². It will also accommodate approximately 300 TEUs on the weather deck.
The vessels will also include containers, sto-ro paper cargo and new cars. Four decks will be dedicated for rolling cargo and all the vehicle decks will be fully enclosed.
Propulsion and performance
The GG5G-class vessels are powered by two slow-speed two-stroke diesel engines which can generate a power output of 12,780kW each.
The propulsion system also includes three 1,580kW auxiliary engines and two controllable pitch propellers (CPPs).
The vessels can cruise at a speed of 20.8k and attain a maximum range of approximately 7,000nm.
Contractors involved
The Technical and Energy Saving Department of the Grimaldi Group partnered with Knud E Hansen for the design of the GG5G-class.
In April 2020, Finnlines awarded a supervision contract to SeaQuest Marine for its three GG5G-class vessels.