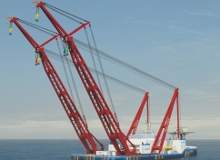 Gulliver is a new self-propelled, DP II heavy-lift vessel constructed by Royal IHC for DEME's subsidiary, Scaldis Salvage and Marine Contractors.
The vessel was built at the Hong Qiang shipyard near Shanghai. It was previously referred to as Rambiz 4000, but was renamed Gulliver in April 2016.
The ship can assist with decommissioning activities, as well as the installation of offshore infrastructure and wind farms in deep water for the oil and gas industry.
An agreement was signed in January 2015 to finalise the construction and delivery of the vessel, and the keel-laying ceremony took place in February 2016.
Lifting equipment was installed at Huisman's facility in Xiamen and the vessel was delivered in April 2018.
Gulliver design details
The heavy-lift vessel has been designed by Vuyk Engineering Rotterdam, a subsidiary of Royal IHC.
Optimised for offshore heavy-lift missions, the vessel is 108m-long with a moulded breadth and depth of 49m and 8m respectively. It has an operating draft of 4.9m and gross tonnage of 22,400t.
The vessel offers accommodation for 78 persons, very small aperture terminal (VSAT) internet, voice over IP (VoIP) facilities, and a helideck.
The ship is classified under Lloyd's Register of shipping notation 100A1, Crane Ship, LA, IWS, LMC, UMS, DP(AA) and CAC 3.
Equipment on-board Gulliver
Gulliver is equipped with two Huisman cranes on its port and starboard. With a lifting capacity of 2,000t each, the cranes provide the ship with a hoisting capacity of 4,000t.
The wave height of the cranes is 1.5m, and their maximum lift height is 78.5m above the deck. The distance between crane booms is 34.3m.
The two cranes are movable up to a distance of 25m, allowing the deck to be used for cargo transportation.
Eight mooring winches are installed at the bow and stern of the vessel. The winches are capable of handling 44mm and 58mm anchor chains.
The vessel features an additional carrying capacity of 3,000t, as well as a moon pool for a remotely-operated vehicle (ROV), which is used in the inspection of installation works on the seabed.
Tank capacities
"Lifting equipment was installed at Huisman's facility in Xiamen and the vessel was delivered in April 2018."
The ship is classified as Ship Right (ACS (B)) as its ballast tank is coated with anti-corrosion materials. Its fuel tank capacity is 1,342m³, while its water ballast capacity is 11,316m³.
The vessel stores 935m³ of freshwater and includes a watermarker capable of holding 20m³ of water a day.
Propulsion
The heavy-lift vessel is propelled by four azimuth thrusters. The aft and forward thrusters offer a propulsion power of 1,720kW and 1,505kW respectively.
The thrusters and DP II system minimise the need for anchoring while conducting installations in deep water. The propulsion system provides a transit speed of 7k.