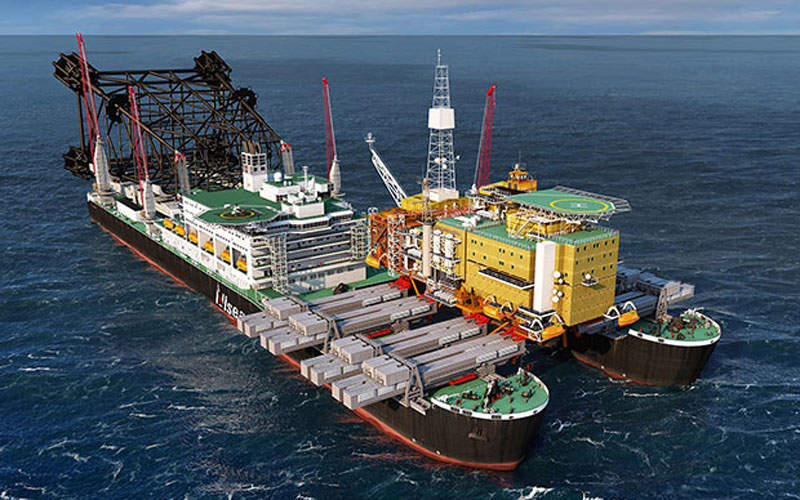 Pioneering Spirit is a heavy-lift construction vessel delivered in 2016. Image: courtesy of Allseas.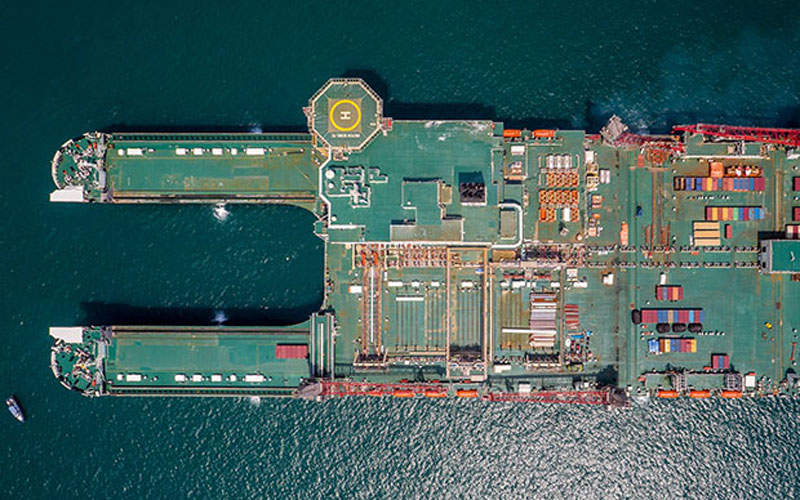 An aerial view of the Pioneering Spirit vessel. Image: courtesy of Allseas.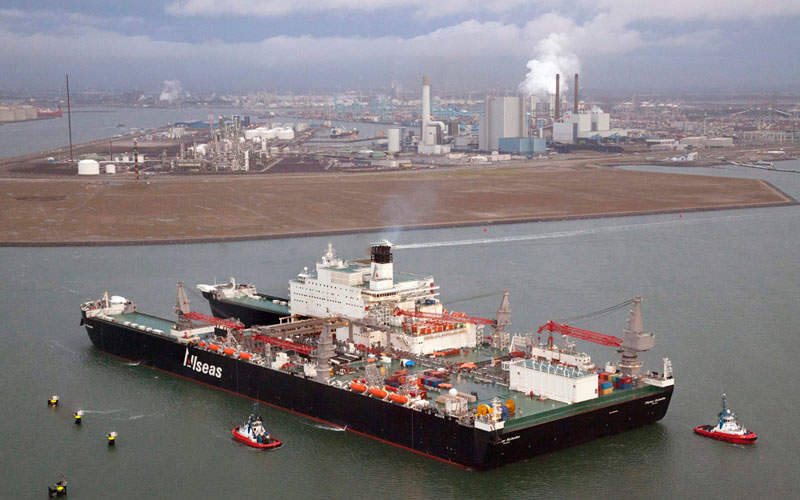 Pioneering Spirit arrived in Rotterdam in January 2015. Image: courtesy of KOTUG.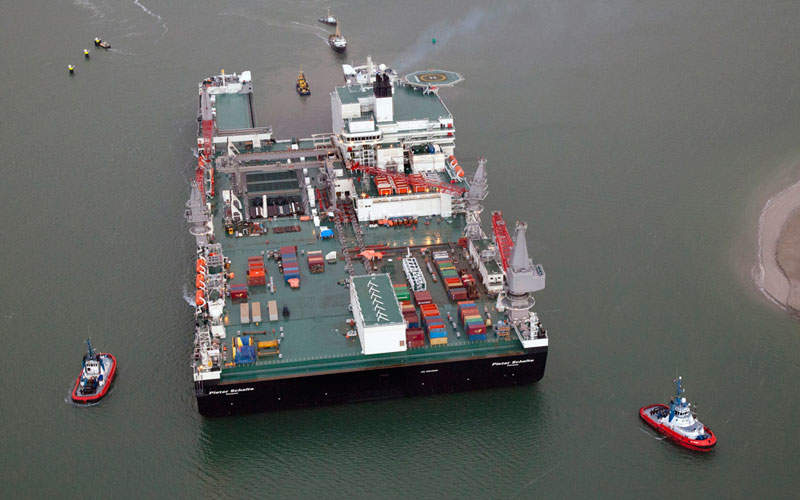 Pioneering Spirit has maximum topsides lift capacity of 48,000t. Image: courtesy of KOTUG.
Pioneering Spirit is a heavy-lift construction vessel owned by Allseas Group, an offshore pipe-laying contractor based in Switzerland.
Originally christened Pieter Schelte, the vessel was renamed Pioneering Spirit in February 2015.
Allseas Group placed a €454.5m ($561m) shipbuilding contract with Daewoo Shipbuilding & Marine Engineering (DSME) for the heavy-lift construction vessel in June 2010 and received delivery in late 2014.
The vessel arrived in Rotterdam, Netherlands, in January 2015 for final assembly in Alexiahaven.
Pioneering Spirit entered service in 2016 with the deployment at Talisman's Yme platform in the Norwegian North Sea. It is capable of performing single-lift installation and decommissioning of large offshore oil and gas platforms, as well as installation of subsea oil and gas pipelines.
Pioneering Spirit was the world's biggest heavy-lift construction vessel at the time of its delivery. The vessel set a world lifting record with the removal of 24,000t Brent Delta platform topsides for Shell UK from the North Sea in April 2017.
Pioneering Spirit design and features
Deltamarin was awarded a contract to provide detailed design covering naval architecture, structural and system engineering, as well as accommodation of the Pioneering Spirit in February 2010.
The vessel incorporates a catamaran hull design integrating a dynamic positioning system and motion compensation system. Its forward hull features a slot that is used to lift topsides. Detailed design of the hull was concluded in May 2010.
Pioneering Spirit has an overall length of 382m, breadth of 124m, and a depth of 30m. It has a topsides lift capacity of 48,000t, jacket lift capacity of 25,000t, and pipe cargo carrying capacity of 27,000t. It accommodates up to 571 personnel in two berth cabins.
Swan Hunter provided assistance for concept development, as well as structural and outfit engineering of the vessel.
Deck equipment and systems
The forward bow section offers a 122m x 59m dedicated slot for lifting topsides using eight horizontal lifting beams. The aft side of the ship features two tilting lift beams for installing and removing jackets.
Beams can also act as cranes for performing the installation or removal of modules and bridges.
The deck is installed with three pipe transfer cranes, each with a lift capacity of 50t at 33m reach, and a special purpose crane with a lifting capacity of 600t at 20m. The vessel is fitted with Kongsberg K-Pos DP-22 dynamic positioning system and two cJoy compact joystick control systems.
It also features a double-joint factory with five line-up stations and two stations for internal / external welding purposes, a main firing line with six welding stations for double joints, a non-destructive testing station, and six coating stations. A helicopter deck is provided to support the operations of a single rotorcraft.
Navigation and communications
"Originally christened Pieter Schelte, the vessel was renamed Pioneering Spirit in February 2015."
The bow and stern sides of the vessel feature two Kongsberg K-Bridge navigation bridge systems installed with multi-function displays (MFD). The systems employ new radar transceiver technology to transfer signals of eight radar transceivers on a local area network (LAN).
Systems also integrate modern features such as the capability to compound radar images from multiple transceivers by presenting them as a single composite image, which avoids blind spots and offers a 360° view around the ship.
The communication network on board the vessel combines the dynamic positioning (DP) system, thruster control, and navigation and machinery automation systems into a comprehensive solution offering unique positioning and manoeuvring capabilities in complex operations.
The vessel is fitted with subsea position reference systems, including a high-precision acoustic positioning system from Kongsberg Maritime. The systems are designed to ensure the accuracy of the on-board DP system.
Propulsion and power
Pioneering Spirit is powered by eight MAN 20V 32/44 generator sets and a 9L 32/44 engine. Diesel gen sets, with a total installed power of 95,000kW, drive 13 azimuth thrusters ensuring dynamic positioning and propulsion. The thrusters are capable of rotating 360° to propel and position the vessel.
Rolls-Royce was awarded a contract for the supply of 13 large azimuth thrusters for the vessel. The £18m contract is the biggest thruster order received by Rolls-Royce for a single vessel. The propulsion system provides the vessel a maximum speed of 14k.