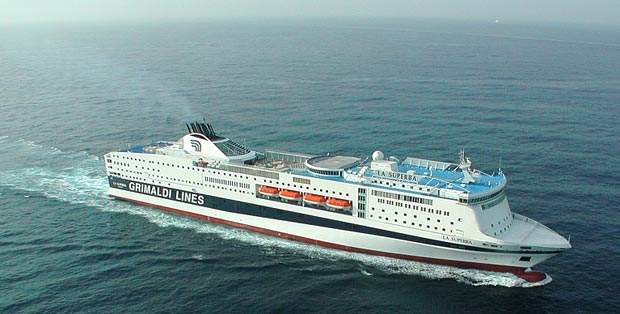 La Superba in sea trials.
Grand Palais hall on La Superba.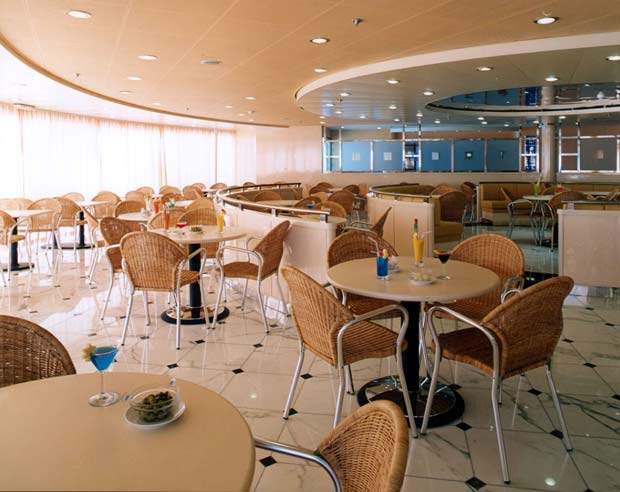 Café on La Superba.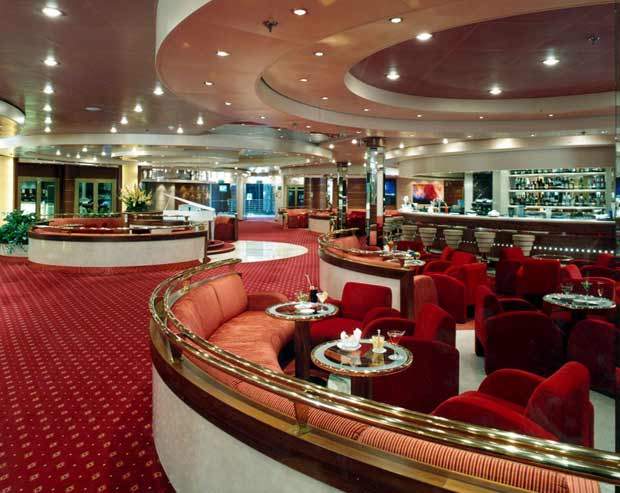 The piano bar on Deck 7.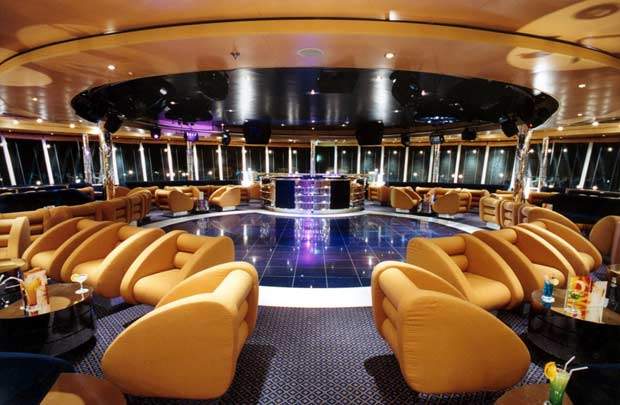 The lounge on the Sky Deck (Deck 9)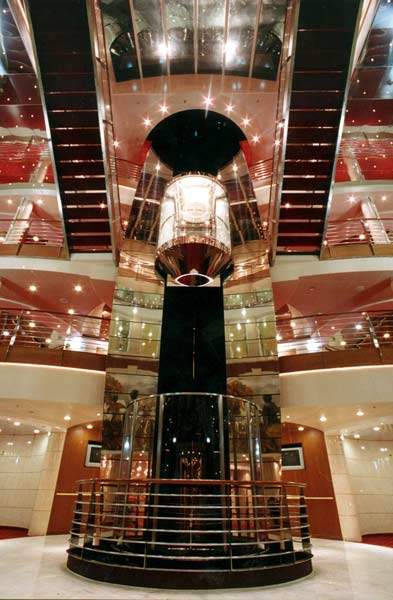 The panoramic lift on La Superba.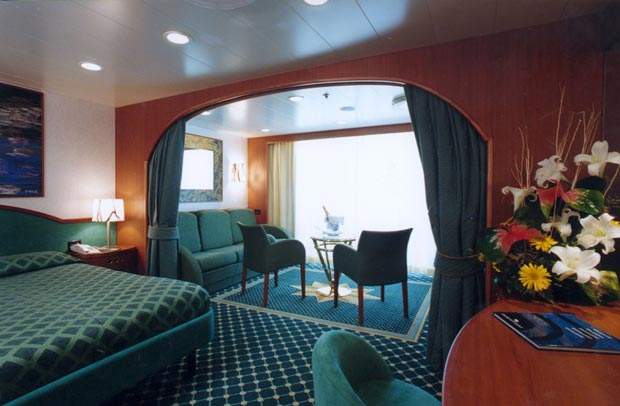 Of the 567 cabins, six are presidential suites.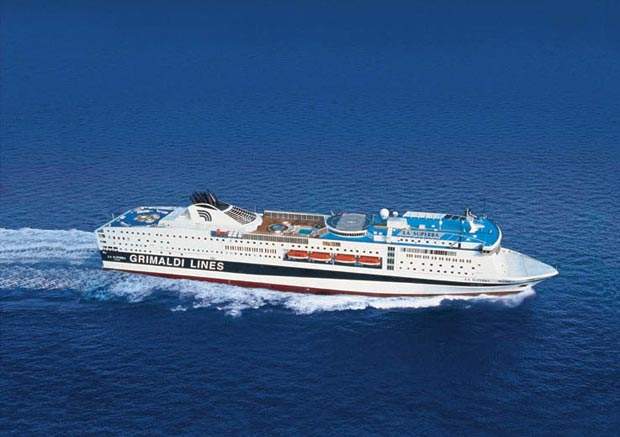 La Superba will cruise the Mediterranean or run between Genoa and Sardinia.
La Superba is a cruise ferry, built by the Italian shipbuilder Nuovi Cantieri Apuania for the ship owner Grandi Navi Veloci (GNV), part of the Grimaldi group. At a cost of $120 million, it is one of the world's largest and fastest luxury cruise ferries. La Superba has a tonnage of 50,000t. It measures 211.5m in length and has a beam of 31.5m. The height to the bridge is 33m.
It will cruise the Mediterranean or run between Genoa and Sardinia.
CAR GARAGE DECKS
The vessel has four garage decks which give it a carrying capacity of 2,500 lane metres or 1,000 cars. The stern ramp and the car deck ramps were supplied by MacGreggor.
PASSENGERS
The public areas are spread over seven interconnecting decks:
Deck 7, the Atlantic deck, contains the Le Chandelier, an a la carte restaurant which can seat 404 people, as well as the Capirccio restaurant which can accommodate up to 402 passengers when joined with the adjacent Mosaico Italiano restaurant. Further towards the bow, there is a Grand Palais hall featuring floor-ceiling glass walls and a piano bar. There is also a fashion café which can seat 115 people. There is a video games room and a 'dream machine' casino. There are two spiral staircases which provide access to the Coral Deck (Deck 8) with its banqueting area and theatre.
Deck 9, the Sky Deck, contains the meeting rooms and conference hall as well as library and panoramic lounge which overlooks the bow area.
A feature of the vessel is its large verandah, which contains the fitness area as well as the gym and children's room. This verandah opens out to the Lido deck.
Extending over 100m, the Lido deck contains the sun bathing and pool area, one at the stern, the other at the bow, which contain a variety of swimming and paddling pools. Overlooking this is the Sky Club disco with its capacity of 176.
La Superba can house 2,920 passengers in 567 cabins. Of these, there are six presidential suites, 31 double suites, four cabins for the disabled and 526 standard cabins. There are also 940 pullman-type reclining seats in the passenger seating area and auditorium. The passengers are served by an all-Italian crew.
ENGINES
The main engines consist of four Wartsila 16V46C units, which have a total output of 67,200kW. These drive two reduction gearboxes and a pair of four-bladed propellers. This affords the vessel a maximum speed of 30 knots. Manoeuvring is enabled by two Rolls Royce Frydenbo electrohydraulic rudders. These can be operated either in tandem or independently.
Manoeuvring in port is enabled by a pair of Rolls Royce type 2200 controllable pitch bow thrusters. These have an output of 1,500kW at 1,190rpm.
The electricity for the vessel is produced by four Wartsila Vasa 6R32 generators which produce a total output of 9,360kW.
In order to maximise passenger comfort, the vessel is fitted with two retractable stabiliser fins. These Simplex -type S6000 are manufactured by B+V Industritechnik.
NAVIGATION AIDS
La Superba has an automated bridge system, which enables the control of virtually every onboard system, including lifts and escalator. There is an integrated navigation system based on four radars. A joystick can be used to operate the rudders propellers and thrusters for berthing or navigating around objects.