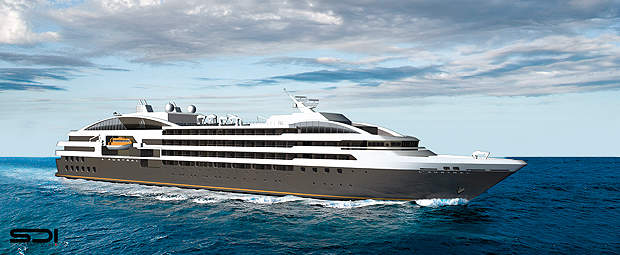 L'Austral is the second of two super luxury cruise ships ordered by Compagnie du Ponant.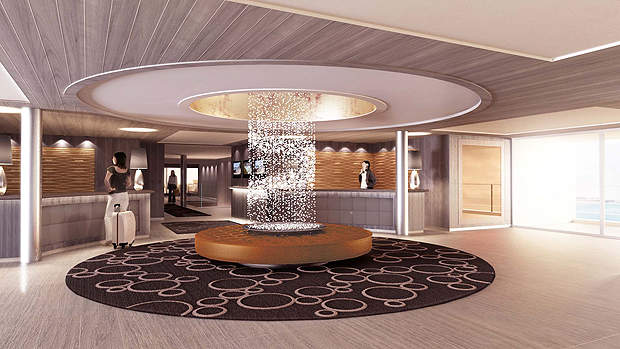 The reception area of the L'Austral cruise ship.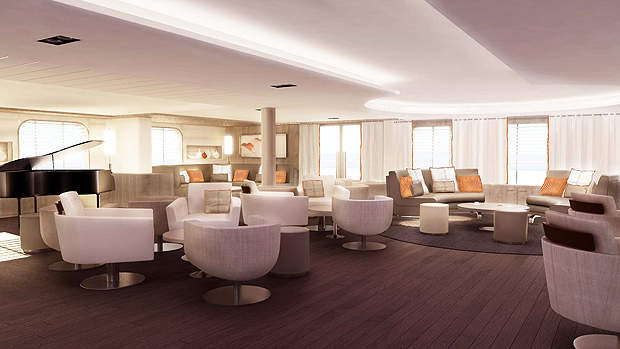 A view of the ship's lounge area.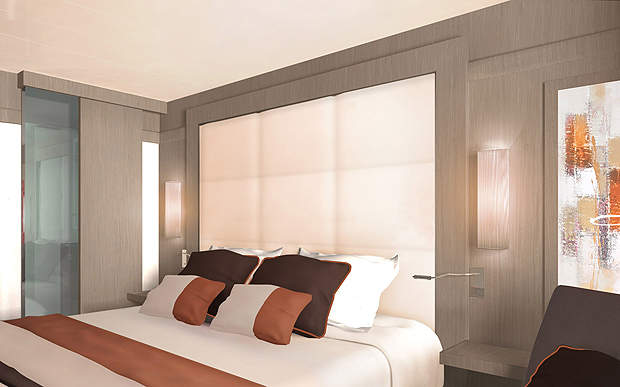 The inside view of the stateroom.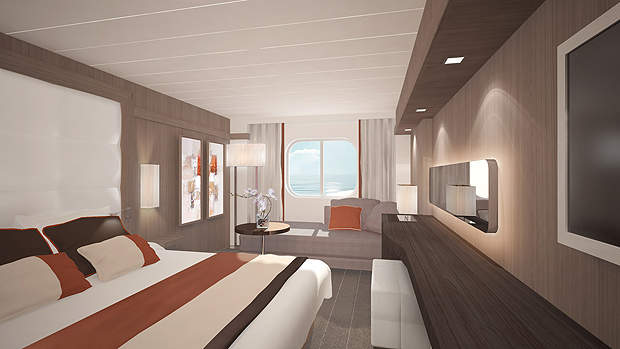 L'Austral's cabins all feature sea view windows.
L'Austral is the second of two super-luxury cruise ships built by Fincantieri for French-based cruise-line operator Compagnie du Ponant. The ship is also called a mega-yacht due to its size and sophisticated decor.
In February 2008, CMA CGM had signed a memorandum of understanding (MoU) with Fincantieri to construct two luxury cruise ships for its subsidiary Ponant Cruises. The first cruise ship, Le Boréal, was launched in October 2009 while the second, L'Austral, was launched at Ancona shipyard in April 2010. The official ceremony of the cruise ship took place on 26 April 2011 in Marseille. The ship will cruise from Marseilles, France to Lisbon, Portugal on its inaugural voyage.
The ship has an overall length of 142m, a moulded breadth of 18m and a draught of 4.7m. The vessel's gross tonnage is 10,700t. The cruise ship can accommodate over 264 guests in 132 staterooms.
L'Austral design
L'Austral's design is influenced by the French style, interpreted by designer Jean-Philippe Nuel to create space and a unique ambience. Precious metals are used to give the interiors the feel of a private yacht.
The outer structure features large arched windows. L'Austral is smaller than other cruise ships, so it will reach ports and destinations that are inaccessible to larger vessels. It is equipped with a dynamic positioning system and a fleet of zodiacs. The cruise ship uses modern technologies to reduce environmental impact. It has achieved a Green Ship label for its advanced wastewater treatment, fuel economy and less exhaust emissions.
Staterooms
"L'Austral is also called a mega-yacht due to its size and sophisticated décor."
The cruise ship has 132 sea view cabins and suites, with 94% of the rooms boasting a private balcony. Room categories offered are: prestige, deluxe, superior, owner's suite, prestige suites and deluxe suites.
All staterooms occupy an area of 200ft²-226ft². These rooms feature individually controlled air-conditioning, king-size bed or twin beds, bathtub, minibar, flat screen satellite TV, desk with stationery, DVD, CD and iPod players, safe and bath robes. The deluxe staterooms feature a private balcony.
Suite rooms range between 398ft² and 484ft² in size, and boast communicating cabins, a bathtub with shower, a sofa, an armchair and a pedestal table as well as the amenities offered in staterooms.
L'Austral dining facilities
The cruise ship has two dining facilities: Gastronomic Restaurant and Grill Restaurant. The Gastronomic Restaurant situated on Le Liberté deck serves French and international cuisines and beverages including fine wines. It has seating for 268 guests. The Grill offers takeaways as well as a buffet lunch and themed dinners.
Entertainment facilities
L'Austral features a range of lounges and entertainment areas for the guests on-board. The main lounge offers afternoon tea and live music, a dance floor and cocktail bar. It can accommodate 110 guests inside and 30 outside.
"L'Austral has a Green Ship label for its advanced wastewater treatment, fuel economy and less exhaust emissions."
The panoramic lounge features a library, internet desk and cocktail bar, and also hosts live entertainment on selected evenings.
The open-air bar on pool deck provides seating for 50 people. The theatre, equipped with state-of-the-art audio and video technology, features a main show room for conferences and live entertainment. Relaxation facilities include a fitness and body corner. The fitness room has kinesis equipment, running machines and bicycles. The beauty corner Carita includes two massage rooms, balneo room, hammam and relaxation room. The cruise ship also offers a games area with Wii consoles, special menus for children and a baby-sitting service.
Navigation and communication
The ship is equipped with a satellite weather system, underwater detection system and global maritime distress safety system. The weather system gathers real-time pictures of weather conditions and ice shapes, while the underwater detection system avoids collision with whales or ice floes. The ship also has an emergency communication system.
Propulsion
The ship is equipped with an electric propulsion system consisting of two diesel engines. Each engine provides a power output of 2,300kW. These diesel engines use a lighter biofuel to achieve more economical benefits and fewer emissions. The propulsion system provides maximum speed of 16kt.