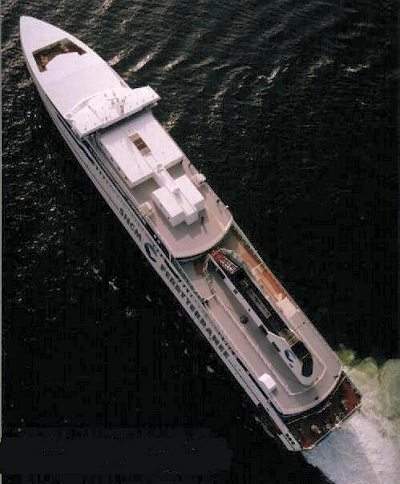 Aerial view of Liamone.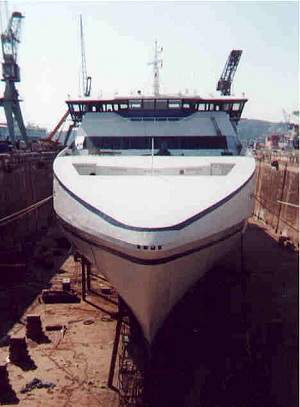 Liamone in dry dock.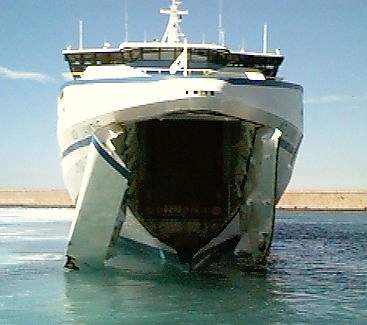 Liamone in Nice harbour.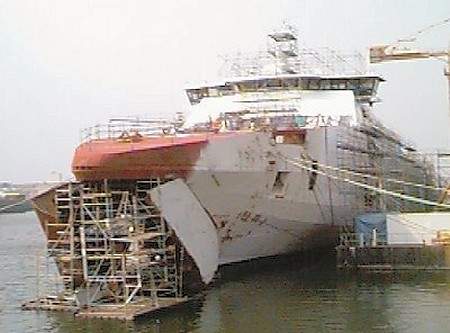 The bow doors under fabrication.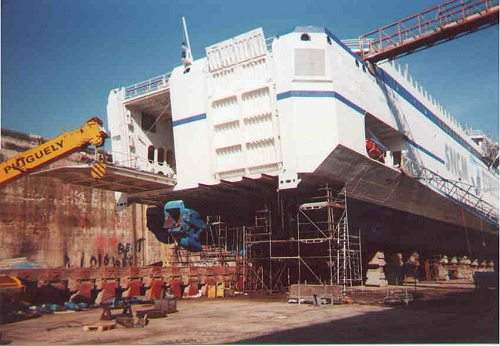 The stern doors.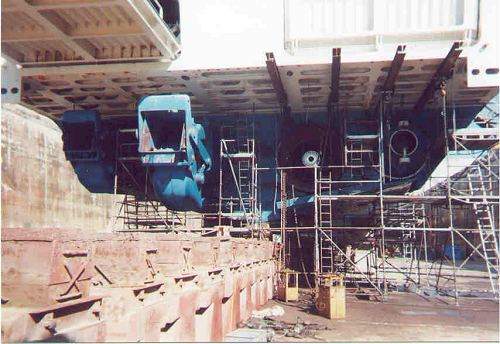 The waterjets being installed.
The NGV (Navires a Grande Vitesse) Liamone fast ferry was built by Alstom Leroux Naval in France (hull number 824) for the owner/operator Societe Nationale Maritime Corse Mediterranee. It will work on the route Nice/Ajaccio/Nice and Nice/Bastia/Nice.
SHIP DESIGN
The NGV Liamone has an overall length of 134m and a length between perpendiculars of 120m. It has a moulded depth of 6.2m to the main deck and 14.75m to deck four, with a moulded breadth of 19.8m. Its gross tonnage is 9,300t, with a design deadweight of 600t and a scantling deadweight of 900t. The Liamone is equipped with an advanced stabilization system, developed by Mar Dynamics. To assist with roll stabilization and improve course stability, it has a pair of 3.5m² fins forward and another pair aft. The roll stabilisation fins are supplied by Vosper. There are also two 12.5m² transom trim flaps to minimise pitch and roll. Lastly there is also a 13.4m² retractable T-foil located forward.
The stabilisation system is computer-controlled, using an array of motion data from the bridge.
The hull of the Liamone has been constructed mainly in EH36 high-tensile steel (80%), with other parts fabricated in 5383 light-marine alloy for the superstructure.
FACILITIES
Because of the route, the ferry does not require cabins, but it has a capacity of 1,116 passengers. There are three saloons with sofas and airline–type seats. There is also a cafeteria, a shop and two bars.
It can transport 14 trucks/trailers or 250 vehicles and 35 motorbikes on two decks – the main and car deck. The vehicles enter the ferry through two stern doors and ramps. There is also a bow door and ramp, as well as internal ramps.
Because of the relatively long distances and high speeds involved, the bunkers were designed to contain 210m³. The Liamone consumed up to 182t/day of diesel.
SHIP PROPULSION
The vessel's power comes from diesel-driven alternators. The five MTU 183 alternators each provide an output of 418kW, and propulsion is by means of the CODAG (combined diesel and gas turbine). The main engine set consists of a pair of MTU 1163 TB73LV20 diesel units, which can attain a power output of 6,500kW. These are derated to 90 per cent output, resulting in 5,850kW of power. The other power source is from a pair of gas turbines. The General Electric LM2500+ turbines have an output of 25,000kW each, derated to 95 per cent output, resulting in 23,750kW.
The power sources are linked to reduction gearboxes made by ZF for the diesel engines and Renk for the turbines. The diesel engines are linked to a pair of Kamewa S140 six-bladed waterjets while the gas turbines are connected to two S180 seven-bladed water directional and reversible jets. These waterjets are normally set at the straight ahead position, however, they may be moved in order to assist the fins in maintaining the heading. This results in a significant increase in heading stability as the fins have a much faster reaction time than the waterjets.
These engines give the ferry a service speed of 43 knots at 95% MCR, which equates to approximately 80km/h. Approaching the harbour, the vessel can be manoeuvred by means of two Kamewa bow thrusters, each of which have an output of 480kW.
The NGV Liamone is flagged in France and classified by Bureau
Veritas