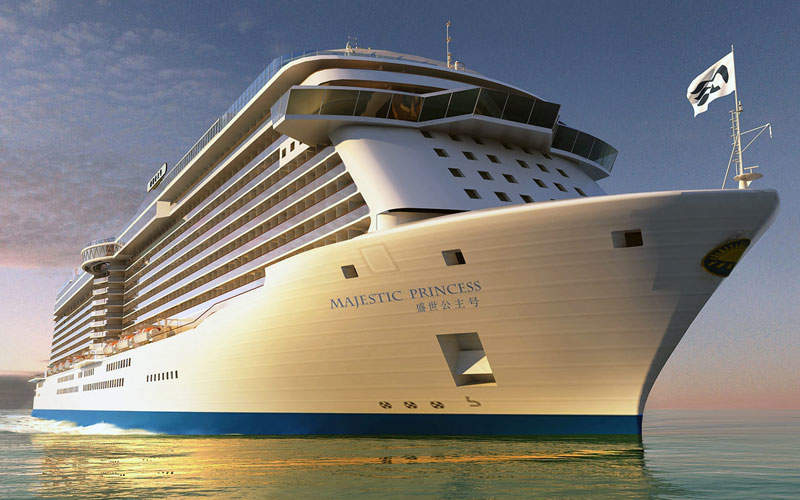 Majestic Princess was named in October 2015. Image courtesy of Princess Cruises.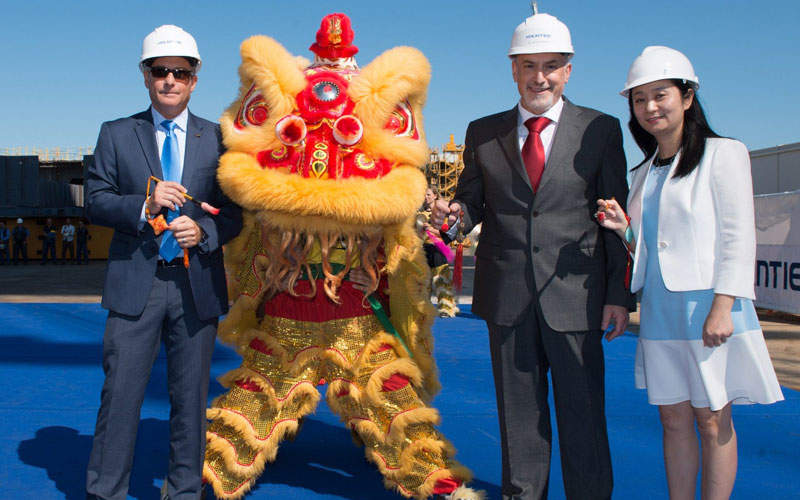 The keel laying ceremony of Majestic Princess was held in July 2015. Image courtesy of Princess Cruises.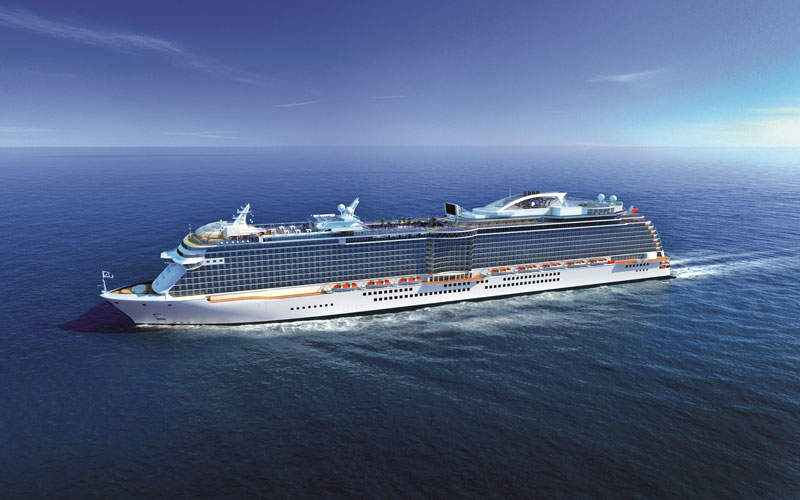 Majestic Princess was launched in 2017. Image courtesy of Princess Cruises.
Majestic Princess, the third cruise ship of the Royal Princess class, was built at Fincantieri's Monfalcone shipyard in Italy for Princess Cruises, a subsidiary of Carnival Corp.
The cruise liner is the first custom-designed and built vessel for Chinese market and incorporates the successful design platform introduced on her sister ships Royal Princess and Regal Princess, which entered service in 2013 and 2014 respectively.
The cruise ship was delivered to Carnival Corporation in March 2017. The 143,000t vessel is home-ported in Shanghai, China, and offer cruises to Japan and Korea.
Construction and specifications
---
---
Royal Princess is a cruise liner constructed by Fincantieri for the British-American cruise line Princess Cruises.
---
Princess Cruises made an agreement with the Italian ship builder Fincantieri for the construction of a new royal-cruise ship at an all-in cost of €600m in July 2014.
The ship's keel-laying ceremony, which included lowering its bottommost part, weighing about 500t, into its position on to the keel blocks, was held in July 2015 at Monfalcone shipyard.
The cruise ship has a total length of 1,083ft and height of 217ft, as well as offers a service speed of 22k.
"The cruise ship has a total length of 1,083ft and height of 217ft, and offers a service speed of 22kt."
Deck plan
Majestic Princess has 19 decks, offering a variety of amenities and facilities for the passengers to relax, refresh and enjoy.
Deck 4 or Gala features a medical centre, and Deck 5, also known as Plaza, houses public places including Bar Piazza, International Café, Lotus Spa, The Piazza, Vines Bar and dining hall.
Deck 6 or Fiesta has Alfredo's Pizzeria, art gallery, Bellini's casino, dining room, photo-video gallery and Princess Theatre. Deck 7 or Promenade features boutiques, Crown Grill & Bar, internet café, library, Princess Live interactive television studio, and upper level of Princess Theatre.
No public areas are available from Decks 8 to 16. These eight decks, named respectively Emerald, Dolphin, Caribe, Baja, Aloha, Riviera, Marina and Lido, feature staterooms for passenger accommodation.
Deck 17/Sun deck has a fitness centre and hot tub facilities. Deck 18/Sports deck offers Movie Under the Stars, which is a signature set-up with the largest outdoor screen offered by Princess Cruises. Deck 19 or Sky deck, the last deck on the vessel, is open to sky.
"Interior staterooms are approximately between 166ft² and 175ft² in size."
Accommodation aboard Majestic Princess
Majestic Princess is outfitted with 1,780 guest cabins, which accommodates 3,560 passengers. The stateroom categories include 36 suites with private balconies, 374 mini suites, 325 deluxe balcony cabins, 703 balcony cabins, 342 inside cabins and 36 wheel chair-accessible cabins.
Suites with balconies are between 440ft² and 682ft² and include a spacious cabin and a large balcony measuring between 83ft² and 338ft², along with suite-only benefits. They feature separate seating area with a sofa-bed, walk-in closet, full bathroom and deluxe amenities.
Premium mini-suites with balcony offer spacious cabin with a separate seating area and sofa, and an extra-large balcony. The bathroom features a combination of tub and shower.
There are 299ft² mini-suites that each feature 41ft² balcony and a separate seating area. Premium deluxe and deluxe balconies are larger than the standard balcony staterooms and feature an approximately 233ft² cabin and 41ft² balcony area. They offer features similar to those of the balcony staterooms, and an additional sofa bed for third passenger.
Obstructed view deluxe balcony cabins offer 233ft² cabins with similar features of the balcony staterooms, but have a partially or fully obstructed view from the balcony.
Balcony suites have 222ft² of cabin space and 41ft² of balcony space and feature fine amenities and offer decent sea views from the private balcony.
Obstructed view balcony staterooms feature all the comforts and amenities of the balcony cabins and offer a partially or fully-obstructed view from the balcony. Interior staterooms are approximately between 166ft² and 175ft² in size.
Other recreational facilities
The cruise liner offers special features including a multi-storey atrium, which serves as the social hub, a unique over-the-ocean SeaWalk that features a glass-floor walkway extending 8m beyond the edge of the ship, and Chef's Table Lumiere, a private dining for the guests, surrounded by a curtain of light.
Itineraries of Majestic Princess
The cruise ship joined its Princess fleet, in Rome, where it started its inaugural sailings in April 2017. Its first trip was a five-day Maiden Adriatic Sea roundtrip voyage to Kotor and Corfu, followed by a series of seven-day, 14-day, 21 and 28-day Mediterranean voyages departing Barcelona, Athens and Rome between April and May.
After her European voyages, she sailed to Asia for her maiden China cruise season.