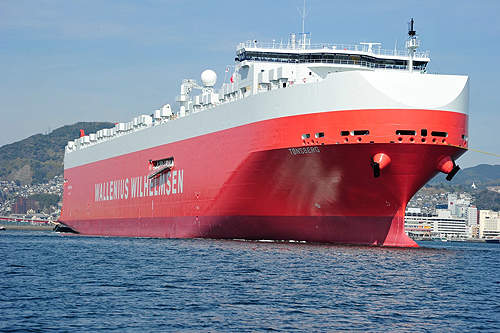 Front view of the MV Tonsberg.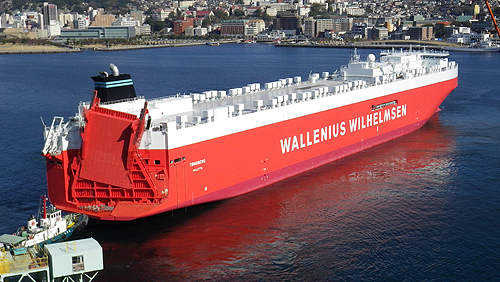 MV Tonsberg is the 150th anniversary vessel of the Wilh. Wilhelmsen group.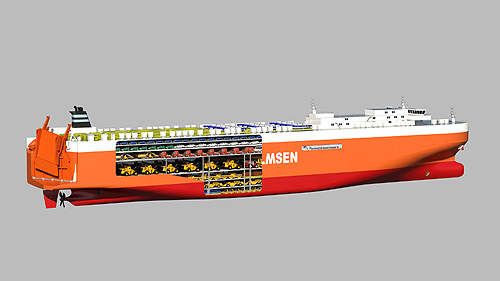 Graphic illustration of the Mark V carrying a heavy cargo of bulldozers.
Developed by Wilhelmsen Marine Consultants, the Mark V is a next-generation roll-on / roll-off (ro / ro) class of vessels designed to transport and handle larger and heavier cargo at reduced fuel consumption.
In December 2007, Wilh. Wilhelmsen and Wallenius Lines ordered Mitsubishi Heavy Industries to build four Mark V-class vessels. The first vessel built under the class was MV Tonsberg. She was delivered in March 2011. MV Tonsberg is the largest ro / ro vessel in the world.
The second vessel, MV Parsifal, was delivered in September 2011. MV Tysla is the third vessel in the series. She was named and delivered in January 2012.
In June 2012, MV Tonsberg received the "Ship of the Year 2011" award from the Japan Society of Naval Architects and Ocean Engineers (JASNAOE) for its transport efficiency and environmentally friendly features.
Mark V design
The Mark V design was formulated with the aim of providing economical transportation and safe cargo handling at low fuel consumption. The design also allows for high ramp capacity and deck strength.
The six fixed and three hoistable decks enable the vessel to store 138,000 cubic metres of cargo. The stern ramp, which is 12m wide and has safe working load of 505t, allows the vessel to transport larger cargo units.
Optimised hull shape, streamlined rudder design and duck tail help the Mark V class to consume 15 to 20% less fuel per transported unit compared with its predecessors. The engine room is fitted with an advanced turbo waste heat generator that generates electricity from the waste: exhaust heat.
It is estimated to reduce fuel consumption by 5 to 6% annually and thus cut down CO2, SOx and particulate emissions. Emissions of NOx will be reduced by 3%.
"The first Mark V-class vessel, MV Tonsberg, launched in March 2011."
The engine room is located aft and the mooring decks are located forward and aft on deck five.
The design length of the Mark V is 265m and its moulded breadth is 32.26m. The length between perpendiculars is 250m, depth to upper deck is 33.22m, depth to main deck is 15.20 and design draught is 11m. The design deadweight is 31,824t and scantling deadweight is 41,554t. Its gross tonnage is 76,500t.
Tank capacity for ballast water is about 16,080 cubic metres, fuel oil is about 4,970 cubic metres, diesel oil is about 650 cubic metres and fresh water is about 475 cubic metres.
Accommodation
A total of 36 crew members can be accommodated on a Mark V ship. In order to improve rest and recreation for the crew members, the accommodation is arranged in two tiers on the weather deck.
One tier is for living quarters and the other one is for public spaces and offices.
Cargo onboard the Mark V
As well as regular cargoes, Mark V vessels can ship large cargoes such as bulldozers and wheel loaders.
Total deck area in holds is about 50,335 square metres and deck area for high and heavy cargo is 31,250 square metres. The upper deck has a cargo area of 2,730 square metres.
Decks 1, 2, 3, 4, 5 and 7 are the fixed cargo decks intended for high and heavy cargo, non-containerised cargo and breakbulk. In order to achieve flexibility and maximum utilisation, the vessel has three hoistable decks which are operated by electric winches erected under each car deck panel. Decks 6 and 8 are made of plywood plating to reduce weight and are intended for transporting ars. Arrangements for the Aquavit containers and project cargo such as windmill blades and yachts are made on the weather deck.
Mark V propulsion
The Mark V vessel is propelled by a six-bladed, single fixed pitch propeller and powered by an electronically controlled MAN B&W L70ME-C8 main engine.
"The Mark V will reduce fuel consumption by 5-6% annually."
A Mitsubishi AT42M steam turbine generator of 1,200kWe and a Taiyo Electric shaft generator of 1,100kWe provide electric power during the normal sea going condition.
Three Taiyo Electric auxiliary generator sets of 2,400kW each provide power during manoeuvring and in port.
In order to achieve high manoeuvrability, the Mark V vessel is installed with an efficient low resistance rudder and two Kawasaki KT-219B5 transverse thrusters, fitted forward and aft.