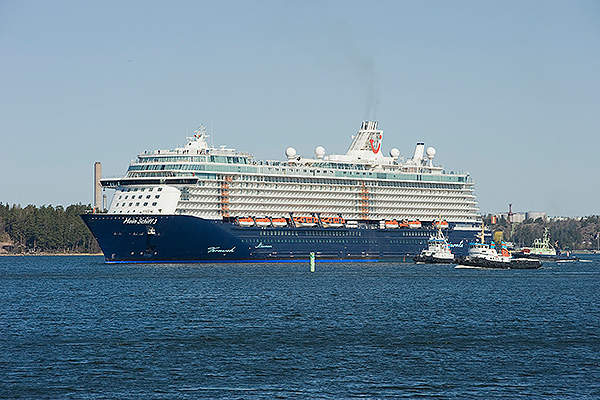 Mein Schiff 3 sailed on its maiden voyage in June 2014. Image courtesy of STX Europe.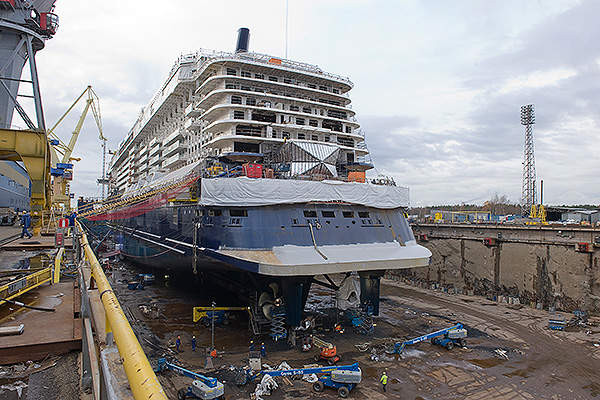 The vessel was built at STX Finland's Turku Shipyard. Image courtesy of STX Europe.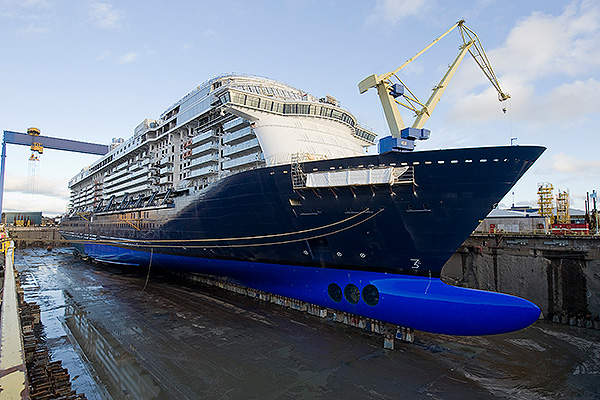 The DNV GL class cruise ship was commissioned in June 2014. Image courtesy of STX Europe.
Mein Schiff 3 is the first cruise liner of the 'feel-good fleet' built by STX Finland at its Turku Shipyard, for the German cruise operator TUI Cruises, which is a joint-venture between German tourism company TUI and Royal Caribbean Cruise Line. The feel-good fleet is aimed at enhancing passenger experience on TUI's cruise ships.
The Mein Schiff 3 was christened in a naming ceremony held in Hamburg in June 2014. The vessel is served by approximately 1,000 crew members.
Mein Schiff 3 cruise ship construction
TUI signed a contract with STX Finland for building the new cruise ship in September 2011. Construction of the DNV GL-class ship started in November 2012. Her keel was laid in May 2013 and the official launching ceremony was held in November 2013. Her sister vessel Mein Schiff 4 is currently under construction and will be launched in 2015.
Mein Schiff 3 sailed on her nine-day maiden voyage from Hamburg sailing through Le Havre (Paris), La Coruna, Leixoes (Porto), Lisbon, Cadiz up to Mallorca in June 2014.
Design details of Mein Schiff 3
Mein Schiff 3 measures 295m in length and 35.8m in width. The depth to keel below the surface is 8m. The ship has a gross tonnage capacity of 99,700t.
Wilson Butler Architects was the master planner and main designer of the cruise liner. It outlined the design of the common areas, public spaces, open decks, main theatre and the concert hall. CM Design designed the interiors and public areas, including passenger cabins, restaurants and entertainment areas.
A number of portions of Mein Schiff 3 were designed by Tillberg Design, who also designed synthetic floors and deck surfaces for two Project Breakaway Plus cruise ships owned by Norwegian Cruise Line.
Accommodation onboard the new cruise liner
The cruise ship features 15 passenger decks comprising 1,253 passenger cabins, which include more than 80% balcony cabins.
The cabins are categorised into 123 inside cabins including two accessible by wheelchair, 97 outside cabins including four accessible by wheelchair, 957 balcony cabins including four accessible by wheelchair, 67 junior suites and 12 suites.
The vessel can accommodate a total of 2,506 guests in double-bed configuration.
STX Finland subsidiary STX Finland Cabins, a subsidiary of STX Finland, started building the vessel's cabins in February 2013.
Entertainment and relaxation aboard the vessel
One of the main highlights of the vessel, the Great Freedom is a diamond-shaped glass exterior at the stern over two decks covering an area of approximately 167m².
The cruise ship features an entertainment zone, the Grosse Freiheit and other restaurants, bars and lounges. It also has aboard, the world's first chamber music philharmonic at sea, the Klanghaus, which is a 270m² room with a seating capacity for 300 guests. The Klanghaus features acoustic control systems (ACS) sound variations and fine lighting.
The vessel also features an in-flight entertainment zone, which features shows from international artistes of all types.
Additional facilities onboard the vessel include an indoor pool with hot tub, a children's nursery and other services such as reception, a cruise guide and shore excursions. A hospital is also located behind the theatre on deck three.
Restaurants and bars aboard the ship
---
---
Britannia is a cruise liner constructed by Fincantieri for the British cruise line Peninsular and Oriental (P&O) Cruises.
---
The new cruise liner offers a variety of dining options, including the Atlantic, which offers a rich breakfast and a five-course gourmet menu, buffet restaurant Anckelmannsplatz, seafood restaurant GOSCH, Backstube bakery and Japanese eatery Hanami.
It also features a fine dining restaurant named Restaurant Richards, a steak house named Surf & Turf, Tag-und-Nacht bistro and an ice-cream parlour. At the rear end of deck 14 is the Alster Bar & Grill.
Other options onboard the ship include Abtanz bar, Diamant bar, himmel-und-meer-lounge, Café lounge, TUI bar, Ueberschau-bar, Indispensable Bar and Champagnertreff.
The exclusive X-lounge lounge serves guests of junior suites and suites. A separate smoking lounge and the Look bar, which plays live music, are also onboard the ship.
Other amenities onboard the cruise liner
The vessel has 12,000m² of open sun areas with hammocks, a spa and sea sauna area and a sports and health arena with personal trainers, jogging tracks, pools and outdoor sports. The ship also features a Paul Mitchell hair salon and offer beauty treatments by experts Reviderm and Dermax.
Decks four and five feature duty-free shops for garments, accessories, perfumes and jewellery.
Mein Schiff 3 engine and propulsion
Mein Schiff 3 is equipped with four Wärtsilä diesel-electric engines, two 12V46F and two 8L46F, with a total output of approximately 28,000kW. The propulsion system enables the vessel to cruise at a speed of 21.7k.
ABB was contracted to supply electrical and propulsion systems for the cruise liner.
Environment friendly features of the vessel
ISOVER marine insulation products are used to reduce the weight of the ship and also increase the efficiency.
A combined exhaust after-treatment system is fitted in the cruise liner to reduce sulphur emissions by 99%, fine dust and soot emissions by 60% and nitrogen oxide by 75%. A wastewater treatment system is installed to treat the used water in the ship to remove pollutants before releasing it into the sea.
Mein Schiff 3 contractors and suppliers
ABB further supplied the automation package and energy management system, as well as vessel information and control (VICO), which is installed onboard.
"Interior outfitting of the fitness and spa areas was completed by Kaefer."
Western Baltija Shipbuilding supplied steel blocks weighing 1,322t. The restaurants, bars, crew areas with stairs and a crew recreation area were built by Naval Interior Team (NIT).
Interior outfitting of the fitness and spa areas was completed by Kaefer.
Lufthansa Systems installed innovative LAN and WLAN solutions onboard the ship. Its guest service platforms are integrated to allow passengers to use their own gadgets such as smart phones, tablet PCs or media players for ordering services onboard.
Lufthansa also provided a single network infrastructure using CCTV and fire safety to lower the installation, operation and maintenance costs.