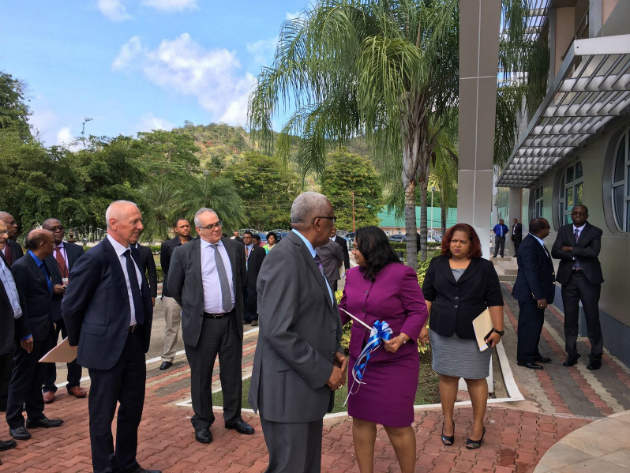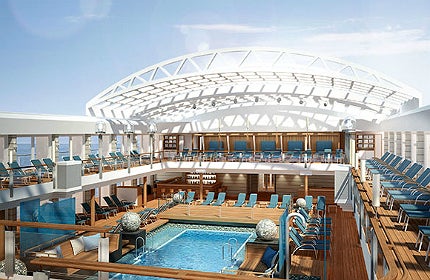 MS Europa 2 is the sister ship to Europa and the fifth cruise ship in the fleet of Hapag-Lloyd Cruises. Construction of Europa 2 began in September 2011 and the keel was laid in March 2012. It was handed over to Hapag-Lloyd in April 2013.
STX France constructed Europa 2 at its Saint-Nazaire shipyard in France. The luxury cruise ship will sail in the regions of the Western Mediterranean, Eastern Mediterranean, Arabian Peninsula and Asia. It set out on its maiden voyage, from Hamburg to Lisbon, in May 2013.
Design and construction of MS Europa 2
Europa 2 has a length of 225.38m, beam of 26.7m in breadth and draught of 6.3m. Its maximum gross registered tonnage is 42,830t.
"Construction of Europa 2 began in September 2011 and the keel was laid in March 2012."
It comprises 11 decks, with 251 suites accommodating approximately 500 passengers and more than 370 crew members.
With an installed power of 14.5MW, the luxury cruise ship is capable of sailing at a maximum speed of 21.4kts.
The ship is equipped with Rescompany's Resco SMS for management of various operations, such as reservation, control of gangway traffic, accounts, check-in and check-out and other properties on board.
Up to 835 people were engaged in the construction of the ship, which utilised up to 10,000t of steel.
Suites, dining and entertainment facilities
Guests onboard the Europa 2 can choose between seven types of rooms – two 'Owner's' suites, two 'Grand Penthouse' suites, 16 'Spa' suites, 24 'Grand' suites, 59 'Ocean' suites, 141 'Veranda' suites and seven family apartments. All suites feature a balcony.
"The contract for delivering the propulsion systems was awarded to Converteam and Rolls-Royce."
The living area of the suites ranges from 28m² (301.3ft²) to 99m² (1,065ft²) where as that of the verandas ranges from 7m² (75ft²) to 15m² (161ft²) in area. Common facilities in all the suites include a free mini bar, Wi-Fi facility, tablet PC and flat-screen TVs. The spa suites additionally feature whirlpool tubs.
MS Europa 2 also contains seven restaurants, four bars, a sushi bar, two lounges, a theatre with 3D cinema screen, fitness area incorporating an Ocean spa, a jazz club, a teens' club, a kids' club, an auditorium, a pool deck, library, boutique, golf simulators and seven zodiac boats. The ship also features a culinary school with kitchen appliances manufactured by Miele.
Entertainment in the new luxury ship is provided through performances by renowned artists and literary readings by authors.
Propulsion systems on the luxury cruise ship
The ship is fitted with Mermaid podded electric propulsion systems. The two Mermaid pods comprise two 7.25MW synchronous-motors which are fed by PWM MV7000 converters using insulated-gate bipolar transistor (IGBT) technology.
The contract for delivering the propulsion systems was awarded to Converteam and Rolls-Royce. Converteam supplied the motors and converters from its French plants in Nancy and Massy respectively. The parts for the Mermaid were built by Rolls-Royce in Kristinehamn, Sweden. Assembly of the parts and testing was undertaken at Converteam's site in Nancy.
MS Europa 2 environmental features
Europa 2 is equipped with seawater desalination facilities and a biological sewage treatment plant. It will use fuels with a maximum sulphur content of 0.1% while berthing in European ports, therefore reducing emissions by 93%.
The hull of the ship is specially designed to cut down fuel consumption by about 18%.
Europa 2 is also equipped with a selective catalytic reduction (SCR) system, enabling it to emit 95% less nitrogen when compared with other ships. The ship also uses energy-efficient LED lightings.
---
Related content
---
L'Austral Luxury Cruise Ship, France
L'Austral is the second of two super-luxury cruise ships built by Fincantieri for French-based cruise-line operator Compagnie du Ponant.
Disney Fantasy Cruise Ship, United States of America
Disney Fantasy is the fourth cruise ship of the Disney Cruise Line, a cruise brand owned and operated by Walt Disney Parks and Resorts.
---