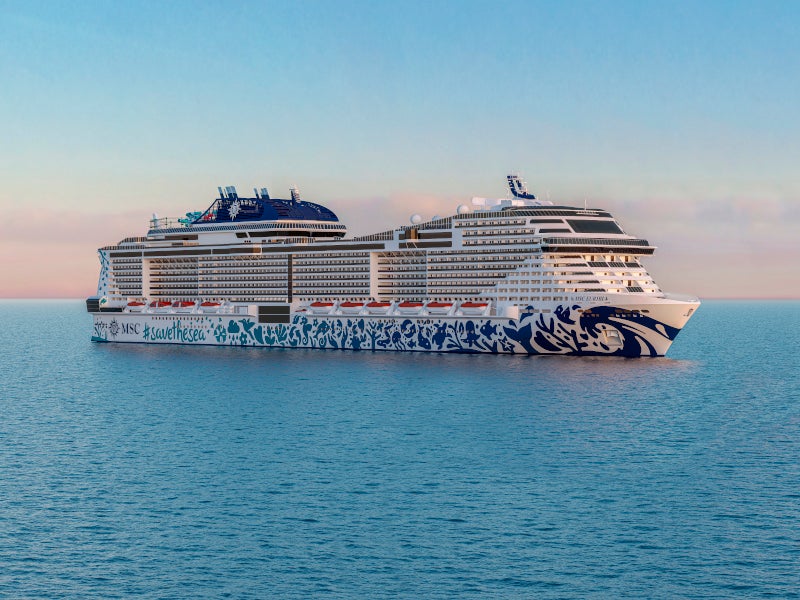 MSC Euribia's maiden voyage is scheduled from Kiel, Germany, to Norwegian Fjords in June 2023. Credit: MSC Cruises SA.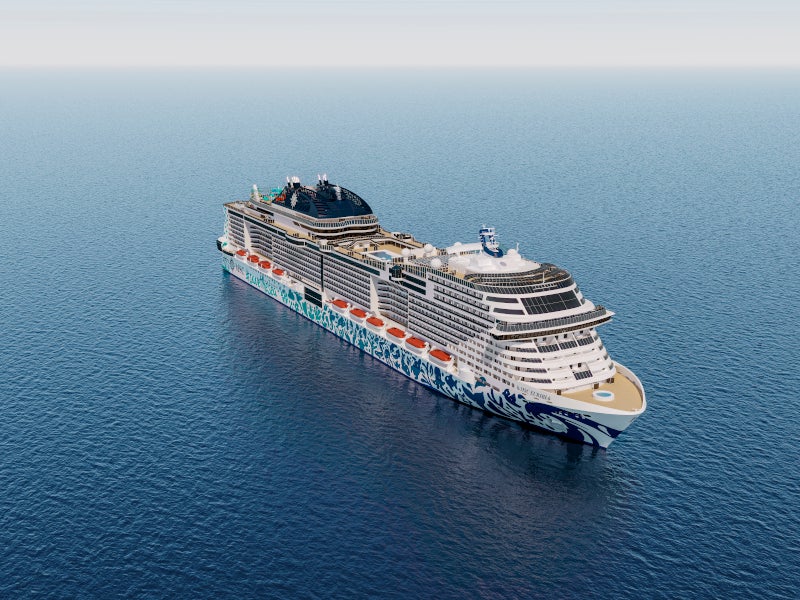 The vessel will be the second LNG-powered ship in MSC Cruises' fleet. Credit: MSC Cruises SA.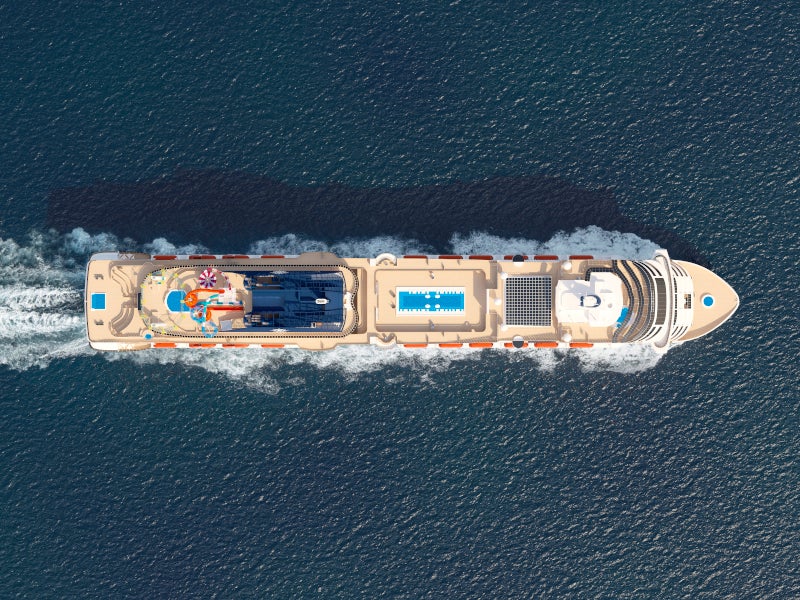 The ship can sail at a maximum speed of 22.30kt. Credit: MSC Cruises SA.
MSC Euribia is the second LNG-powered cruise ship, following MSC World Europa. It is being constructed by Chantiers de l'Atlantique for MSC Cruises, a global cruise line based in Geneva, Switzerland.
MSC Euribia will be the third Meraviglia-Plus class cruise ship following MSC Grandiosa and MSC Virtuosa and the most environmentally advanced one in the MSC Cruise fleet.
Construction of MSC Euribia commenced in June 2021 with the steel cutting ceremony held at Chantiers de l'Atlantique in Saint Nazaire, France, followed by the keel laying ceremony in December 2021. The ship was floated out in June 2022 and successfully completed her sea trials in the Atlantic Ocean in April 2023.
The naming ceremony for MSC Euribia is scheduled to take place in June 2023 in Copenhagen, Denmark, which will be immediately followed by her inaugural service in Northern Europe. The ship will embark on its seven nights maiden voyage from Kiel in Germany to Norwegian Fjords, including Geiranger, Alesund, and Flaam.
MSC Euribia's design and features
MSC Euribia has a length of 331m, a beam width of 43m and a height of 65m. It has a gross tonnage of 183,500t.
The ship will feature 2,419 cabins to accommodate up to 6,327 passengers and 1,711 crew members.
The hull of the vessel will feature a mural artwork #SaveTheSea designed by German graphic artist Alex Flaemig, showcasing the beauty of the marine ecosystem. The iconic design will represent MSC Cruises' commitment to protecting and preserving the aquatic environment.
The hull and engine room will be designed to minimise acoustic sound impact to reduce their potential effects on the marine ecosystem.
The ship will offer innovative features and facilities for an enhanced guest experience. A 360ft-long Mediterranean-style promenade lined with boutique bars and restaurants will feature an LED dome that will screen animations throughout the day and night. It will facilitate a space for socialising and entertainment for the passengers onboard.
The MSC for Me app will provide a multi-channel digital experience to the guests by offering them a more seamless, connected and carefree holiday with a more personalised cruising experience with interactive touchscreens, wristbands and more.
Accommodation aboard MSC Euribia
MSC Euribia will offer a wide variety of accommodations from deck 5 to deck 18 with family options, duplex suites with a private whirlpool bath and sea-view balcony cabins under MSC Yacht Club, Grand Suite Aurea, Premium Suite Aurea, Deluxe Balcony Aurea, Deluxe Ocean View, Studio balcony and interior among others.
The MSC Yacht Club will offer stylish private staterooms with lounges, a gourmet restaurant, a large private pool with solarium and whirlpool baths, a sun deck and full access to a thermal suite in the Balinese-designed MSC Aurea Spa.
MSC Yacht Club Royal Suite will have a 58m² area along with a 70m² balcony with a private whirlpool bath and dining table. MSC Yacht Club Duplex Suite with Whirlpool will be a two-deck-high cabin with a 59m² surface area and a balcony of approximately 23m². MSC Yacht Club Deluxe Suite will be smaller in size with a 29m2 surface and a balcony of approximately 5m². MSC Yacht Club Interior Suite will have a 17m² surface area.
Dining venues and other amenities onboard
The cruise ship will feature ten dining venues, including five speciality restaurants, five main dining rooms and a 1,336-seat buffet. Some of the dining options include Indochine Restaurant, Kaito Sushi Bar, Kaito Teppanyaki, Marketplace Buffet and Hola! Tacos & Cantina, among others.
The vessel will have 21 bars and lounges, including five outdoor and 16 indoor bars. Some of them are Attic Club, Jean-Philippe Crepes & Gelato, Jean-Philippe Chocolate & Café, Red Gem Casino Bar, Sky Lounge, Horizon Bar, Sports Bar, Masters of the Sea, Champagne Bar, TV Studio & Bar, Atmosphere Bar North, Atmosphere Bar South, Sundeck & Bar, Atmosphere Ice Cream Bar, among others.
The ship's entertainment and recreational features
The guests will be able to enjoy live performances in a 945-seat, 1,000m² Delphi Theatre located at the aft of the ship. It will run seven different theatrical shows including Circus 1920, Generation Rock, Illuminicity, Jukebox L!ve, Song Book – Ed Sheeran, Variety and guest entertainers, one on each weekday.
The multi-functional, 1,020m² Carousel Lounge, also located at the aft of the ship, will feature indoor and outdoor areas with two covered terraces. It will host guests to sit back and relax and enjoy snacks and leisure activities such as table games and ballroom dancing from morning to night. The lounge will host a one-of-a-kind live entertainment concept, Big Band at Sea, with a 19-piece in-house group of internationally acclaimed musicians and singers.
The ship will have five swimming pools, including an extensive pool with a retractable roof to accommodate more than 1,000 guests with comfort at a time. A coral-reef-themed water park styled with a live floor pool, three twisting slides, an adventurous 'Himalayan Bridge' and a range of activities suitable for all ages will offer fun for the whole family.
The MSC Aurea Spa will offer an exclusive thermal area with a sauna, steam bath and whirlpool, a professional hair and nail salon and a barber shop to the guests. A contemporary Balinese Spa will offer vast options of authentic massages and beauty treatments.
The ship will have a casino onboard to offer a wide variety of games such as Slot machines, Blackjack, Roulette, 3 Card Poker, Extreme Poker and Dream 21 to cater to different types of players.
Passengers can party with friends and enjoy the nights at the Attic Club. Sportplex will offer a large arena to the guests to play basketball, tennis, football and volleyball.
MSC Foundation Centre onboard will allow children to engage in educational games with a key focus on the environment. It also features an extensive children's area for recreation. MSC Formula Racer will provide virtual car racing simulators to guests.
The propulsion systems onboard
MSC Euribia will be powered by five 14-cylinder Wartsila 46DF dual-fuel engines, fitted with nitrogen oxide reduction units and designed to run on LNG, heavy fuel oil or marine diesel oil.
The engines provide a power output ranging from 6.2MW to 18.3MW at 600rpm. The ship will also be fitted with two Wartsila LNGPac fuel storage and supply systems, seven Wartsila thrusters and two Wartsila fixed-pitch propellers.
The ship will be able to sail at a maximum speed of 22.30kt.
Sustainable features of MSC Euribia
MSC Euribia will feature an advanced wastewater treatment system that meets the Baltic Standard to treat wastewater onboard before it is released into the ocean. The ship will also be fitted with a freshwater production plant to minimise the sourcing of water from destinations ashore.
A selective catalytic reduction system on the ship will help the vessel meet International Maritime Organisation's Tier III standards regardless of the fuel used. The underwater radiated noise management system will minimise the effects of vibrations on the marine ecosystem.
The hull of the ship will be coated with anti-fouling paint to reduce the growth of organisms and drag as well as enhance efficiency.
The vessel will feature a dockside connection system, which will allow the ship to switch off its engine and connect to the onshore power grid. The shore-to-ship power connectivity will significantly reduce emissions at the dockside.
The ship will be fitted with a wide array of energy-efficient equipment such as smart heating, ventilation and air conditioning systems, energy-efficient LED illumination and fluorescent lighting, to improve energy efficiency.
The LNG-powered ship will produce 25% lesser carbon dioxide (CO₂) and 85% lesser nitrogen oxide compared to heavy marine fuels.
Contractors involved in the ship's production
Wartsila, a marine engines manufacturer based in Finland, was contracted to supply a comprehensive package of integrated solutions designed to support and enhance the efficiency and environmental sustainability of the ship.
Amusement Logic, an amusement ride supplier based in Spain, was commissioned to design, manufacture and install elements for water parks and dry games on the ship. The contract also includes designing large murals on the walls and columns in the play areas.
Lego Group, a toy production company based in Denmark, was selected by MSC Cruises to design club areas and onboard activities for children.