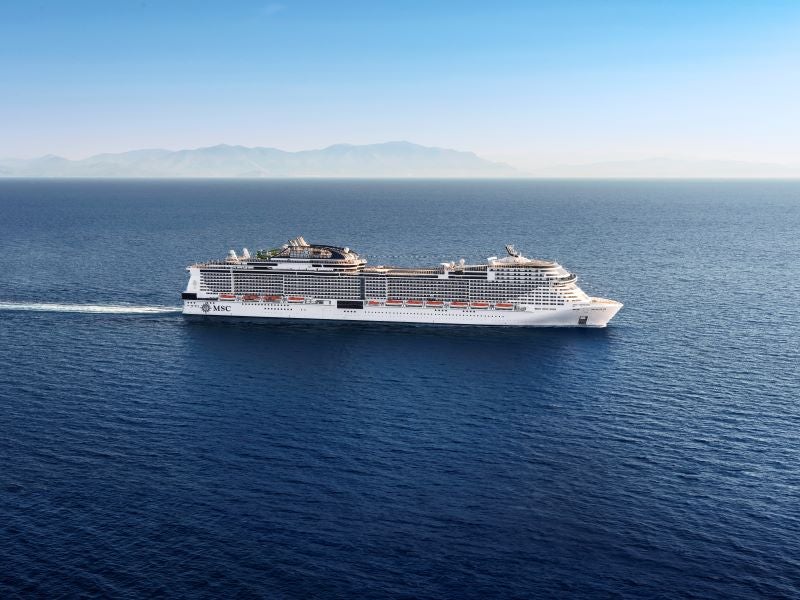 MSC Virtuosa is the the fourth Meraviglia-generation ship of MSC Cruises. Credit: MSC Cruises.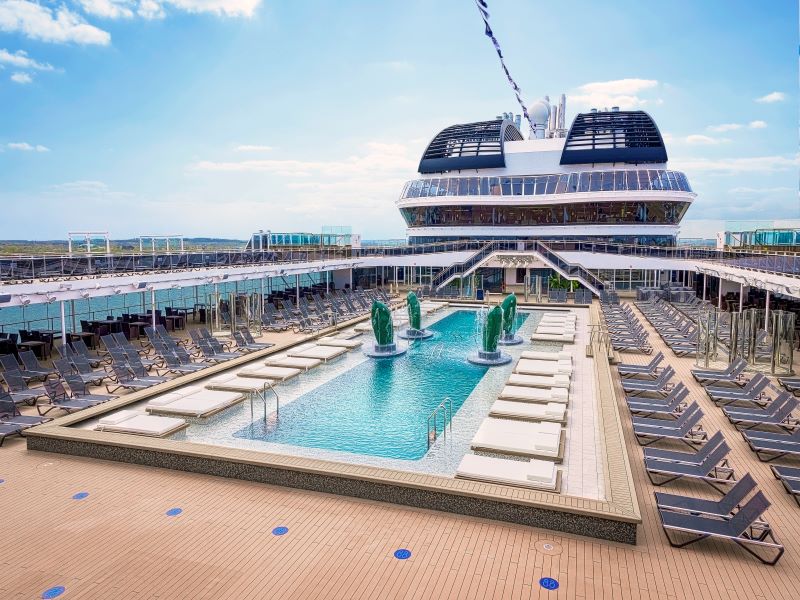 The vessel features 19 decks with a wide range of amenities for guests. Credit: MSC Cruises.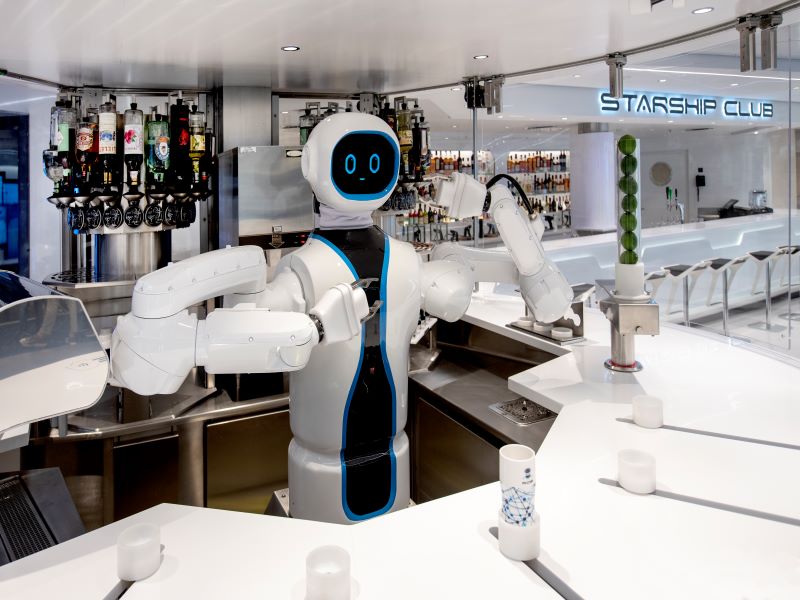 MSC Virtuosa features the first ever humanoid robotic bartender at sea. Credit: MSC Cruises.
MSC Virtuosa is the fourth Meraviglia-generation ship of MSC Cruises, a global cruise line based in Geneva, Switzerland. It is the largest ship in MSC Cruises' fleet.
The vessel was constructed by Chantiers de l'Atlantique and successfully delivered to MSC Cruises at Saint-Nazaire, France, in February 2021.
MSC Virtuosa embarked on its maiden voyage from the port of Southampton, UK, in May 2021. It was the first cruise ship to depart from the UK after 14 months of voluntary halt of operations by the cruise industry following the onset of COVID-19 travel restrictions.
MSV Virtuosa design and features
MSC Virtuosa has a length of 331.3m, width of 43m, and weight of 181,541t. It has 19 decks and a passenger carrying capacity of 6,334.
The cruise ship features a promenade with a 91.8m-long LED celestial dome. Spanning two decks and located at the heart of the ship, the promenade is the hub for socialising and entertainment for guests. It features stores, restaurants, and bars and engages guests through music, theme nights, and entertainment at nights.
MSC Virtuosa is equipped with hybrid exhaust gas cleaning systems (EGCS) and cutting-edge selective catalytic reduction (SCR) systems that help minimise the ship's environmental footprint. The systems reduce nitrogen oxide (NOx) emissions by 90% and sulphur oxide (SOx) emissions by 98%.
Wastewater treatment systems compliant with the MEPC 227(64) Resolution of the International Maritime Organization, as well as energy-efficient equipment including smart ventilation, advanced air conditioning systems, and smart LED lighting are installed in the ship.
Furthermore, the vessel features shore-to-ship power connectivity that allows it to turn off onboard power generation systems and connect to the electricity grid while at berth. An underwater radiated noise management system reduces the impact on the marine life in the surrounding waters.
MSC Virtuosa suites
MSC Yacht Club is a ship-within-a-ship concept that offers a members-only accessible area with dedicated lounges and restaurant, a large private pool, as well as other exclusive facilities.
The suites offered in MSC Yacht Club are of four types, namely Royal Suite, Duplex Suite with Whirlpool, Deluxe Suite, and Interior Suite.
The Royal Suite comes with a balcony and a private whirlpool bath, as well as separate living and dining areas. It features a living area of about 58m² and a 70m² balcony.
Each Duplex Suite is a two-deck cabin with a surface area of 59m² and a 23m² balcony. The main level houses the living and dining rooms while the second level houses the master bedroom.
Located between decks 14 and 18, the Deluxe Suite rooms offers 29m² of space with a 5m² balcony, while the Interior Suite comes with a living space of 17m².
The Grand Suite Aurea with Terrace and Whirlpool, which is located on deck 12, features a living area of 38m², a 36m² balcony, and a private whirlpool bath.
Located across decks nine to 13, the Premium Suite Aurea with Terrace and Whirlpool category rooms feature a living space of 27m² and a private balcony of up to 30m² area. The Premium Suite Aurea without a whirlpool bath offers a living area of 25m² and a  balcony of up to 14m².
Staterooms onboard MSC Virtuosa
The Balcony staterooms are spread across deck eight to 14 and are available in four categories. The categories include Balcony Aurea, Deluxe Balcony and Deluxe Balcony with Partial View, each with 17m² of living space. Designed for solo travellers, the Studio Balcony provides 12m² of space.
The Ocean View staterooms are designed to accommodate up to six passengers and are available in four categories. The Premium Ocean View is the biggest with approximately 25m² of space.
The Deluxe Ocean View room has a surface area of 16m², while the Junior Ocean View and Junior Ocean View with obstructed view feature approximately 12m² of living space each.
The Interior staterooms feature comfortable double or single beds available on request, interactive TV, telephone, safe and minibar. They are of two types, namely Deluxe Interior and Studio Interior.
Onboard dining options
MSC Virtuosa offers guests with a choice of ten dining venues across five specialty restaurants and five main dining rooms.
The Indochine restaurant provides French-Vietnamese dishes, along with multiple vegetarian and vegan options. It also offers a curated list of wines and tropical signature cocktails.
The Hola! Tacos & Cantina restaurant provides fast-casual street food dining options including Latin American and Mexican-inspired dishes and drinks for lunch and dinner.
The Kaito Teppanyaki Restaurant & Sushi Bar offers authentic Asian cuisine, while the Butcher's Cut is a traditional American-style steakhouse with an open kitchen.
Marketplace Buffet is a buffet area that serves international dishes, healthy options, and ethnic cuisine. It provides an informal dining experience with a spectacular sea view.
The cruise ship features 21 bars, each of which offer a unique experience.
Entertainment and other amenities
MSC Starship Club is a futuristic venue that provides guests with an immersive entertainment experience. It features Rob, the first ever humanoid robotic bartender at sea.
The Savannah Aquapark is a water park open for all age groups. It features a Himalayan Bridge, three twisting slides, and a range of pools.
MSC Formula Racer is installed with two virtual car racing simulators that allow players to compete head-to-head in a race.
The 1,000m² Le Grand Théâtre hosts live performances every evening. It can accommodate 945 persons.
Other entertainment options include the Attic Club, which is an onboard nightclub, Red Gem Casino, and Sportplex amusement park, which allows guests to indulge in sports and games during daytime and socialise during evenings.
The MSC Foundation Centre offers an educational interactive game experience for children.
Contractors involved
ALMACO, a marine accommodations and catering systems provider, delivered more than 2,400m² of cold and freezer rooms as well as 92 waiter stations for the restaurants and cafeterias onboard the cruise ship.
MSC Virtuosa itineraries
MSC Virtuosa will offer a ten-day, nine-night cruise covering Northern Europe from 20 April to 29 April 2022. The voyage will start from Marseille and include halts at Barcelona, Cadiz, Lisbon, Ferrol, and Bilbao. The trip will end at Southampton on 29 April.