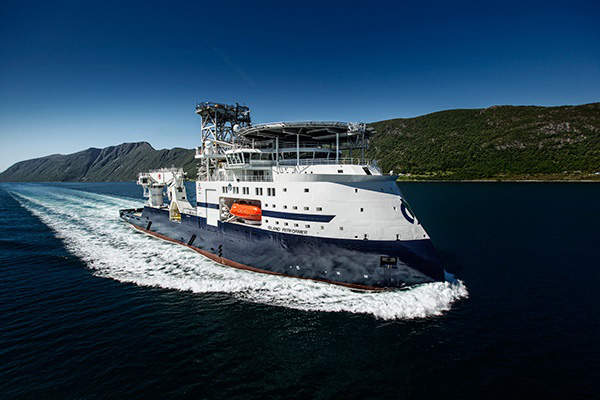 Norwegian firm Island Offshore ordered the vessel in December 2012. Image courtesy of Ulstein Group ASA.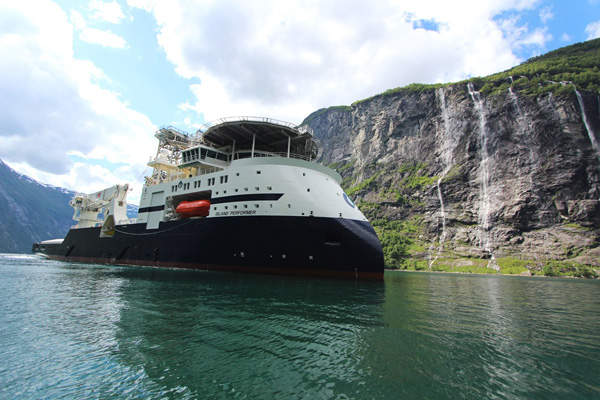 The naming ceremony for Island Performer was held in June 2014 in the Geiranger fjord. Image courtesy of Ulstein Group ASA.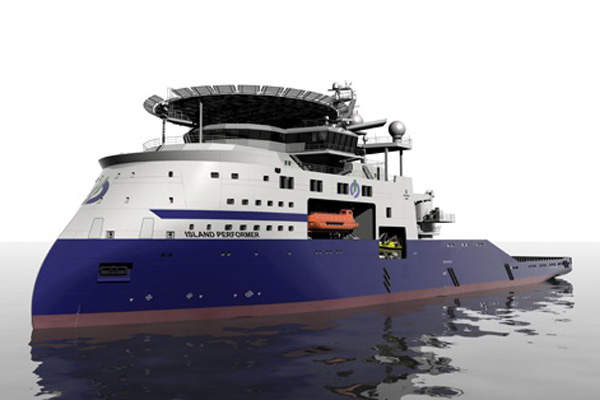 The vessel features Ulstien X-bow design of type SX121. Image courtesy of Ulstein Group ASA.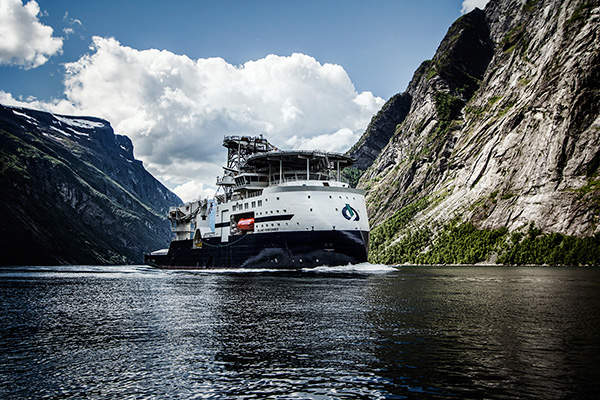 MV Island Performer will be deployed in subsea operations in the Gulf of Mexico for the first five years. Image courtesy of Ulstein Group ASA.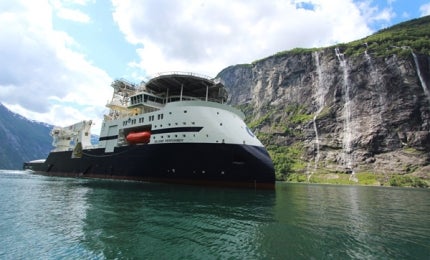 MV Island Performer is a multifunctional offshore vessel built at the Ulstein Verft shipyard in Norway for Island Offshore and its American partner Edison Chouest Offshore, who ordered the vessel in December 2012. The vessel was delivered in July 2014, following a naming ceremony held in the Geiranger fjord in June 2014.
Island Performer is built to provide offshore installation and construction services for subsea umbilicals, risers and flowlines (SURF), as well as to perform riserless light well intervention (RLWI) and inspection, maintenance and repair (IMR) works.
FTO, a joint-venture (JV) between FMC Technologies, Edison Chouest Offshore and Island Offshore will operate the subsea vessel in the Gulf of Mexico for the first five years.
Design and tank capacities
Island Performer features an advanced Ulstein X-bow design of type SX121. Its overall length is 130m, moulded breadth is 25m, depth to main deck is 10m and scantling draught is 7.6m, while the length between perpendiculars is 122.1m.
With a deadweight of 7,300t, the vessel has a mounted intervention tower capable of carrying a deck load of 3,900t. Its freeboard height to main deck is 2.4m and to shelter deck is 5.35m. The gross tonnage capacity of the vessel is 12,983t and the net tonnage capacity is 3,895t.
Covering an area of approximately 800m², the main deck has a loading capacity of 10t/m². The shelter deck of the vessel covers an area of approximately 900m². The vessel has two moon pools with dampening chambers at all sides. The main moon pool measures 8m-long and 8m-wide, while the ROV moon pool measures 4.9m-long and 5m-wide. A deck skidding system with a capacity of up to 100t is located on the shelter deck.
Island Performer has a capacity to hold 2,084m³ of fuel, 1,077m³ of fresh water, 6,581m³ of ballast water, 443m³ of Mono Ethylene glycol (MEG), 156m³ of sewage and 130m³ of urea. It is also equipped with three heeling tanks for crane operations and three reversible propeller pumps, each with a capacity of 800m³/h and a delivery height of 15m of head water column (mWC).
It is also equipped with a ballast water treatment plant, a bilge water separator as per US Coast Guard (USCG) guidelines, two fuel oil separators, two double fuel oil separators, two lube oil separators and six lube oil filters for each of the six engines.
Navigation and communication facilities
Navigation equipment onboard the vessel includes S-band and X-band ARPA (automatic radar plotting aid) radars, as well as an electronic chart display and information system (ECDIS). Communication equipment onboard includes the Global Maritime Distress and Safety System (GMDSS) and C-band satellite communication systems. The vessel is also equipped with dynamic simulation software MiMiC.
Internal communication systems include the ULSTEIN COM integrated communication system, battery-less telephone system, public address (PA) system, digital enhanced cordless telecommunications (DECT) TV and satellite antenna. Satellite TV service is provided in all offices and cabins, with IP TV provided in all cabins.
24 watertight sliding doors are installed onboard, which prevent water from entering the control cabinet.
Also installed is an IMO Class III DNV AUTRO dynamic positioning system (DPS). The position reference systems include Seatex DPS700, Mini RadaScan and two acoustic USBL systems.
Accommodation and other facilities
Island Performer is capable of accommodating 130 crew members. It has ten state cabins with separate bedrooms, three state cabins, 27 one-bed cabins and 45 two-bed cabins. The cabins feature fire-retardant furniture.
---
---
Methane Princess was the world's first custom-made liquefied natural gas (LNG) tanker vessel.
---
Facilities onboard include a hospital and sick bay, a mess with 70 seats, three day rooms, smokers room, heli-reception, an auditorium, miscellaneous conference rooms and offices, games and internet room, gym, galley, dish-washing room, dry provisions room, two cooler rooms and two freezer rooms.
Other ancillary facilities onboard include a remotely operated vehicle (ROV) workshop, online room, operation and ROV offices, deck pantry, separate wardrobes for male and female, laundry room and laundry handling room.
A helicopter deck also features, with 26.1m diameter, 20 corners and a maximum take-off weight of 12.8t.
A 13-person elevator is installed onboard, with eight stops and a maximum capacity of 1,000kg.
Two independent operator stations on the bridge and an emergency operator station are provided for manoeuvring.
Winches and deck cranes
Island Performer is equipped with a 250t active heave compensated (AHC) offshore pedestal crane with the main winch on the tank top, providing access to depths up to 3,000m with a safe working load (SWL) of 250t at 14m outreach at subsea level and a SWL of 83t at a maximum outreach of 36m at subsea AHC.
An auxiliary winch AHC is installed with a capacity of 20t at maximum outreach of 40m, providing access to depths up to 500m.
Two windlass / mooring winches, two tugger winches with a pulling capacity of 14t and two mooring winches located at the aft with a pulling capacity of 12t are also fitted.
Well intervention systems onboard
Deck equipment includes a module handling tower (MHT) with separate stair tower, with a lifting capacity of 29m at SWL of 300t.
Island Performer's main winch has AHC SWL of 140t to access depths of 2,500m. Additionally, there are four off-guideline winches, four off-utility line winches, a cursor line winch and a main rider line winch with SWL of 5t, 3t, 12t and 0.15t respectively. Other features include a work access basket, module hang-off trolley, module guide arm, two cursors sets and an operator control cabin.
Also enclosed are two Schilling UHD second-generation work-class remotely operated underwater vehicles (WROV). The system is rated for 4,000msw operation and is supplied with a tether management system (TMS) Schilling XE Top Hat, with a tether capacity of 850m.
Fire-fighting and safety equipment
Safety equipment onboard includes a fire and gas detection system and an emergency shutdown (ESD) system with 1,200 I/O Compliance with Offshore Standard DNV-OS-A101, Ch. 5. Two enclosed lifeboats with davits on both sides of the ship can each accommodate up to 130 people. The vessel also features three life rafts with davits capable of carrying 25 people on each side, as well as two man overboard (MOB) boats with one-armed davits capable of carrying approximately 12 people.
Fire-fighting facilities include a stand-alone addressable fire-detection system, low-pressure water mist total flooding system for engine and switchboard rooms, and a local protection system. The vessel is also fitted with an extensive camera and monitoring system.
Ancillary facilities and systems
Sanitary supply and discharge systems onboard include UV sterlisers, a vacuum sewage plant and a sewage treatment plant adhering to USCG guidelines.
"Island Performer is capable of accommodating 130 crew members."
Island Performer is also outfitted with two fresh-water generators, each with a capacity of 15m³/d of water, and an osmosis fresh-water plant, discharging 25m³/d of water.
Electrical equipment, such as main switchboards and emergency switchboards, were all delivered by Ulstein.
Engine and propulsion systems
Powering the vessel is a diesel electric power and propulsion plant, which is equipped with six main generator engines, each of MCR 2,880kW with a power of 2,740eKW at 900rpm. The main engines are installed with selective catalytic reduction (SCR) catalysts.
Island Performer's propulsion system includes three main azimuth fixed pitch propeller (FPP) thrusters with nozzles each with a diameter of 3,200mm and a power of 3,000kW. The vessel is also fitted with a controlled frequency converter, which helps the three electric propulsion motors generate a maximum of 3,000ekW power each at 1,200rpm. In addition, an emergency generator of 450ekW is provided.
Also fitted are two forward super-silent tunnel thrusters of controllable pitch and variable speed, with a power of 2,140kW at 900rpm, and forward azimuthing swing-up thrusters, with a power of 2,000kW at 1,800rpm. Three roll reduction tanks are fitted for easy manoeuvrability.
This propulsion system allows the vessel to cruise at a maximum speed of 15.25k.