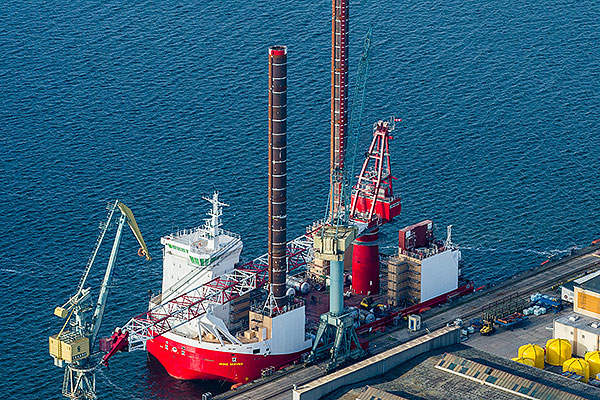 M/V Wind Server is chartered to Siemens Energy on a three-year agreement. Siemens press picture.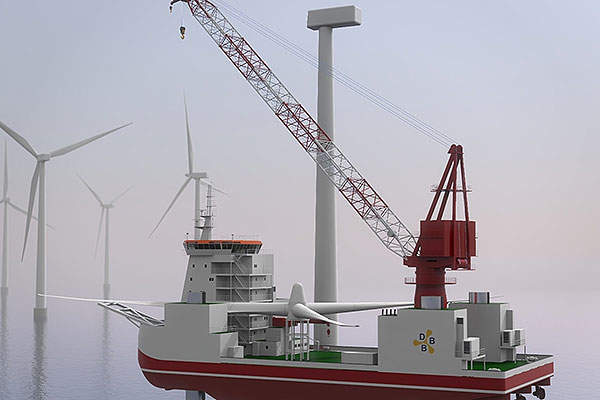 The self-lifting jack-up vessel features a jacking system with four 72m-long steel legs.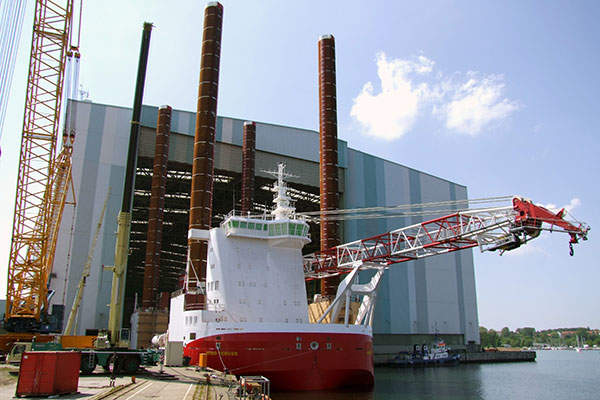 The vessel was built at Nordic Yards facility in Rostock-Warnemünde and Wismar in Germany.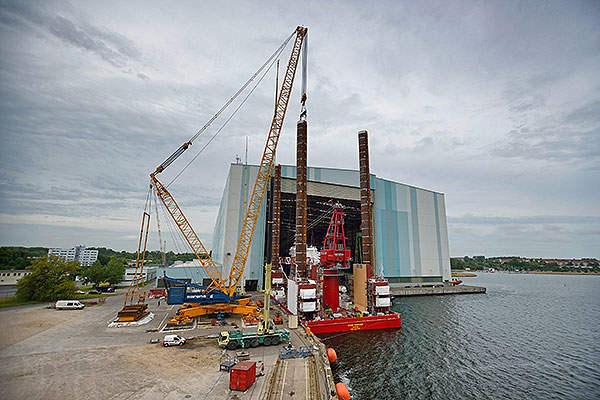 Liebherr BOS-14000 type cranes are fitted in the vessel.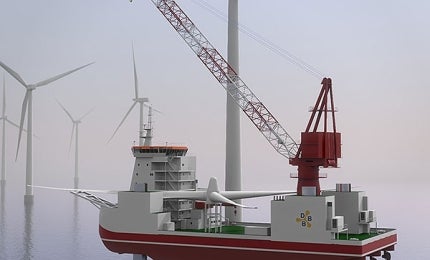 M/V Wind Server is a self-lifting wind turbine service jack-up vessel built at the Nordic Yards facility in Rostock-Warnemünde and Wismar, Germany. Ordered by Danish company DBB Jackup Services (DBB) in August 2012, it is the world's first purpose-built jack-up vessel. First steel was cut in April 2013 and the vessel was delivered to her owner in December 2014.
The vessel carried out her very first jacking operation in February 2015 for the decommissioning of a met mast in the North Sea.
Designed to provide operation and maintenance services to the offshore wind industry, the vessel is chartered to Siemens Energy under a three-year charter agreement signed in May 2014. She is expected to perform service and maintenance operations for more than 1,200 offshore wind turbines across northern Europe in 2016.
In 2015, the vessel received Offshore Renewables Award at the Annual Offshore Support Journal's conference held in London. The award was given for her innovative way to service and maintain offshore wind turbines.
Design of M/V Wind Server
The vessel was designed by DBB and Danish naval architects OSK Ship Tech. She has an overall length of 79.6m, moulded breadth of 32.3m, 7m depth to main deck and maximum draft of 4.5m, while the length between perpendiculars is 76.9m.
---
---
Island Navigator is an offshore service vessel owned by Island Offshore.
---
Deadweight is approximately 1,500t and the total deck load capacity is approximately 4,300t. The gross tonnage capacity of the vessel is 6,300t and the net tonnage capacity 1,890t.
The main deck of the vessel covers an area of approximately 1,000m² and has a loading capacity of 10t/m² with strong points. The cargo area tank top covers an area of 130m² and the deck load tank top loading capacity is 5t/m².
Jack-up facilities onboard the vessel
M/V Wind Server features a jacking system, supplied by SH Group, with a jacking speed of 20mph when lifting out of water and 30mph during leg handling. The system has four 72m-long steel lifting legs, each having a diameter of 3.7m and weighing roughly 430t. It provides a safe working position for the servicing of offshore wind turbines in depths of approximately 45m, with tidal currents of 3k and wave heights of approximately 2.6m.
Accommodation and other facilities
The vessel meets International Labour Organization (ILO) and Danish Maritime Authority (DMA) standards, and is capable of accommodating 24 charterer's personnel in single cabins with amenities, such as bath, toilet, television and Ethernet connection.
Facilities onboard the vessel include two client offices, of which one has direct access to the main deck of the ship, two charterer workshops, charterer cargo holds and two charterer store rooms all below deck. The vessel also has a day room, a coffee shop at the main deck and separate changing rooms for men and women.
Common facilities onboard include the mess room, laundry, changing room, conference room, treatment room, gymnasium and forklift on-deck.
Deck cranes onboard the vessel
A Liebherr BOS-14000 type crane is the vessel's main crane, with a boom length of 87m, lifting height of 96m above the main deck and performing capability at wind speed up to 25m/s servicing 5MW to 8MW turbines.
"She is expected to perform service and maintenance operations for more than 1,200 offshore wind turbines across northern Europe in 2016."
The main hoist has a lifting capacity of 400t at an outreach of 20m and 52t at an outreach of 87m. The auxiliary hoist has a lifting capacity of 25t at an outreach of 20.5m with a lifting height of 103.3m above the main deck. Another hoist has a lifting capacity of 25t at an outreach of 92.8m with a lifting height of 34m above the main deck. The auxiliary hoists are approved of man riding with a safe working load (SWL) of 2t.
It also features three auxiliary telescopic Liebherr LTM1100 cranes. The first has a lifting capacity of 95t at an outreach of 3m, the second 2.4t at an outreach of 48m and the third 9.2t at an outreach of 10m. The cranes have a lifting height of 13m, 19m and 51m above the main deck respectively.
Navigation and communication equipment
The vessel features a DP2 dynamic positioning system, while her navigation system includes one S-band and one X-band ARPA radars, ECDIS (electronic chart display and information system) navigation systems, dual controller, four fan beams and air gap sensors.
Communication equipment onboard the vessel complies with GMDSS A3 safety requirements.
Engine and propulsion system
M/V Wind Server is powered by a diesel electric power and propulsion plant equipped with seven generator engines, each of 944kW. The propulsion system includes five azimuth thrusters driven by an electric motor with a power of 1,100kW.
The vessel cruises at a transit speed of approximately 9k, consuming approximately 0.6t/h at transit speed, and has an endurance of 30 days.