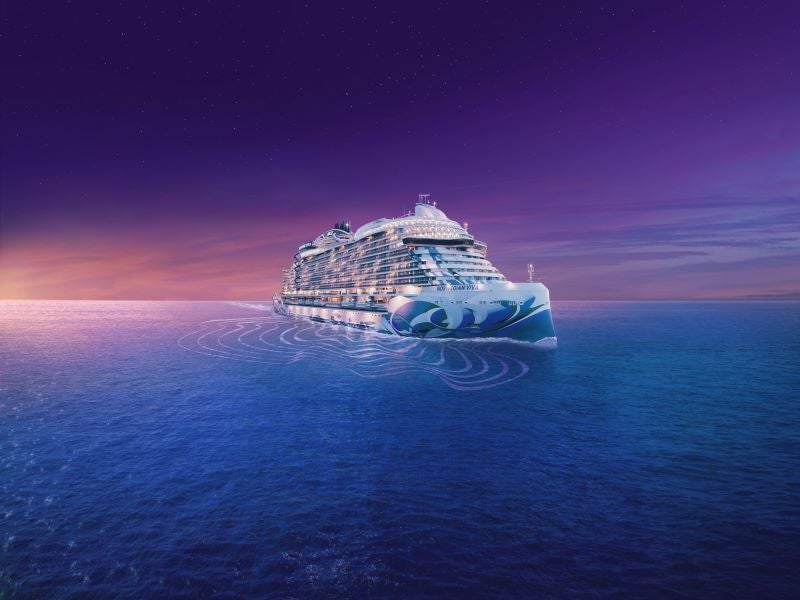 The Norwegian Viva cruise ship will debut in 2023. Credit: Norwegian Cruise Line Holdings Ltd.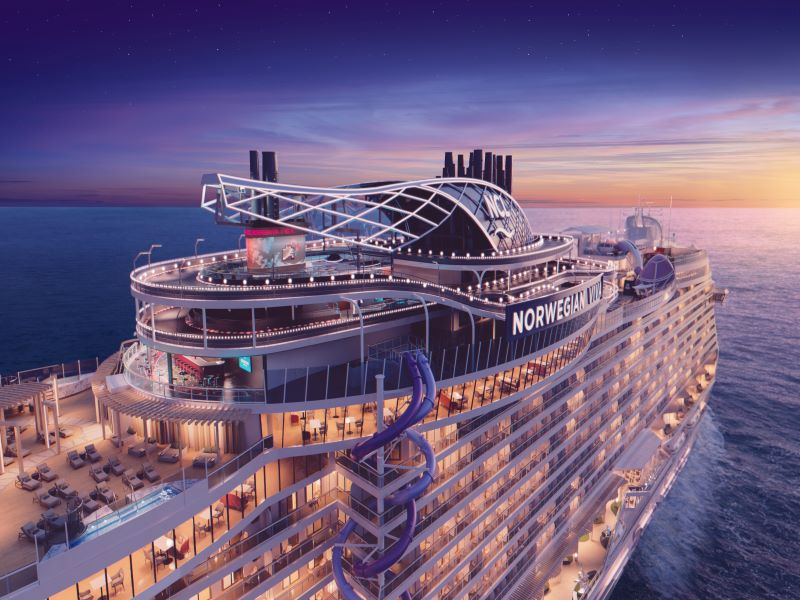 The cruise ship will feature Viva Speedway, which will be the world's first three-level race track at sea. Credit: Norwegian Cruise Line Holdings Ltd.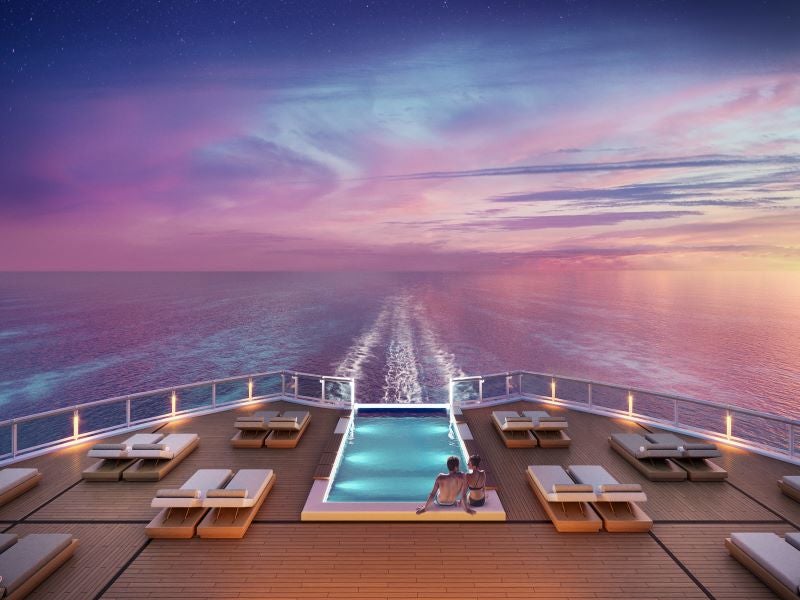 The vessel will offer one of the highest staffing levels among new cruise ships. Credit: Norwegian Cruise Line Holdings Ltd.
Norwegian Viva is a new Prima-class cruise ship being constructed by Fincantieri in Marghera, Italy. It will be operated by the Norwegian Cruise Line (NCL), a cruise line based in the US.
The cruise ship will join NCL's first Prima-class ship, Norwegian Prima, which is currently in the final stages of construction. It will be the second of six Prima-class vessels being built for the cruise line.
Norwegian Prima is expected to enter service in mid-2022 while Norwegian Viva is expected to enter service in June 2023.
Norwegian Viva design and features
Norwegian Viva will have a length of 294m and a weight of 142,500 gross tonnes. It will be able to accommodate 3,219 guests at double occupancy. The cruise ship is expected to feature one of the highest staffing levels, and space ratios, among contemporary and premium cruise categories.
The vessel will feature hull art designed by Manuel Di Rita, an Italian graffiti and sculpture artist.
It will incorporate advanced technologies including a nitrogen dioxide (NO₂) reduction system (SCR) to meet Tier III NO₂ emission standards of the International Maritime Organization (IMO).
Norwegian Viva will be equipped with an exhaust gas cleaning system (EGCS) and an advanced wastewater treatment system, to comply with international standards.
To further reduce its environmental impact, the cruise ship will feature a cold ironing functionality, which will enable connection to onshore power grids while in port.
Accommodation onboard Norwegian Viva
Norwegian Viva is being built with a redesigned ultra-premium ship-within-a-ship concept of NCL, named The Haven by Norwegian.
The Haven will feature the most luxurious accommodation on the ship with its own public areas. It will provide 107 exclusive and spacious suites, located across decks ten to 15. Guests of The Haven will be able to access an expansive sundeck, an infinity pool, and an outdoor spa with a glass-walled sauna and cold room.
The Haven will offer different types of accommodation, namely Premier Owner's Suite, Owner's Suite with Master Bedroom, Deluxe Owner's Suite, Penthouse, Two-Bedroom Family Villa, Aft Facing Penthouse, Aft Facing Penthouse with Master Bedroom, and Aft Facing Owner's Suite.
With an interior area ranging between 34m² and 195m², The Haven suites will accommodate up to eight guests. The suites will have private balconies varying in size between 8m² and 77m².
Amenities and services exclusively offered to guests of The Haven suites will include a valet service, round-the-clock butler service, private hot tubs, personal escort on and off the ship, and priority speciality dining reservations.
Other stateroom categories aboard the ship will be Club Balcony Suite, Balcony, Suite, Oceanview, Inside, and Studio.
Each Club Balcony Suite will offer accommodation for up to four people. It will have a room size ranging between 22m² and 38m², and private balconies ranging between 4m² and 17m².
The Balcony suites are designed with floor-to-ceiling glass doors, which open to a private balcony. Each suite will accommodate up to four guests. The interior space of each Balcony suite will range between 21m² and 33m², while the balconies will measure between 4m² and 9m².
The Suite category of staterooms will provide luxury accommodation and concierge service, 24-hour butler service, and 24-hour room service. Each Suite room will have enough space for up to four people. The room size of each Suite stateroom will range between 37m² and 59m² while the balconies will occupy up to 34m².
The Oceanview staterooms will be located on deck five, with each room having up to 34m² of living space for up to four guests. The Inside staterooms will feature an interior space ranging between 15m² and 24m², which will accommodate up to four guests.
Norwegian Viva will also offer accommodation for solo travellers in the Studio staterooms, which will have 9m² of space each. The staterooms will be located on decks 12 and 13. Guests of the Studio rooms will have access to 24-hour room service and the Studio Lounge.
Dining venues aboard Norwegian Viva
The dining venues onboard Norwegian Viva will include both indoor and outdoor lounges and dining spaces.
The Indulge Food Hall will feature 11 varieties of eateries in the form of artisanal mini-restaurants and food trucks. It will offer guests a range of customisable small plates from different cuisines including Italian, Thai, Chinese, and Tapas.
Coco's will serve desserts such as truffles, ice cream, and pralines. The Garden Kitchen will offer customisable or premade salad combinations.
The speciality dining venues onboard the cruise ship will include Palomar, Hasuki, Onda by Scarpetta, and Le Bistro.
In addition to the Indulge Food Hall, the complimentary dining areas will include Hudson's, Surfside Café, and The Commodore Room.
Located at the aft of the ship, Hudson's will be the main dining room, which will offer breath-taking 270° views overlooking the stern. NCL revamped the menu of Hudson's and The Commodore Room in March 2022. The Surfside Café and Surfside Grill will be located on deck 17.
Bars and lounges will include The Observation Lounge, Prima Speedway Bar, Vibe Beach Club, Penrose Bar, The Haven Lounge & Bar, Metropolitan Bar, The Humidor Cigar Lounge, Studio Lounge, Whiskey Bar, Waves Pool Bar, and Belvedere Bar. The Haven Restaurant & Lounge will be exclusive to guests of The Haven.
The Metropolitan Bar will offer sustainable drinks including responsibly crafted zero-waste cocktails and bio-dynamic wines.
Onboard entertainment
Guests aboard Norwegian Viva will be able to experience go-karting at sea on the Viva Speedway, the world's first three-level racetrack at sea.
A ten-storey tall slide, called The Drop, will offer the fastest freefall drop on a dry slide at sea. The Rush will feature twin slides.
Located on Deck 18, the Game Gallery will offer guests a range of games including pub darts at The Bull's Eye, and mini golf at Tee Time. The Viva Speedway Bar will also be located on the same deck.
The Galaxy Pavilion will offer an immersive high-tech virtual wonderland experience, with offerings such as a flying theatre simulator, escape rooms, and racing simulators.
Norwegian Viva will feature a main pool, along with an aqua park and infinity hot tubs. The Vibe Beach Club, an adults-only private retreat on the ship, will feature a full-service bar and infinity hot tubs.
Deck eight will feature a 44,000ft² outdoor walkway called Ocean Boulevard, which will allow guests to walk around the ship and enjoy views of the ocean. Ocean Boulevard will feature the Oceanwalk glass bridge, Indulge Outdoor Lounge, a firepit, and the Infinity Beach.
Kids will be able to indulge in creative play and sports at the Splash Academy on the ship.
Penrose Atrium will be a three-storey, glass-walled atrium that will span decks six, seven, and eight. It will feature a large-scale, custom-built chandelier inspired by constellations. The atrium will feature luxury and retail stores, including Starbucks, as well as Whiskey Bar, and Prima Casino.
Norwegian Viva itineraries
Norwegian Viva will embark on its maiden voyage to the Mediterranean at the beginning of June 2023. It will homeport in four European cities, namely Rome, Venice, Athens, and Lisbon, as part of the Mediterranean voyage during Summer 2023, offering eight, nine, and ten-day voyages.
The cruise ship will offer a seven-day Caribbean voyage from San Juan, Puerto Rico, in December 2023. Ports of call will include Tortola, in the British Virgin Islands; Philipsburg, in St. Maarten; Bridgetown, in Barbados; Castries, in St. Lucia; St. John's, in Antigua; and St. Thomas, in the US Virgin Islands.
Contractors
Rockwell Group, SMC Design, and Studio Dado were selected to design the ship, including the restaurants, staterooms, and public areas.
Lasvit, a lighting design firm based in the Czech Republic, was engaged to custom build the chandelier in the Penrose Atrium.