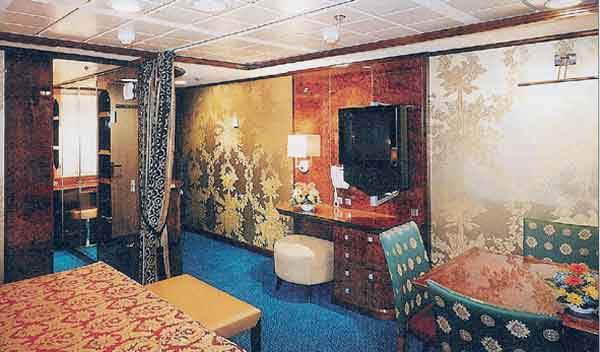 A studio suite on the Norwegian Star.

Artists impression of the Norwegian Star.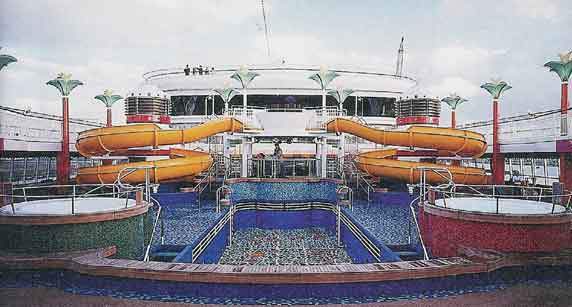 Norwegian Star pool area.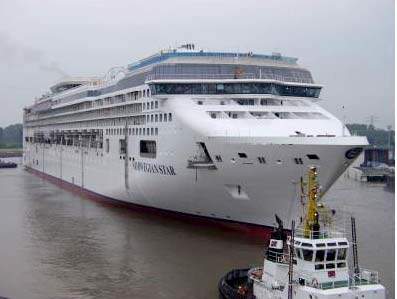 The bow of the Norwegian Star.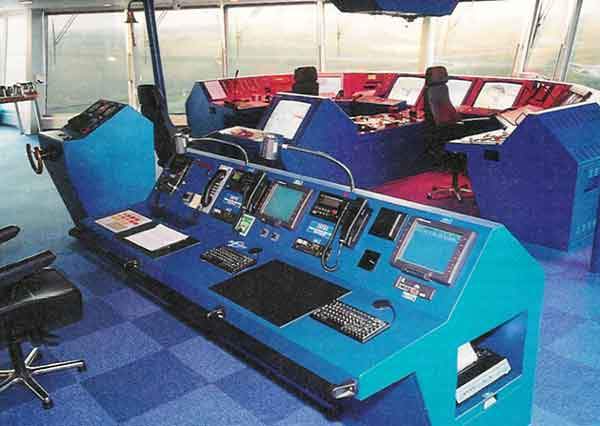 The bridge on the Norwegian Star.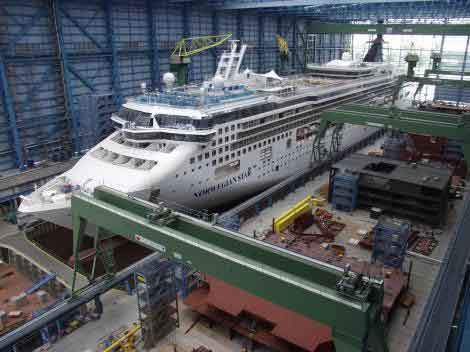 The Norwegian Star under construction.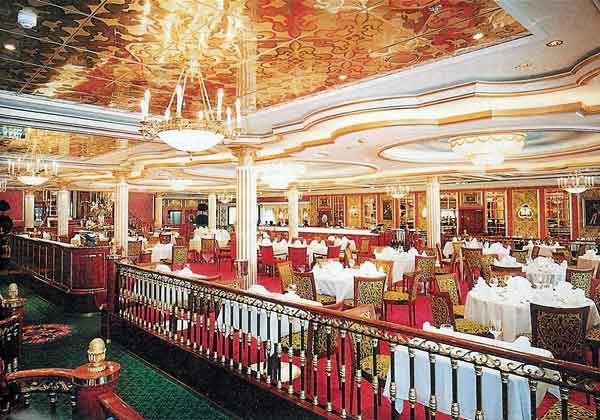 The Versailles restaurant on the Norwegian Star.
The Norwegian Star was built by Meyer Werft at its Papenburg yard. It was delivered to Norwegian Cruise Line (Miami, USA) in the Dutch port of Eemshaven.
DESIGN AND FACILITIES
It has an overall length of 294.13m and a moulded breadth of 32.2m. It registers 92,000gt. The draught is 8.20m and its loading capacity is 7,500t.
The Norwegian Star can accommodate 2,240 passengers in 1,120 cabins, of which 359 are inside and 761 outside. The amenities are provided by 1,100 officers and crew.
The passenger accommodation is spread over 15 decks with access by three staircases (four elevators each) and four glass lifts in the centre. The focal point of the ship is the Atrium stretching from Deck 7 to the shell-shaped glass roof on Deck 15.
There is a Cabaret lounge (Deck 6) with 400 easy chairs as well as a stage and a dance floor. It also contains the Versailles Restaurant, which provides seating for 500 guests. The Stardust Lounge extends over three decks (5-7) and houses 1,034 passengers. Access is through the 700m² 'Dazzles' shopping area. The Terrace Café is on Deck 7, which also has a Karaoke Bar, a Photo Gallery and a Japanese Restaurant. Deck 7 also has the Red Lion English style pub and the "Blue Lagoon" grill. There is a cyber café on Deck 9.
Decks 11/12 contains the Health Club with indoor pool, whirlpool, saunas, steam baths and a fitness centre.
The main pool area contains two water slides and four whirlpools. Deck 14 accommodates the "Beer Garden" which offers a view of the total pool area.
Adjacent, is a 450m² teenager area and video Arcade. On the roof is a Panorama Lounge with conservatory There is also a self-service Market Café. Spanning Decks 12 and 13 is the Meeting Area, Cinema and Library. There are four conference rooms on Deck 12 and two conference rooms on Decks 12 and 13.
The Norwegian Star is equipped with an integrated bridge system type NACOS 65-4 supplied by STN Atlas Marine Electronics. The main components are two multi pilots which allow the radar screen, the electronic sea chart and important data of the ship to be displayed on one monitor.
All bridge units are fitted with high-resolution colour monitors.
Power generation is provided by four MAN B&W type 14V48/60diesel generators with a 14,000-KW output each. The diesel engines can be operated both with diesel oil and heavy fuel oil. The ABB generators provide a voltage of 11,000V.
Propulsion is by a pair of azipods with an output of 20,000kW each. This method was selected for stable and quiet sea-keeping characteristics and an extremely low vibration level on board.
In addition, there are three bow thrusters all linked to a dynamic positioning system which can even conduct an automatic berthing of the vessel.
Up to 2,700m³ (2,7000,000 litres) of potable water can be produced per day by three evaporators and a reverse osmosis system. The hot water circuit is heated with steam. The sewage water is collected in four vacuum systems through a piping system. It can be temporarily stored in tanks, if necessary.
The waste produced on board is separated into recyclable and non-recyclable. The waste is either temporarily stored and later disposed of ashore, or burned in two waste incinerators. The air conditioning system is suitable for worldwide. The 284 air conditioning units on board handle an hourly air volume of 3,070,000m³.
The ship was built under the survey of the Classification Society "Det Norske Veritas" to obtain the class notation +A10016; 1 A 1 "Passenger Ship" ECO CLEAN