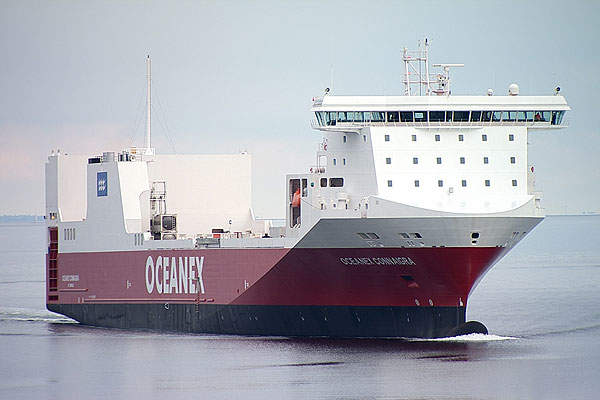 Oceanex Connaigra is the first hybrid ConRo ship in Oceanex's fleet.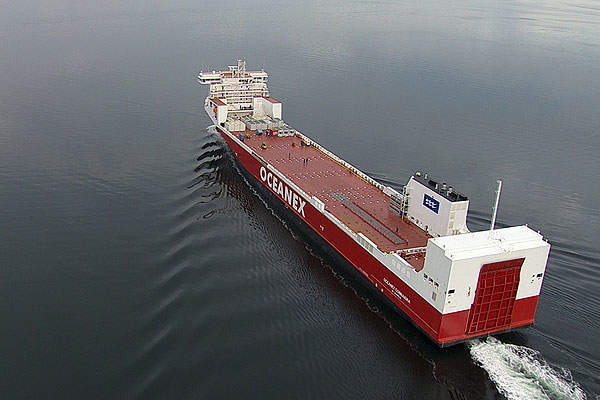 The large upper deck of the Connaigra can accommodate 11,000t of cargo and automobiles.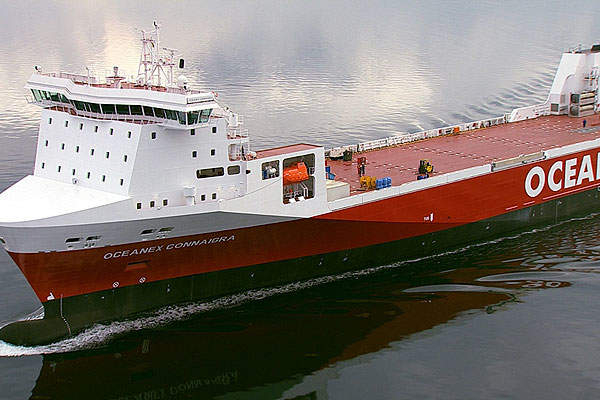 Oceanix Connaigra can carry 940TEU containers on its upper deck in typical ConRo operations.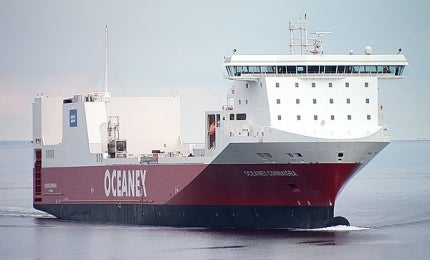 Oceanex Connaigra is a hybrid roll-on/roll-off container vessel (ConRo) built by Flensburger Schiffbau-Gesellschaft (FSG) for Oceanex. The ship was delivered to the company in September 2013, and will operate between the ports of Montreal and St John's on a weekly basis.
---
Related content
---
The R/V Cabo de Hornos is an advanced and versatile oceanographic and fisheries research vessel owned by the Chilean Navy.
---
Oceanex Connaigra is the fourth in line to the current fleet of ships owned by Oceanex, which include the MV Cabot, the Oceanex Sanderling and the Oceanex Avalon. The Connaigra is designed to operate worldwide and sail through rough weather conditions of the north Atlantic, where temperatures fall to -30°C.
The vessel's keel was laid in February 2013 and launching took place in May 2013. Six sea trials were conducted before beginning actual voyage in October 2013. The total cost of building the vessel is estimated to have reached $108m.
Classed by Det Norske Veritas (DNV) as a clean ship, the vessel carries 1A1 ICE-1A general cargo carrier RO/RO DG-P E0 NAUT-AW CLEAN BIS TMON class notation.
Oceanex Connaigra design details
Oceanex Connaigra is 210m long, 29.6m wide and has a gross tonnage of 26,800t. It has a deadweight of 19,300t and a large deck area of 13,700m². It has a 40in wide stern and can carry containers varying from 20ft to 53ft, as well as trucks, trailers, cars and over dimensional cargo.
The upper deck of the vessel can accommodate 940 20ft equivalent unit (TEU) containers in typical ConRo operations. The upper deck has a maximum capacity of 11,000t and can accommodate 2,800 trailer lane metres, which means it can carry approximately 540 cars and 900 containers. It also provides enough space for 6,200 auto-lane metres including fixed and liftable car decks.
The vessel can also be used for carrying RO/RO cargo on five moveable RO-Ro decks, which are accessible by lift ramps. The vessel's additional side ramp and starboard side door allows active and quick loading and unloading of automobiles and other unusual-shaped loads.
Oceanex Connaigra special features
The Connaigra features a contemporary hull design and consumes 30% less fuel compared to other ships in its category. The vessel uses a common rail fuel management system to increase efficiency and is expected to reduce carbon dioxide emissions by approximately 20,000t/y.
"The Connaigra features a contemporary hull design and consumes 30% less fuel compared to other ships in its category."
The ice-class vessel is equipped with three passive anti-roll stability tanks above the weather deck aft for crew comfort and cargo safety.
Oceanex Connaigra also features a gyro controlled active fin stabiliser system, which ensures a stable platform and performance reliability. The fins are retractable and wide, and extend out to 20ft when operational.
The ship also has high-quality European standard accommodation for the ship's crew. The accommodation unit was built in Poland and is attached to the ship's hull.
Oceanex Connaigra engines and machinery
Oceanex Connaigra is powered by two 8400kW MAN 7L48/60 CR engines driven by a single propeller. It also has two auxiliary MAN 8L21/31 diesel engines rated at 1,700kW each. Four thrusters maneuver the ship during high winds. The vessel possesses a service speed of 20kt.
The vessel's main engines and diesel generators are equipped with a dry scrubber exhaust gas cleaning system designed by Couple (Germany). The system makes use of pelletised hydrated lime, which reacts with the sulphur causing the sulphur to stick to the lime resulting in close to zero sulphur emissions.
The system readies the ship to comply with the requirements of the Marpol Annex VI for emissions that will come into effect in 2015. The vessel also has a built-in desulphurisation plant.