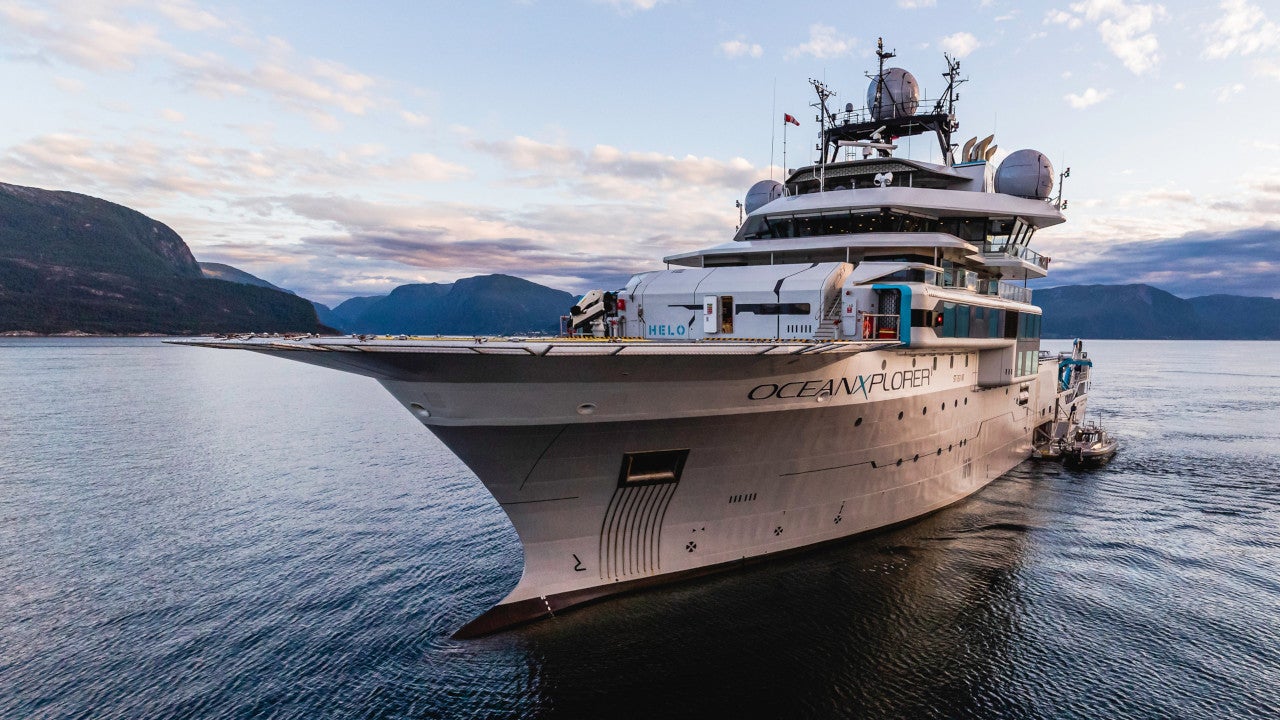 OceanXplorer is an advanced exploration and research vessel built by OceanX. Credit: Taj Howe.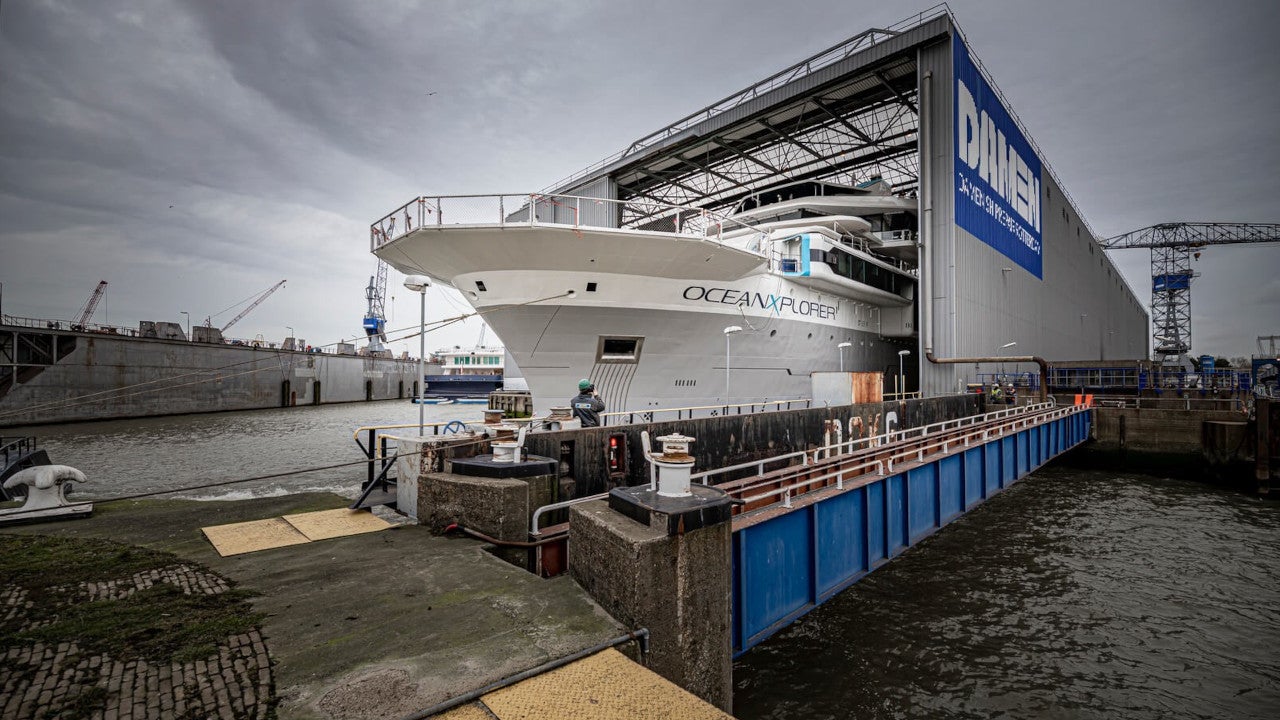 Damen Shipyards Group completed the rebuild of the vessel in October 2020. Credit: Damen Shipyards Group.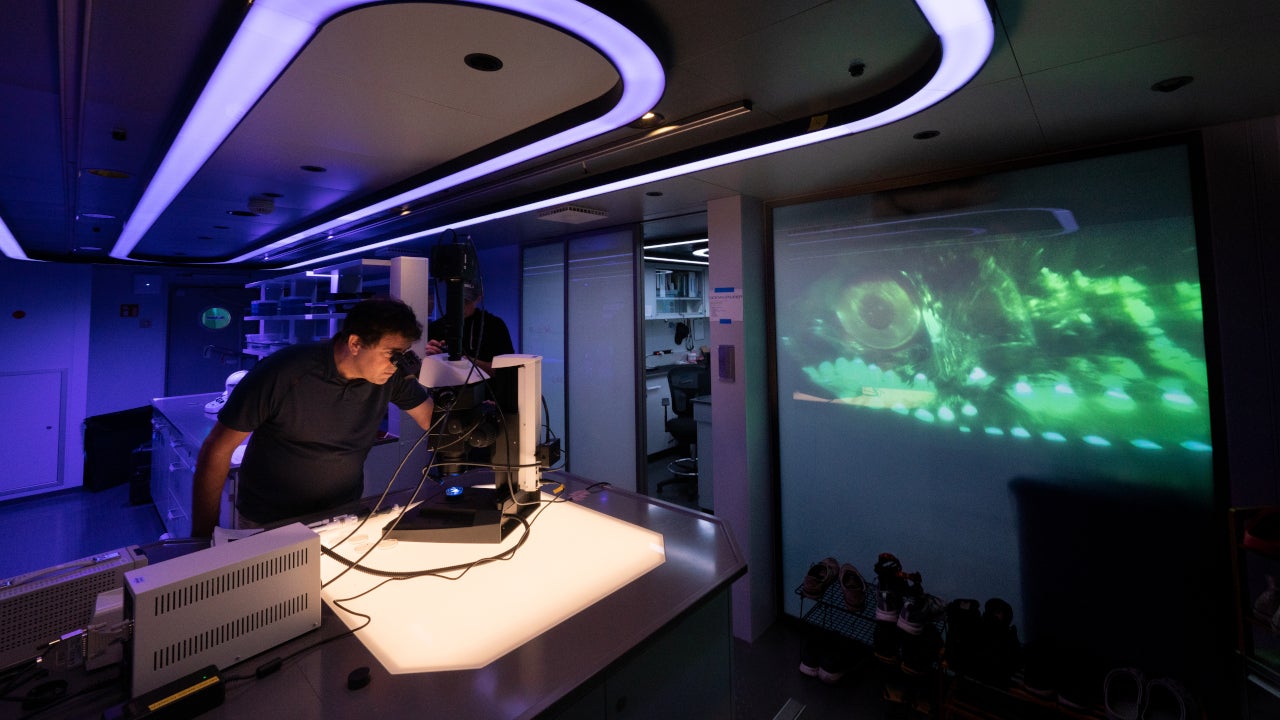 The vessel has four wet and dry labs. Credit: OceanX.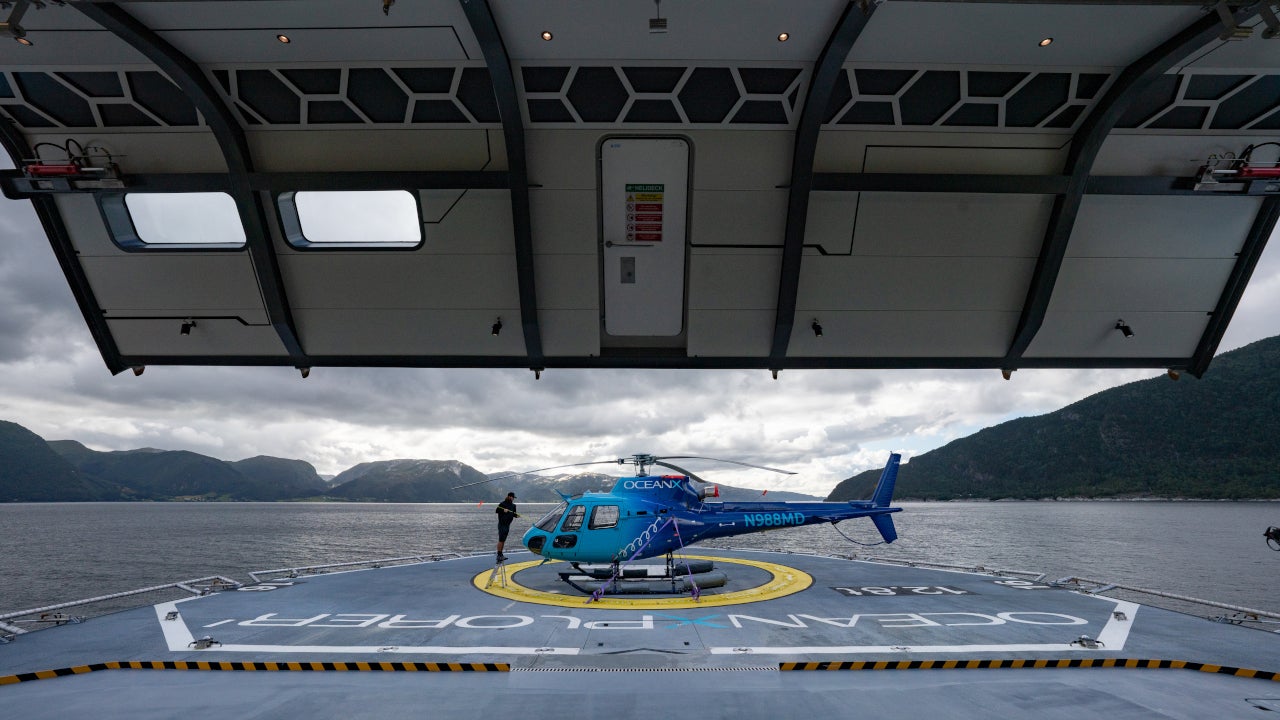 The ship features a H125 Airbus helicopter used for long-range search missions. Credit: OceanX.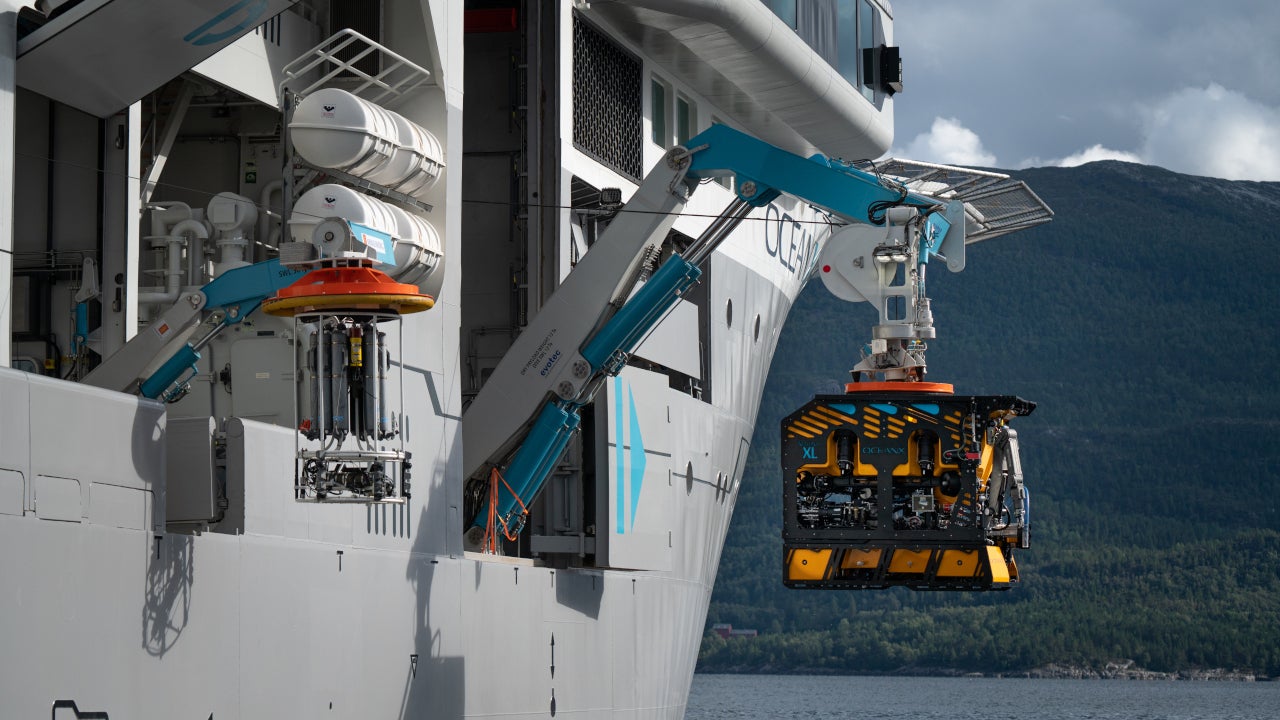 The 40t crane can launch submersibles, towed sonar arrays, and other heavy equipment. Credit: OceanX.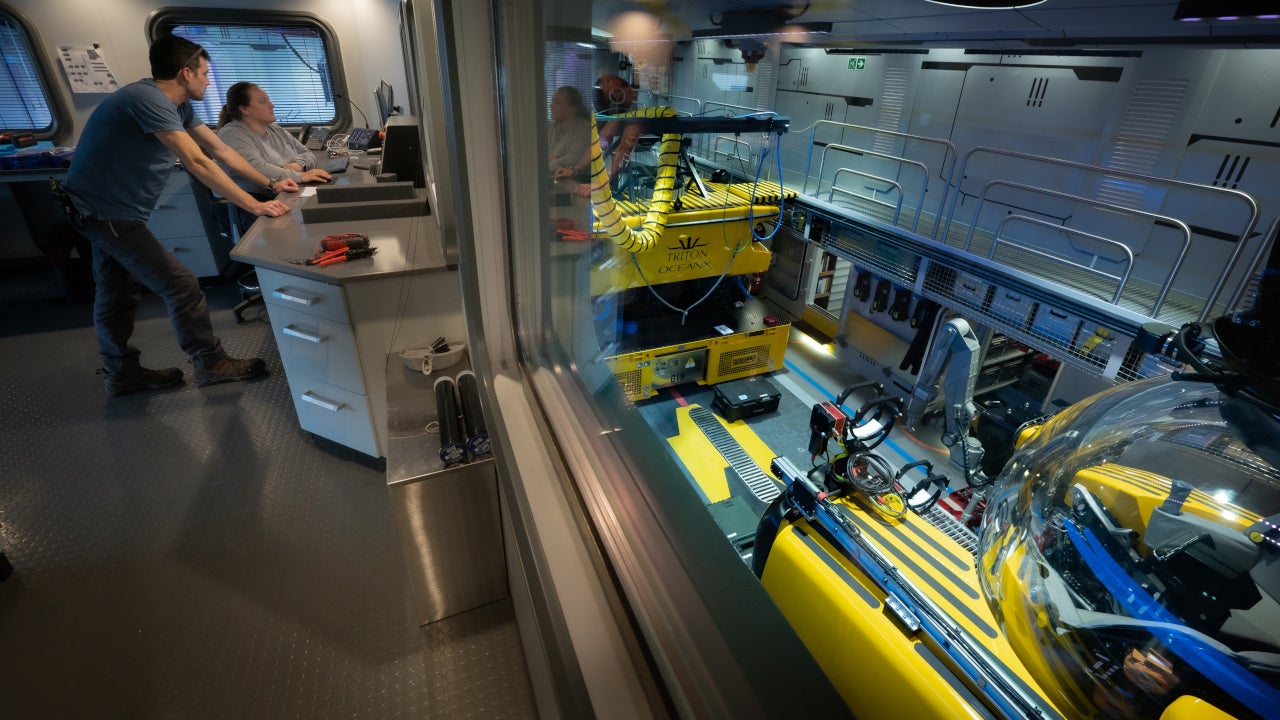 The vessel features advanced scientific exploration vehicles and sampling tools. Credit: OceanX.
OceanXplorer is an advanced exploration, research and media production vessel owned by OceanX, an ocean exploration organisation.
Formerly known as Alucia 2, the vessel serves as a floating, integrated marine research platform as well as a media production studio of Hollywood standard.
Built upon the legacy of M/V Alucia, OceanXplorer will continue Alucia's work to broaden the scientific understanding of oceans and to present the discoveries to the world.
Damen Shipyards Group completed the reconstruction of R/V OceanXplorer vessel at Damen Shiprepair Rotterdam in the Netherlands in October 2020.
OceanXplorer will be recorded in the National Geographic series, Mission OceanX, which will premier in 171 countries and 43 languages.
OceanXplorer reconstruction details
OceanXplorer was rebuilt from the main deck upwards by replacing the existing accommodation with a new and larger unit of yacht standard to house scientific laboratories, workshops, and submarine hanger.
Addition of a fully integrated heli hanger to the superstructure and extension of the accommodation decks on both sides were executed to accommodate new cabins on the increased vessel's full beam.
In addition to the structural changes, the ship was also integrated with all crucial systems, including specialist hydrographic and laboratory systems and IT infrastructure to provide state-of-the-art research facilities in combination with the on-board cinematography and media studios of Hollywood standard.
The restructuring of the ship's docking infrastructure included removal and refurbishment of azipull and bow thrusters, blasting and tanks coating. It also completed the overhaul and up-gradation of crew accommodation. The vessel's moon pool was also closed, box keel was fabricated as well as stabilisors, ROVs, and submersibles were installed in the vessel under the project.
OceanXplorer design and features
The OceanXplorer measures 87.1m long and 21.4m wide. It has a maximum draft of 6.8m and load displacement of 5,399t. The vessel can accommodate a maximum of 72 crew members.
The science facilities at the vessel include four wet and dry labs used for various purposes such as genetic sequencing, microscopy, aquarium tanks, biofluorescent imaging, and sample visualisation from various sensors. It also contains CTD, built-in collection systems and scanners, as well as other equipment such as 3D photogrammetry rig, and hydrophone array.
The media facilities of the vessel contain media centre, dedicated tank filming room and wet and dry camera storage & preparation rooms. The facilities enable scientists to deliver short-form, episodic, and live content from the sea. The media centre comprises two full edit stations, one assist station, live video streaming capabilities, and video conference capabilities.
The vessel also features scuba diving facilities with BCDs, regulators, wetsuits (3mm, 5mm, 7mm) to equip up to 12 divers, dive cylinders, recompression chamber, emergency oxygen gear, various dive scooters and other required stuff. It allows scientists to dive into untouched habitats in minutes from the dive centre by using rapid-deploy zodiac.
H125 Airbus, the resident helicopter, in climate-controlled hanger allows to carry out long-range search missions, deploy research teams and film from the skies.
Other equipment on board
The vessel features oceanographic sensor platforms, including Gondola, a new sensor platform, installed under the keel to provide information to the research locations and the new bridge. Gondola sonar array features Kongsberg EM 304 and EM 712 multi-beam systems which are capable of mapping at depths 3,000m and 8,000m respectively.
The vessel features two manned Triton submersibles with the capacity to dive to more than 1000m deep water for up to eight hours, Argus Mariner XL remotely operated vehicle (ROV) and Remus 6000 autonomous underwater vehicle (AUV) with the capability to explore up to 6,000m underwater.
A 40t man-rated A-frame crane was installed to launch submersibles, towed sonar arrays, and other heavy equipment. The fully independent launch systems allow the vessel to launch ROVs, submersibles, and helicopter at the same time. The dedicated deployment systems enable independent launch and recovery of a piloted / autonomous underwater drone.
The on-board underwater optical modem delivers live-streaming video and data from untethered submersibles from the seabed to social media feeds and classrooms. The custom lighting rigs, including the housing, facilitate shooting with 8K RED cameras at a water depth of approximately 20,000ft to capture superior quality images and video feeds.
The ship also features various support vessels such as Metal Shark boat, two Zodiac Milpro Mk 6 HD inflatable boats, and Maritime Partner MP-741 Springer fast rescue craft.
Data collection
The scientists can analyse the live samples collected by the vessel in state-of-the-art laboratories, which has the capability to carry out DNA sequencing.
The data collected from the on-board systems is sent to centralised mission data management platform. The output from the data management system can be analysed further by specific software.
Developed in collaboration with renowned filmmaker James Cameron, the research facilities of the vessel have the capability of live-streaming its findings to the world.
Tank capacities and treatment systems
The vessel has storage tanks capable of holding up to 1084m³ of fuel, 270m³ of freshwater and 1,546m³ of ballast water.
It is also equipped with various treatment systems, including Jets DVZ-SKA70 BIOMASTER for sewage, GEA Westfalia for oily water, Ueberall UBK4 for ultraviolet water and AlfaLaval Compact PB0226 for ballast water.
Propulsion and performance
OceanXplorer is powered by four Caterpillar 3516B engines, which deliver a total power output of 1900kw at 1,800rpm.
The propulsion system also integrates two Rolls-Royce Azipull 100 propellers, two 1150kW Rolls-Royce TT bow thruster and a 1400kW Rolls-Royce Dropdown bow thruster.