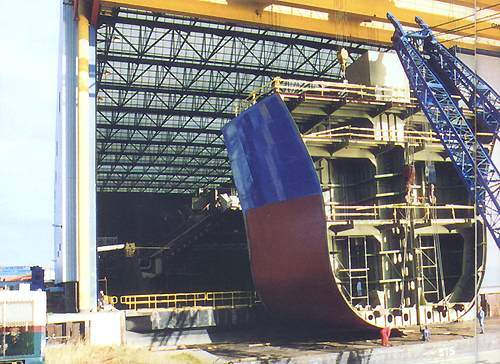 MRS Pioneer was built at various locations in prefabricated module sections up to 300t.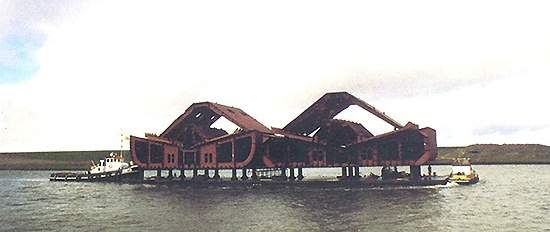 Key structures of the MRS Pioneer sugar carrier being transported.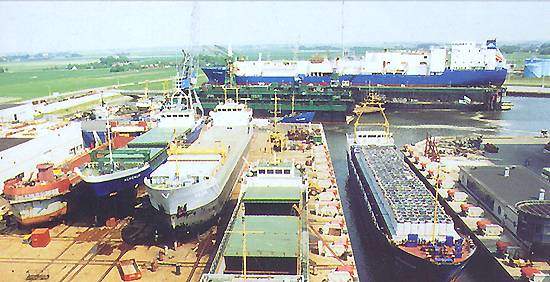 Project number 504 at FSW will go through life known as the 'sugar boat'.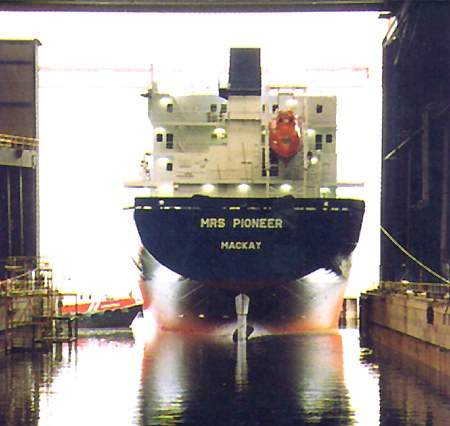 A view of MRS Pioneer from the stern showing one of its safety features, a freefall lifeboat.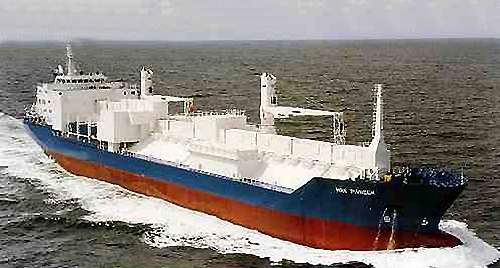 MRS Pioneer being delivered to its owner Mackay Refined Sugars PTY Limited of Australia.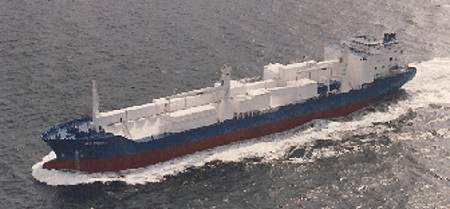 The MRS Pioneer is 168.00m in length, with a breadth of 23.00m and a draft of 9.55m.
The MRS Pioneer is designed to transport refined sugar in bulk. It is part of the fleet of Mackay Refined Sugars (MRS), which has a large plant at Mackay in North West Australia where sugar cane is refined to granulated. The vessel was built by Frisian Shipyard Weigelegen (FSW).
DESIGN
The MRS Pioneer is 168m in length with a breadth of 23m and a draught of 9.55m. It has a deadweight of 21,900gt and a speed of 15.3 knots. It was built at various locations in prefabricated module sections up to 300t and moved by pontoon barge and hydraulic lift to FSW's Harlingen yard for assembly.
The fore part of the ship is divided into a front peak tank, a bow thruster space, a deep tank and a tunnel for (de)mounting of the bottom belt. Behind this lie four cargo holds, which are divided transversely by corrugated bulkheads. Above the bulkhead between holds 2 and 3 is the bulk-loading station. Between holds 3 and 4 is the bagging plant, and between the engine room and hold 4 lies the sugar tower with the necessary bulk systems and support installations.
Each hold is shaped at an oblique and has four loading hoppers with remote controlled valves and a cascade (zigzag slide), over which the first sugar is poured. The sugar flows by gravity in the initial phase, through an opened discharging hopper, and afterwards remains at an upper angle of around 40° in the hold. This is an unstable situation, which is brought into motion by activating the vibration motor. The sugar then flows to the middle at a faster rate. This is called the avalanche phase.
To prevent the ship from heeling as a result of one-sided avalanche, an anti-heeling system has been built in, which automatically keeps the ship within a 1° list. After this, the vibration phase begins. The insulated tank top is provided with coupled stainless steel vibration plates. The flexible plates rest on thousands of spring coils and are automatically brought into vibration by the vibration motors. Such a vibration floor has not been used before to this scale on a ship.
The sugar is transported via the bucket elevator on a higher longitudinal conveyor belt to the bagging hopper. Before the sugar is poured into this hopper, it is sieved in a vibrating machine. Any lumps pass into the lump crusher and afterwards return to the large bagging hopper. The six bagging machines are fully automatic.
PROPULSION
The propulsion system consists of a Wärtsilä 9R46A with a maximum continuous rating of 8145kW (11,200bhp) giving a speed of 500rpm. The Lohmann & Stolterfoht GIIC 1061 P gearbox is connected to a single Lips CP propeller, which affords a service speed of 15.3 knots.
Four Caterpillar 3508 diesel generator sets and a Leroy Somer LSA/MSOM6 shaft generator provide the Auxiliary power. Emergency power is supplied by a Caterpillar 3306 DI-T diesel generator.
AUTOMATION AND CONTROL
The MRS Pioneer's Racal-Decca Mirans 4100 integrated bridge system comprises a CM200 Chartmaster system, a C342/6 X-band and C343/H S-band Bridgemaster ARPA radars.
The vessel also has a Navigat X Mod 10 gyro compass, a Navipilot AD ll/GM adaptive autopilot and a Naviguide F/NN-AP main steering system. The bridge also contains a Lokata Navtex 2B receiver, a Skipper ED162 echosounder, a Sperry SRD33 1 doppler log, two Leica MX100 DGPS receivers and a Koden FX7200 weatherfax receiver.
The communication system comprises: two Thrane & Thrane TT3000C Inmarsat-C satcoms and a Skanti Scansat-M with voice and fax facility; a Skanti VHF TRP3000 182kHz watch receiver and three GLMDSS VHF 9110 portables.