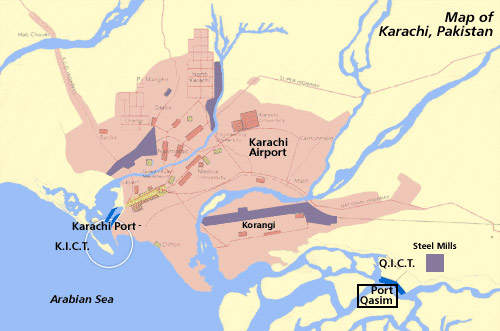 Port Qasim, also known as Port Muhammad Bin Qasim, is a deep-water industrial port located in the Phitti creek in the Indus delta region. It is located on the trade route of the Arabian Sea. With a cargo handling capacity of about 17 million tons per annum, it is the second busiest port of Pakistan.
Opened in September 1980, Port Qasim was built to ease traffic congestion at Karachi Port.
Design
Port Qasim covers more than 12,000 acres, divided into three main zones – North Western Industrial Zone (2,920 acres), South Western Industrial Zone (1,000 acres) and Eastern Industrial Zone (8,300 acres).
It is well connected to the other modes of transportation. The national highway network, located 15km away, provides direct access to the hinterland. The national railway network is connected through a 14km of railway track. Jinnah International Airport is just 22km away.
The port has a 279m-long iron and coal handling berth and a 280m-long oil terminal. Four multi-purpose berths with a linear length of 800m are present at the marginal wharf.
Capable of handling 4Mt of liquid chemicals per year, Engro Vopak Liquid Chemical Terminal is 325m-long. It was built in 1998. Its jetty can handle vessels of up to 75,000 DWT and is connected to a two acre tank farm through a 1.1km-long trestle.
The LPG Terminal is 230m-long.
Qasim International Container Terminal covers a total area of 240,000m² and is comprised of two berths. Its quay wall is 300m-long and can handle vessels up to 272m in length.
Liquid Cargo Terminal, which was inaugurated in August 2009, has a design capacity of 4mtpa and can handle vessels of up to 185m length overall and 33m beam.
"Qasim International Container Terminal covers a total area of 240,000m²"
Construction
The port is being developed and expanded by private sectors on build, operate and transfer (BOT) basis.
A second container terminal was officially opened in January 2011. Built over 13ha of reclaimed land, it is the first dedicated international container terminal in Pakistan. Its quay is 670m-long.
The Liquid Cargo Terminal (LCT) was developed by a joint venture of by Felda, Westbury and Qasim (FWQ) at an investment of $15m.
An LNG Floating Terminal, with a handling capacity of 3mtpa, is being developed by GasPort. The project is estimated to cost $160m.
In October 2010, the Prime Minister of Pakistan inaugurated a specialised grain and fertiliser terminal, which is capable of handling over 4mtpa. The $135m project was developed by Fauji Akbar Portia. The design-build contractor was the China Harbour Engineering Company. Chief Industries and Vigan Engineering supplied the machinery and equipment.
Inros Lackner AG Consulting Engineers and Indus Associated Consultants were technical consultants. KPMG was the auditor, Bridge Factor was the financial advisor and financial monitoring consultant, and Orr Dignam was the legal advisor. The lending consortium was led by the National Bank of Pakistan.
In November 2010, an implementation agreement was signed by Pakistan International Bulk Terminal (PIBT) for the construction of a dedicated coal, clinker and cement terminal at a cost of $180m. The facility will have a storage capacity of 0.9Mt and a handling capacity of 8mtpa. It is projected to be operational by 2013.
Throughput
Port Qasim handles nearly 40% of the country's marine trade. Maritime trade during the financial year 2009-2010 was approximately 67Mt, an increase of over 5% over the previous year.
Facilities
Commissioned in 1980, the Iron Ore and Coal Berth handles iron ore, coal and manganese for Pakistan Steel Mills. It is equipped with two grab un-loaders, each of which can handle 700t per hour. Vessels with maximum payload capacity of 55,000t can be handled.
All bulk, break bulk and general cargo are handled by four multipurpose berths of the Multipurpose Terminal. Berths two and four are equipped with two transit sheds measuring 10,000m² each.
"Port Qasim covers more than 12,000 acres, divided into three main zones."
The FOTCO Oil Terminal, capable of handling 9Mt of furnace oil per year, is operational since April 1995. It is provided with a jetty that can handle up to 75,000 DWT vessels, a 4km-long trestle for connecting the jetty with the shore, product pipelines and loading arms.
A railway yard connected to the national railway network and located behind the Multipurpose Berths back-up area is capable of loading four train loads at a time.
Apart from two covered transit sheds, the port offers two term open storage areas measuring 118,000m² each.
Other facilities available at the port include bunkering, waste reception facilities, ship repairs and medical facilities.
Operator
Port Qasim is operated and managed by the Port Qasim Authority (PQA), which was established in June 1973 through an act of parliament.
The new container terminal opened in January 2011 will be operated by DP World.
Cargo Handling Companies (CHC) is responsible for handling the entire cargo under one window operation.
Equipment
Cargo handling equipment includes two 32t, two 8t and four 24t capacity cranes. In addition, 28 forklift trucks, ten units of tractors / towing and 28 trailers are present.
Container handling equipment includes five 40t quay cranes, two 35t quay cranes, 16 40t rubber-tyred gantries, six 45t reach stackers and three 7t empty handlers.
The port has owns 16 terminal tractors and operates another 30 tractors on hire basis.
Future plans
An LNG Terminal with a handling capacity of 3.5mtpa has been planned to be developed by the Granada Group of Companies. It is estimated to cost $274m and projected to be completed by 2012.
A second Oil Terminal has also been planned for development at a cost of $51.4m by 2012.
Other projects in the pipeline include infrastructure facilities development in EIZ at a cost of $117.58m, providing the industrial zone with sewage treatment plants and construction of an access road from the KESC Link Road to the Petrosin Plot. Deepening of the navigation channel at an investment of $150m is also planned.