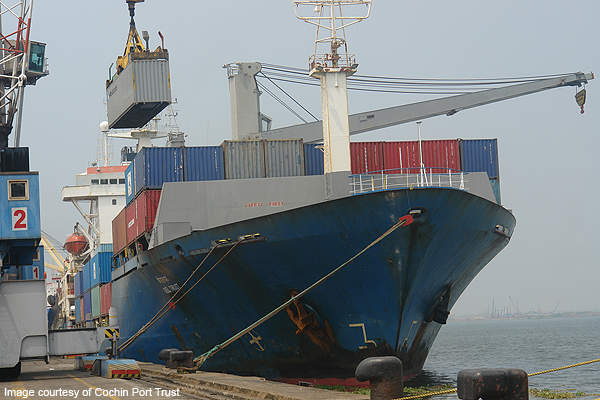 Container handling facility at the port of Kochi.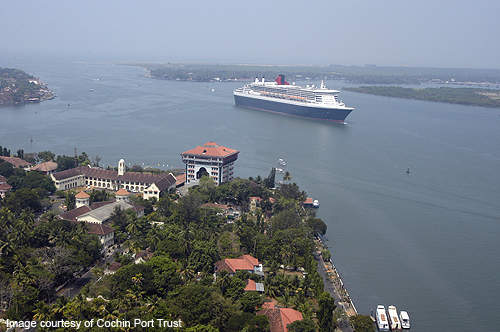 Kochi is one of the most preferred destinations for cruise liners.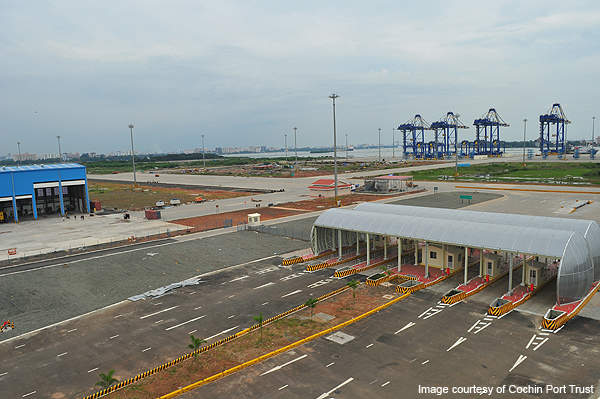 International Container Transshipment Terminal (ICTT), Kochi is the first transshipment terminal in India.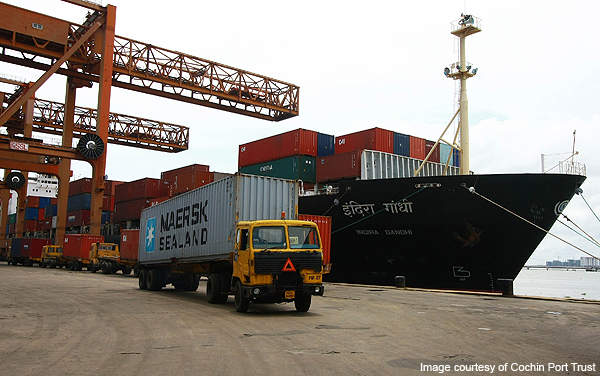 Vessel Indira Gandhi berthed at the port.
The Port of Kochi, Kerala is one of the most important natural ports in India. It is situated on Willingdon Island, just 20km from the direct Middle East to Far East sea-route. It has the most strategic geographic proximity to major marine sea routes.
National Highways NH47 (Kanyakumari-Salem), NH49 (Cochin-Madurai) and NH17 (Cochin-Mumbai) connect the port to the state of Kerala, South Tamil Nadu and South Karnataka respectively. The presence of improved rail, road water, and air connectivity makes the port a preferred gateway for imports and exports to/from the region.
Kochi port design
The Kochi port is approached through two inner channels (Ernakulam and Mattancherry of the Willingdon Island) and an outer approach channel.
The outer approach channel with a length of 10km, width of 200m and depth of 13.8m acts an entrance to the harbour. This approach channel is marked by five sets of buoys.
The two inner channels are Ernakulam Channel and Mattancheri Channel. The width of Ernakulam Channel varies from 300m to 500m, while depth varies from 9.75m to 13.5m. The channel is nearly 2.8km-long and includes berths Q5 to Q10, the North and South Tanker Berths and Cochin Oil Terminal.
Mattancheri Channel, which has a length of nearly 2.2km, varies in width from 180m to 250m, and has a depth of 9.75m. The channel consists of berths Q1 to Q4, North and South Coal berths and BTP.
"The Port of Kochi is operated by the Cochin Port Trust."
Port construction
The Port of Kochi was developed into a modern port from 1920-1940 by Sir Robert Bristow, a British harbour engineer.
He transformed the port into one of the safest ports in the area with modern equipment and facilities. In August 1936, it was declared a Major Port.
Critical functions
Cochin Oil Terminal (COT), located in the Ernakulam Channel, is an offshore terminal. It can handle tankers of up to 11,500DWT, 250m in overall length and 12.5m draft.
The terminal uses four units of remote operated hard arms for receiving / loading liquid cargo from/to ships. Facilities include fire fighting facilities, a 440V power supply system and two 75kVA DG sets for emergency power.
Port of Kochi throughput
During 2008-2009, the Port of Kochi handled 15.23mt of cargo, a fall of 3.34% compared to the previous year.
The port handled a record 17.43mt of cargo during the year 2009-2010, an increment of 12.5% compared to the previous year.
Port of Kochi facilities
The port of Kochi is an all weather port and is one of the least congested in India. It is also the first Indian e-port, optimising operations through electronic equipment.
The port has one dry dock, 16 berths with three oil jetties, and well equipped container terminals. It offers 24hr pilotage, bunkering and water services, and a fast turnaround time. It also has an exclusive yacht zone.
The port can accommodate ships of up to 115,000t displacement and length of 231m.
The port's only dry dock can house vessels up to 58m-long and 10.5m-wide. It is supported by two 5t capacity cranes, fire lines and shore power.
"Cochin Oil Terminal, located in the Ernakulam Channel, is an offshore terminal."
Ernakulam Wharf has six berths, of which three are container terminals, two handle general cargo, and the sixth is a fertiliser berth. The seven sheds available at the wharf cover a total area of 17,000m². Mattancherry Wharf with a length of 1,010m offers one boat-train pier, two jetties and four berths for general cargo.
Container Freight Station of the port offers a covered storage area of 10,000m² and open storage area of 20,000m².
Dry bulk cargoes are handled at berths Q1 and Q4. Each of these berths has a length of 180m and can hold vessels with maximum draft of 9.1m and tonnage of 16,000 DWT. The BTB berth handles both dry and liquid bulk cargoes, while petroleum, oil and lubricants are handled at STB berth.
In February 2011, India's first transhipment terminal at Vallarpadam was opened at the port. The terminal was built and is operated by Dubai Ports World under a 30-year concession agreement with the Cochin Port Trust. An investment of INR1,600bn was made in the terminal.
In October 2012, a cruise passenger facilitation centre was opened at the port. The 1500m2 facility includes customs and immigration counters, scanning machines and restrooms. Space for setting up duty-free shops and cafeteria is also available. The new facility will cater to the needs to cruise ships docking at the port. It will also be used an exhibition or convention hall during the off season.
The facility was constructed with a Union government loan of INR4.91bn and state government loan of INR1.32bn.
Port operator
The Port of Kochi is operated by the Cochin Port Trust, which is an autonomous body under the Government of India.
Future plans
In September 2012, the Cochin Port Trust announced its plans to construct a fourth cement terminal at the port. The facility will be built on 3.19ha of leased land and will have a capacity of 100,000t. It is being built in response to demand from major companies.
The port is also planning to develop a 10mtpa capacity general cargo terminal at Ernakulam Wharf at a cost of INR450bn.
An LNG re-gasification terminal is being constructed at the Puthuvypeen SEZ area near the port by Petronet LNG. The project is estimated to cost INR32bn and is expected to be completed by the end of 2012.