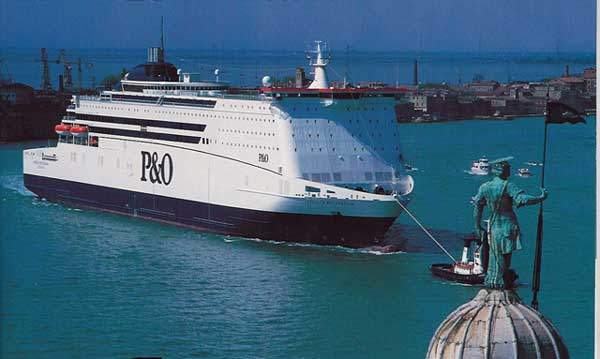 The Pride of Rotterdam (along with its sistership the Pride of Hull) is one of the world's largest ferries, working the route between the ports of Hull and Rotterdam. The construction of the ferries was carried out at Fincantieri's Marghera yard in Venice. The Pride of Rotterdam took less than 14 months to build.
The Pride of Rotterdam has an overall length of 215.4m (203.7mbp) and a moulded beam of 31.5m. It has a design draught of 6.05m and a 9.4m depth to main deck. It also has a gross tonnage of 59,925t, making it the biggest ferry in the world in terms of gross tonnage. It has a design deadweight of 8,800t and a scantling deadweight of 10,350t.
Pride of Rotterdam facilities
The facilities are based over twelve decks. The main public rooms and services centre around atrium area on Decks 8 and 9.
"The Pride of Rotterdam is one of the world's largest ferries."
Deck 8 incorporates the bureau de change, continental café and cyber cafés, shops and a children's area, as well as the hotel facilities reception. Dining facilities are located aft.
The entertainment facilities include a casino, Irish bar, two cinemas and a double-deck show lounge.
Deck 9 boasts a fully equipped business centre, wine bar and a la carte restaurant. There as also a lounge bar and restaurant exclusive to freight drivers.
Decks 8 and 9 are connected by processional staircases port and starboard, while all the connecting decks are accessed by a main stairtower.
The Pride of Rotterdam has 546 cabins with a total of 1,376 beds. Passenger cabins are forward on Decks 8 and 9 and aft on Deck 7, as well as being located throughout Deck 10. The vessel is managed by a crew of just 141, whose accommodation is on Deck 11.
At the base of the funnel on Deck 12 lies a multi-functional sky lounge – the only public space – designed for access to the teak-planked sun decks outside. This sky lounge also serves as a piano bar and breakfast area.
Vehicles
For speed of turnaround, the car deck is accessed through a side entrance in the ship and consequently separated from the main freight deck entrance. The 2.7m-high car deck is designed to accommodate 250 cars, caravans etc.
"The Pride of Rotterdam has 546 cabins with a total of 1,376 beds."
The freight capacity of the Pride of Rotterdam is 3,345 lane metres. These freight decks are accessed via an 18m-wide by 12.5m-long stern door/ramp from Hamworthy KSE. The main deck is completely flat for the easy loading of trailers. On boarding, the vehicles travel up one side of the vessel, turn in the spacious bow area, and then proceed back towards the stern on the other side.
On Deck 3, a total of 1,483 lane metres (3.1m wide, 7m high) can be employed, while on Deck 5, the upper trailer deck is accessed via two Ham worthy KSE hoistable ramps, giving a further 1,560 lane metres. Each ramp is 58m long and 3.4m wide. While the deck is 4.8m in height, it is open aft, permitting the carriage of hazardous cargo. At the aft end of Deck 7 there is an exclusive area for drivers, featuring 14 single and 39 double cabins.
Propulsion
The ferry is powered by four Wärtsilä NSD 9L46C engines, delivering a total output of 37,800kW at 500rpm. The ferry also has two Wärtsilä 9L32 auxiliary engines, giving an output of 4,050kW at 720rpm. The engines are linked via Schelde reduction gear to two Lips highly skewed propellers measuring 4.9m in diameter. This gives the vessel a service speed of 22 knots.
The ferry is manoeuvred by two Fincantieri 2,000kW bow thrusters.