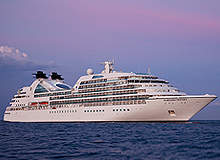 Launched in June 2009, Seabourn Odyssey is the first of the three sisterships to be delivered to Seabourn Cruise Line by T.Mariotti shipyard, Genoa, Italy. The second sistership was delivered in June 2010, while the third will be delivered in 2011. The order for the three sisterships was worth €550m.
After delivery of the third ship, Seabourn's total capacity will increased by 216% with the total number of berths reaching 1,974. The ship which was laid down in July 2007, took its first trial in May 2009. The ship has been built to comply with the latest safety standards set by the International Maritime Organization (IMO).
"The Spa at Seabourn, spread over two decks, offers health and fitness facilities."
Design
Designed by Yran & Storbraaten Architects, Norway, the ship has been built using advanced technologies and new materials. It has a gross tonnage of 32,000t, length overall of 198.15m and length at water level of 179.8m. The ship's designed depth to upper deck is 15.25m, while depth to main deck is 9m. The moulded breadth and draught of the ship are 26m and 6.4m, respectively.
The ship accommodates 450 guests in 225 luxury suites. The service on board is supported by 335 crew members.
Construction
The official construction of Seabourn Odyssey began with keel laying ceremony held in July 2007 at Cimolai-Mariotti's new yard in San Giorgio di Nogaro (east Italy). The construction was started in a traditional manner by welding a coin to the keel of the ship for soliciting good fortune.
An area of 50,000m² was assigned at the Cimolai yard for smooth construction of the ship. Its hull was formed by rotating and placing the pre-fabricated steel sections. A new overhead crane with a capacity of 300t, height of 45m and width of 35m was built to place and rotate these sections. The ship's fore and aft sections weighing 3,000t and 4,000t, respectively were built separately. The two sections were then carried to a floating dock in Rijeka, Croatia, where they were positioned and aligned using SPTP trolleys, provided by Fagioli. A single floating hull was then formed by welding these two sections.
The hull after its formation was towed by sea to Mariotti's Genoa building site. Here, the hull was joined with ship's superstructure, weighing more than 3,000t. The final construction and fitting out of the ship was carried out at this site.
The ship is installed with advanced wastewater treatment plant to minimise air and sea environment pollution. The ship uses two fully independent propulsion systems for safe cruising during normal and emergency periods.
Facilities
The ship is furnished with a new concierge lounge called Seabourn Square, which allows the guests to access every shipboard service. Facilities at the lounge include upscale shops, an outdoor terrace, a coffee bar and a library.
The five dining venues on the ship include The Restaurant, The Colonnade, Restaurant 2, Patio Grill and In-Suite Dining.
The Restaurant has open-seating gourmet arrangement, capable to accommodate all its guests at a time. At the The Colonnade, breakfast, lunch and dinner are served in an open-kitchen style. This allows the guests to order their meal after looking at food preparations. The poolside located Patio Grill serves freshly baked cinnamon buns in the morning and gourmet pizzas during the afternoons. An avant-garde dining experience is provided at the Restaurant 2. The In-Suite Dining serves gourmet breakfast, lunch and dinner round-the-clock.
Entertainment facilities include six-piece band and cabaret dance show in the Grand Salon, the casino offers blackjack and other gaming options. Classical guitar is played in the Observation Bar. There is also "Movies Under the Stars", where first-run films are shown.
"The ship is furnished with a new concierge lounge called Seabourn Square."
The Spa at Seabourn, spread over two decks, offers health and fitness facilities. Located on deck 10 are two Spa Villas. The features include a treatment area, a big bathtub, a private balcony for sunbathing, a full living room area, and a double daybed for relaxing. The two-deck spa is located on deck nine with seven treatment rooms. The special feature of the spa is a "dry float" room, equipped with a heated waterbed-like device (used in treating seaweed wraps and other body wraps).
The ship also has a fitness room equipped with cardio and strength equipment. Expert therapists are available to provide custom design treatments to each guest.
Accommodation
90% of the total 225 luxury suites have been furnished with verandas. The ship offers 13 categories of spacious suites ranging from 295 to 1,182ft² of indoor space area and additional veranda area of 65 to 505ft². Veranda for almost all the suites are built with either a picture window or glass doors for ocean views.
Living area is furnished with one queen-size or two twin beds. Other room facilities include interactive flat-screen TV, walk-in closet with personal safe, and make-up vanity. Free internet service is provided for guests staying in Owners Suites (800, 801, 731, 600 & 601), Grand Wintergarden (743/745 & 744/746), Wintergarden (743 & 744), Grand Signature (700/705 & 701/703) and Signature Suites (700 & 701). Granite furnished bathroom is built with separate bath and shower facilities. Bath products are provided by Molton Brown, while soaps by Hermes and L'Occitane.