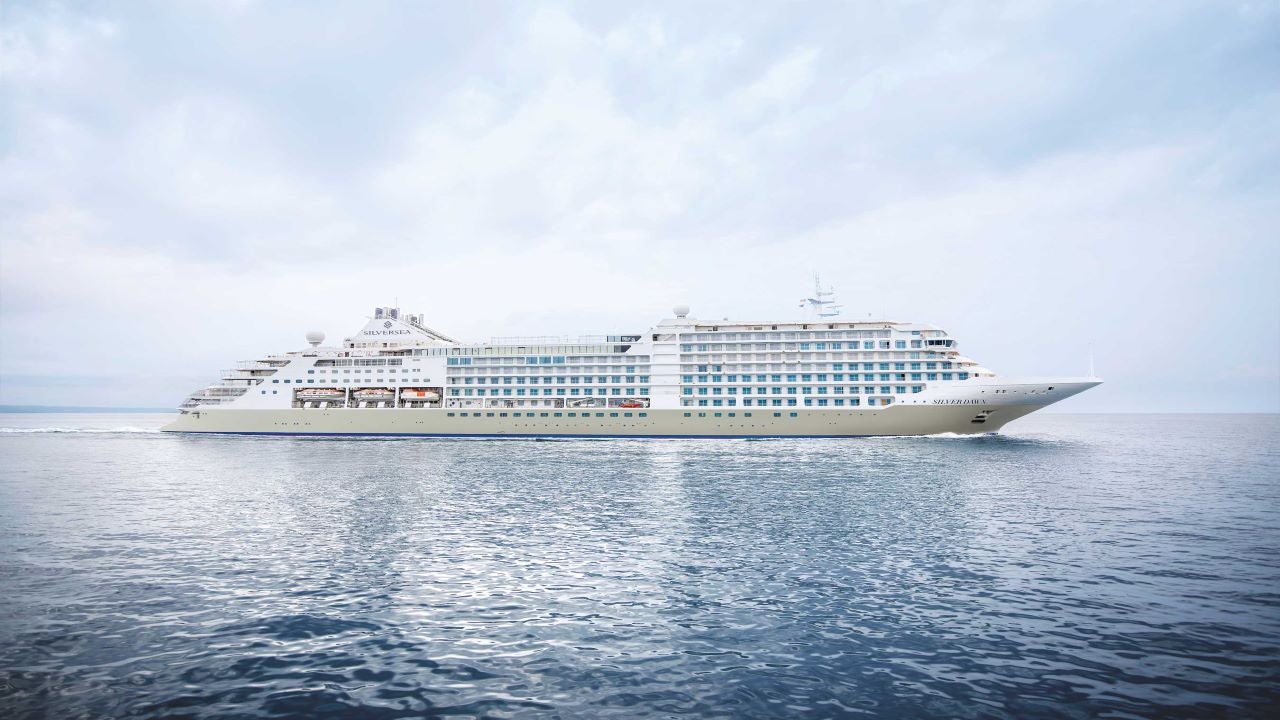 Silver Dawn is a new cruise ship constructed by Fincantieri for Silversea Cruises, a luxury cruise line owned by global cruise company Royal Caribbean Group.
It is the third ship in the Muse class and tenth ship in the cruise line's fleet. Silversea Cruises placed a contract worth more than $382m with Fincantieri for the construction of the cruise ship in May 2018.
Silver Dawn was floated out at Fincantieri's shipyard in Ancona, Italy, in January 2021 and delivered in November of the same year.
The christening ceremony of Silver Dawn was held in Lisbon, Portugal, in March 2022. The vessel departed on her inaugural voyage from Lisbon to Barcelona, Spain, on 1 April 2022.
Silver Dawn design and features
The Silver Dawn cruise ship measures 212.8m long and 27m wide. It has a gross tonnage of 40,700t. The vessel is the sister ship to Silver Muse and Silver Moon. It retains the best characteristics of its predecessors while offering unique features. With a total of 11 decks, the vessel can accommodate 596 guests served by a crew of 411.
Silver Dawn introduced the new Otium wellness programme, the only wellness programme at sea that incorporates champagne, chocolate and other gourmet snacks. Otium offers signature cocktails, bespoke in-suite experiences and a Roman-influenced spa.
The vessel also hosts full-scale productions and feature films in the Venetian Lounge, which has belle-époque style cabaret seating.
Accommodation on board Silver Dawn
The Owner's Suite is available in one or two-bedroom configurations. The suite offers a large seating area and modern amenities, such as a Bose sound system, interactive 55in TV and Illy coffee machine. The one-bedroom configuration offers up to 1,055ft² (98m²) of living space, including the veranda, while the two-bedroom unit offers up to 1,389ft² (129m²) of space with the veranda.
The Grand Suite offers two accommodation categories and features a large indoor area, including cosy bedrooms and separate dining areas as well as a large veranda furnished with sunbeds. The one-bedroom configuration offers up to 1,572ft² space, while the two-bedroom unit offers up to 1,970ft² of living space, both of which include the veranda.
The two Royal Suites on board Silver Dawn offer ample indoor space, with a living room and state-of-the-art entertainment systems, unlimited Wi-Fi, marble bathroom, and spacious teak veranda. The suite also features twin beds that can be joined and offers the option of an adjoining bedroom. The two suites are available in one and two-bedroom configurations.
The Silver Suite is available in one and two-bedroom or wheelchair-accessible configurations. The one and two-bedroom configurations offer 786ft² and 1,119ft² of living space, respectively, including the veranda.
The Deluxe Veranda, Superior Veranda and Classic Veranda suites offer spacious and well-situated accommodation with ultra-luxury amenities, such as 24-hour butler service, a mini-bar and teak veranda. The suites come with 387ft² of living space, including the veranda.
The Panorama Suite is available in a one-bedroom configuration with 334ft² of space. The Vista Suite is available in two and one-bedroom or wheelchair-accessible configurations.
Dining venues
Silver Dawn's exclusive S.A.L.T. Kitchen on deck four is a destination-focused restaurant offering a variety of regional specialities for guests. The La Dame on deck eight is Silver Dawn's signature French restaurant, which serves flavours of France. The restaurant features a contemporary style, vast ocean-view windows and custom-made interior panel compositions by French art company Lalique.
The Grill, located on deck ten, features lava stone cooking, using stones sourced from volcanic rock and placed in an oven. It invites guests to cook their food directly at their table. Stone cooking is available in the evenings, while the restaurant provides rotisserie, gourmet salad and a burger bar during the day. The Atlantide on deck four is another elegant bar and grill venue.
The La Terrazza, located on deck seven, offers authentic recipes and fresh Italian ingredients. It offers traditional family-style Italian daily specials and houses an olive oil cellar, mozzarella bar, seafood station and salumeria.
The S.A.L.T. Bar on deck four offers locally inspired cocktails and drinks. The Dolce Vita, located on deck five, is the main bar of the ship, featuring stylish décor and comfortable seating in an Italian setting.
The Spaccanapoli on deck 11 reflects the emblematic street in Naples and offers a relaxed dining style, with fresh ingredients and authentic dough symbolic of the Italian way of life.
The Kaiseki is a Japanese-themed restaurant located on deck four. It offers different daytime menus, including a varied and balanced menu of sushi, sashimi and other raw, Asian-inspired dishes. The evening menu options include the taste and traditions of fine Japanese dining.
Entertainment and public amenities
The Silver Dawn features a casino on deck seven, where guests can enjoy a variety of table games, including American Roulette, Blackjack and Ocean Poker. An assortment of multi-game, multi-denominational reel and video slot machines are also available.
The S.A.L.T. Lab on deck four offers an interactive space for guests to deep-dive into local culinary heritage and techniques. Guests can engage in learning workshops, lectures and cooking demonstrations.
The Panorama lounge offers a meet-and-greet area where guests can enjoy a cocktail and music from a pianist or the in-house DJ.
The Connoisseur's Corner on deck nine is the smoking lounge, where passengers can sample some of the world's finest cigars, such as Havanas, Cohibas, Partagas, Montecristos, Ramon Allones and Bolivars.
Positioned on the highest level of the ship at deck 11, the Observation Library offers a quiet space for reading and reflection, where guests can borrow books from the in-house library.
In the pool deck and jacuzzi area on deck ten guests can take a dip in the pool and relax in one of the whirlpools or on the sunbeds.
Guests can experience duty-free on-board shopping in the ship's Boutique. Located on deck eight, the Boutique provides a selection of cutting-edge fashions, jewellery, accessories, fine perfumes, cosmetics and the Silversea Logo collection. The Arts Café on the same deck hosts various exciting exhibitions of paintings and sculptures, as well as offering a daytime café, deli-bar and evening cocktail lounge.
Health and wellness facilities
The health and wellness facilities on board the Silver Dawn include a fitness centre and the Otium Beauty Salon on deck six. The fitness centre is equipped with state-of-the-art Technogym® equipment and free weights. Personal trainers are available for individual sessions with guests at all levels of fitness.
The Otium Beauty Salon offers a range of salon services, including hairstyling, steam and sauna, manicures and pedicures for men and women. It features Roman-inspired art pieces and elegant furnishings in an area spanning more than 790m².
Propulsion
The vessel is powered by four 6,525kW DD-GG Wärtsilä 9L38 engines and two 8,500kW propulsion units. The power plant also integrates four 6,300kW alternators and a 900kW emergency alternator.
The propulsion system enables the cruise ship to sail at a maximum speed of 21k.
Silver Dawn itineraries
Following her inaugural voyage in April 2022, Silver Dawn will sail in the Mediterranean until November 2022. The vessel will then cross the Atlantic Ocean, covering the Canary Islands, the Caribbean and Central America.