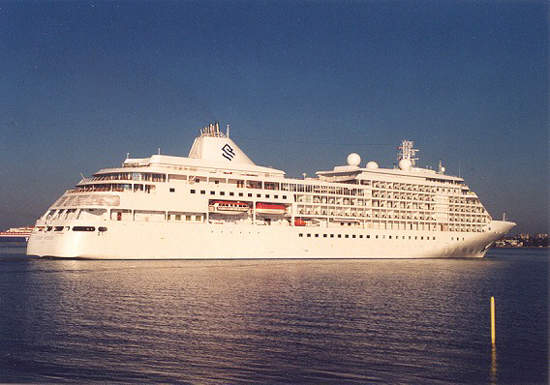 The Silver Whisper at sea.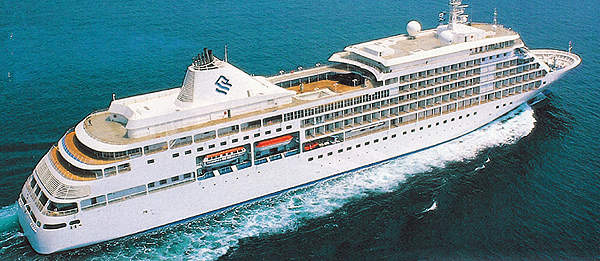 The stern of the Silver Whisper.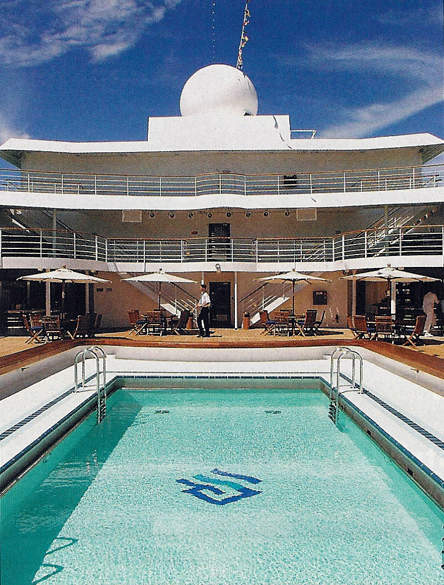 The pool on the Silver Whisper.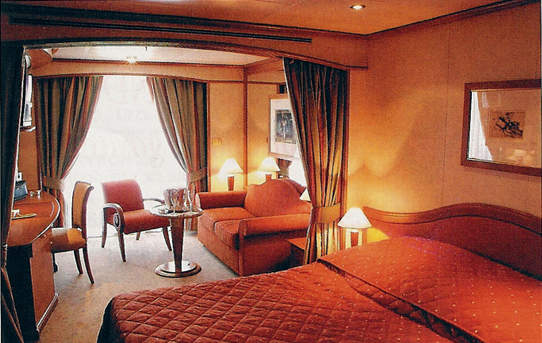 The bedrooms on the Silver Whisper.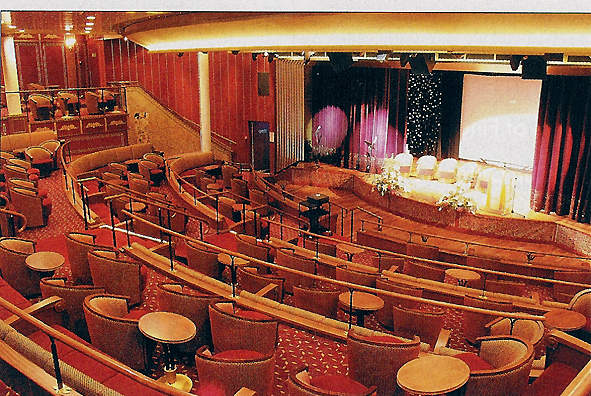 The multi-tiered show lounge.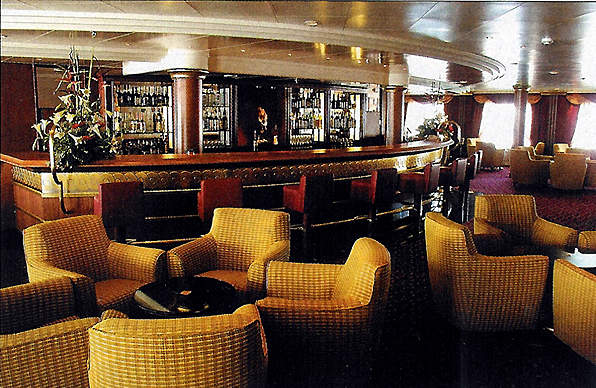 The bar on the Silver Whisper.
The Silver Whisper is the sister ship of the Silver Shadow and was delivered to the operator Silversea Cruises. The hull was constructed at the Visentini yard near Trieste and final outfitting was at the Mariotti yard in Genoa. It was designed by architects Petter Yran and Bjorn Storbraaten of Oslo.
The Silver Whisper registers 28,200t. It has a length of 182m, a width of 24.8m and a 6.5m draught. It can attain a speed of 21 knots. It is operated by Italian officers, European staff and an international crew, totalling 295 in all and providing a passenger-to-crew ratio of 1.31 to 1. It also has a particular ratio of tonnage to passengers of 72.16 (calculated at a maximum 28 000t and 296 passengers).
The guest capacity is 284. They are accommodated in 194 outside suites. More than 80% of the suites feature private teak balconies and a new design features nine vista suites sharing a common veranda.
There are 26 Vista suites (287ft²) as well as 128 Veranda suites (345ft²) and two Medallion suites (521ft²). In addition, there are 13 Silver suites (701ft²) and two Royal suites (1,312ft² to 1,352ft²) as well as four Grand suites (1,286ft² to 1,435ft²) and two owner's suites (1,208ft²). Movement between the decks is by stairs or five guest elevators.
PUBLIC AREAS
The main restaurant has a seating capacity of 424 people while there is also a Terrace Cafe with indoor and outdoor dining areas (170 person capacity indoors/48 person capacity outdoors).
For entertainment, the Silver Whisper boasts a multi-tiered Athenian Show Lounge (356 person capacity). There is also a Panorama Lounge with a (162 person capacity). At the top of the vessel is a 55 person-capacity Observation lounge.
The vessel has a 22-person card room, a Casino with Casino Bar as well as a main bar with a capacity for 109 guests. There is also the 24 person 'Le Champagne' wine and champagne bar provided by Moët & Chandon. Cigar smokers can use the 20-person capacity Humidor supplied by Davidoff. The Silver Whisper also has Conference facilities (36 capacity) a Computer Centre and a library.
There is a beauty Salon and Fitness Centre, men's and ladies' Sauna and Steam Rooms and an outdoor heated pool. There are two whirlpools. There is also a Mandara Spa and a Poolside Grill and Bar (24-person capacity at the grill, 32 at the bar). Other facilities are the reception desk, travel desk, concierge desk and cruise consultant desk.
SHIP PROPULSION
The main power is supplied by two Wartsila 8R46 engines, which provide 7,850kW of power at 500rpm. These give a total of 15 700kW.
The engines are connected to variable pitch propellers. Shaft generators feeding from them are able to produce sufficient electrical power to operate the bow thrusters. Stabiliers, supplied by Fincantieri, are used to ensure a smooth ride. Electricity generation is carried out using three Wartisila Vasa 6R32 generators, which each supply 2,340kW of power.
On the bridge, there is a range of nav aids and communications equipment. These include a C-band Comsat system, a B band Comsat unit, four mini-M band Comsat systems, three Atlas radars, two Atlas VHF systems, two Atlas GPS systems, two Atlas Gyros, an Atlas Automatic pilot. The automation systems were supplied by Wartsila ABB.
The Silver Whisper is registered in the Bahamas. It is classified by Rina with the notation +100 A1 1 1AQ-1.