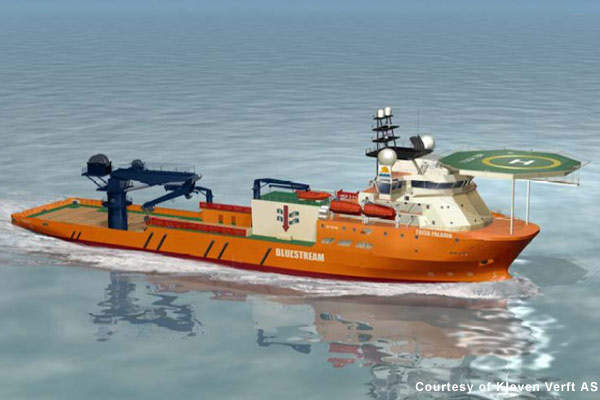 On 22 November 2007 the Toisa Paladin, the latest diving support vessel in the Toisa Fleet, was christened at a ceremony in Ulsteinvik Island, Alesund, Norway. The keel was laid in January 2007. The Toisa fleet is managed by London-based Sealion Shipping Management.
The ship, which is a DP2 Saturation Diving Vessel (Hull No 318), was constructed by Kleven Verft AS at the Ulsteinvik Island shipyard near Ålesund in Norway. The ship was delivered in January 2008 and has since been chartered to the Dutch company Bluestream Group for a period of five years.
TECHNICAL
"The Toisa Paladin has accommodation for 100 personnel and is fitted with an 18-man dive system."
The Toisa Paladin has accommodation for 100 personnel and is fitted with an 18-man dive system capable of providing saturation diving to a depth of 300m. There is also a 140t active heave compensated crane. The ship is also fitted out under a green passport scheme that was provided by Metizoft AS (started in December 2006) for the yard purchased equipment.
The overall length of the vessel is 103.70m, with a P-P length of 96.80m and a length load of 94.80m. The depth of the main deck is 7.7m and the depth of shelter deck is 10.4m.
The moulded breadth is 19.70m and draft is 6.135m. Gross tonnage is 4,200t. The vessel notation is 1A1 ICE-C SF COMF-V(3) HELDK-S E0 DYNPOS-AUTR CLEAN DK(+) allowing its operation across all possible areas including in cold waters. Maximum speed is 15.5kt but operational cruising speed is 11kt.
PROPULSION AND POWER SYSTEMS
The main propulsion uses electric motors. On the bow there is one retractable Azimuth of 1,200 bhp (UL 1201 FP) and two tunnel thrusters (TT 2200 DPN CP) each of 1,400 bhp, the stern has two Azipulls, each of 3,000 bhp (AZP-100) supplied by Rolls-Royce Marine AS. The two emergency generators were supplied by MHI Equipment Europe B.V (S6R-M(P)TA) and Caterpillar Inc (C9) (1,200 bhp, driving one 910 kW alternator) and the four main generators were supplied by Caterpillar Inc (3516C) (each 2,850 bhp, driving four 2,100kW alternators).
ACCOMODATION AND EQUIPMENT
The deck area onboard is around 50m × 19.7m, giving a space of about 900m², with a deck load of 1,000t. Aside from the main 140t crane, there are also two smaller knuckle-boom cranes with capacities of 5t, two 15t deck tuggers and two 10t capstans. On the work side there are also two deck workshops, two engineers' workshops, one electrical workshop and two diver's workshops. The ship is equipped with a 10t, 21m helideck, a diving bell moonpool (3.6m × 3.9m) and four 50-person covered lifeboats.
Out of the total of 100 beds there are 24 single cabins, 32 double berth cabins and three quadruple berth cabins (this does not include the hospital or the saturation diver's accommodation). The mess room has 55 seats and there are two recreation spaces as well as project office, conference room, operations office, online survey space, offline survey space, two charterers' offices, sky lobby and gymnasium.