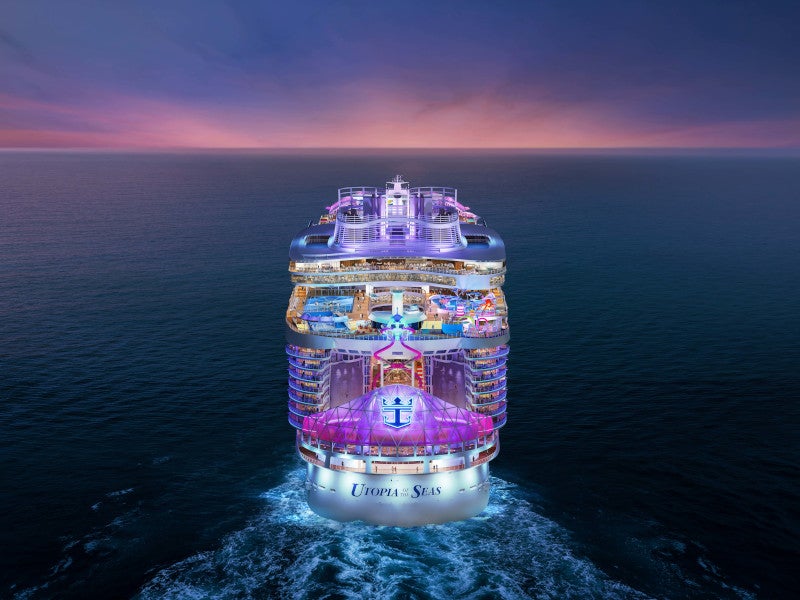 Utopia of the Seas will embark on its maiden voyage in July 2024. Credit: Royal Caribbean International.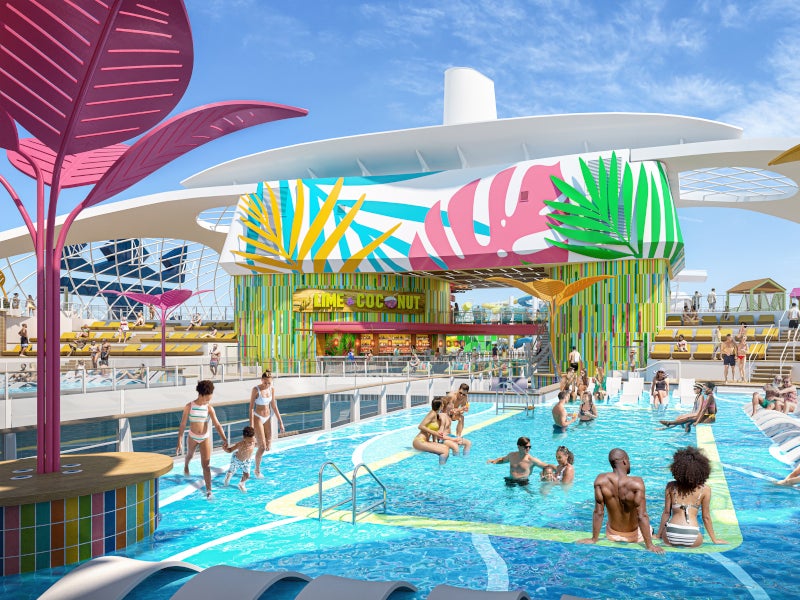 The ship is operated by Royal Caribbean International. Credit: Royal Caribbean International.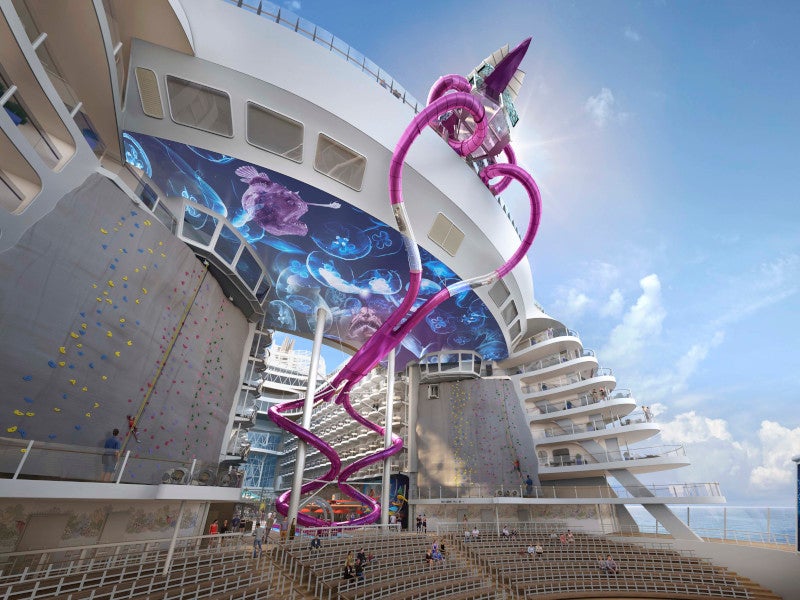 The cruise ship will accommodate 5,668 passengers. Credit: Royal Caribbean International.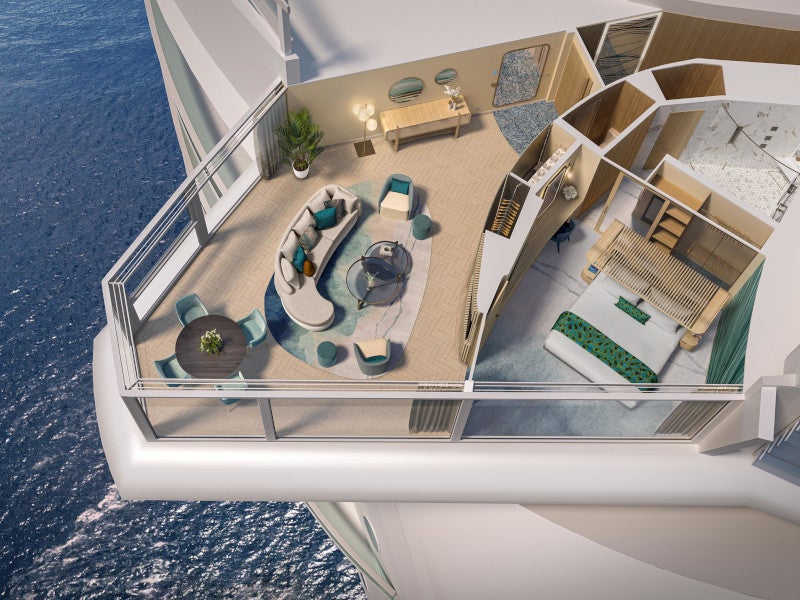 The construction of the ship started in April 2022. Credit: Royal Caribbean International.
Utopia of the Seas is the sixth Oasis-class ship owned by Royal Caribbean International, a cruise operator based in the US.
The vessel is being constructed at the Chantiers de l'Atlantique shipyard in Saint-Nazaire, France.
The steel-cutting ceremony for the ship was held at the Chantiers de l'Atlantique shipyard in April 2022 while the keel was laid in July of the same year.
The ship is scheduled to embark on its maiden voyage in July next year.
Utopia of the Seas design and features
Utopia of the Seas will be 1,188ft long and 211ft wide with a draft of 30ft and gross tonnage of 236,860 short tons (t). It will have 18 decks and accommodate 5,668 passengers in double occupancy and 2,290 crew members.
It is the first liquified natural gas (LNG)-powered cruise ship in the Oasis class, which also includes the Wonder of the Seas and Symphony of the Seas cruise ships.
Accommodation onboard Utopia of the Seas
The Utopia of the Seas will feature 2,834 staterooms, 176 suites, 1,918 balconies, and 168 ocean-view rooms. It will feature more than 20 different accommodations onboard with special room services, including in-room Wi-Fi and spa services.
The Royal suite class includes the Solarium, Royal Loft, and Ultimate Family.
The new Solarium suite will provide 280-degree views from the front of the ship and offer large living and dining spaces.
The Royal Loft suite will accommodate six guests and feature a master bedroom and a downstairs bedroom. It includes a private balcony with a whirlpool, a minibar, and a television. The master bedroom features a rainfall showerhead and whirlpool bath.
The Ultimate Family suite will have three bedrooms, which can accommodate up to ten guests. The suite includes a karaoke station, a master suite, an in-suite cinema, a private whirlpool, and a balcony with table tennis.
The suite-class rooms provide guests with access to special amenities including access to the Suite Sun Deck's private pool, five-star dining at the Coastal Kitchen, concierge services, priority boarding and departure, as well as coffee makers in the room, and dining and beverage packages.
The staterooms on the ship include interior staterooms, ocean-view staterooms, balcony staterooms, and virtual balcony staterooms.
Dining onboard Utopia of the Seas
The ship offers more than 20 distinct dining options and different dining spots onboard.
Guests can experience sushi and Japanese food at the Izumi Hibachi and Sushi restaurant and teppanyaki tables and al fresco seating at the Izumi in the Park restaurant.
Giovanni's Italian Kitchen and Wine Bar will feature authentic Italian dishes with distinctive options of classic cocktails.
Windjammer will serve approximately 200 five-star dishes, not including a selection of brunch and lunch options.
Consumers craving southern food menus can check the Mason Jar Southern Restaurant and Bar with live country music.
The cruise ship also offers other special dining options including Chops Grille and Hooked Seafood, which serves New England-style dishes.
In addition, more than 20 bars and lounges will be onboard. Passengers can experience fruit-based concoctions made with rum, tequila, and gin at the Pesky Parrot, a new Caribbean bar on the Royal Promenade.
Entertainment
Utopia of the Seas will feature five live music centres, two casinos, ten DJs, six dance floors, and four spectacular shows.
Casino Royale has about 370 slot machines with 30 table games. The five live music shows include Spotlight Karaoke, Boleros, Music Hall, Bell & Barley, and Schooner Bar.
The entertainment facilities onboard also include Playmakers Sports Bar & Arcade, comedy clubs, Aquatheatre with high diving acrobatics, Royal Theatre, and skating stunts at Studio B.
The ship also features eight different pools including two resort-style pools on the top deck, two aqua parks for children at Splashaway Bay with many fountains and water slides, water cannon, and double dench buckets.
Ultimate Abyss will be a 259ft-long dry slide and the longest at sea. It will include 300 LED lights illuminating the descent, with transparent racing windows and zoom booster rolls for added speed. In addition, there are eight hot tubes, a FlowRider surf simulator, and three waterslides onboard. The ship also includes mini-golf at AquaDunes and Utopia Playscape for young children.
Propulsion
The ship will be propelled by six diesel engines, which will deliver 96MW power and three azipods with 20MW each. It can achieve a maximum speed of 22 knots.
It will feature six Wartsila 46TS-DF engines equipped with gas valve units, and selective catalytic reduction systems to reduce nitrogen oxide emissions. In addition, it will feature LNGPac, which is an LNG fuel gas supply system, and transverse thrusters.
Itinerary details
Utopia of the Seas will embark on its first maiden voyage in July 2024 on a three-night weekend and four-night weekday getaway departing from Port Canaveral in Orlando, Florida, US.