VectRA 3000 Series Tugs
VectRA 3000 is a new series of Voith Schneider propeller (VSP) tugs being constructed by Sanmar for operators worldwide.
Type
Voith Schneider Propeller Tug
Expand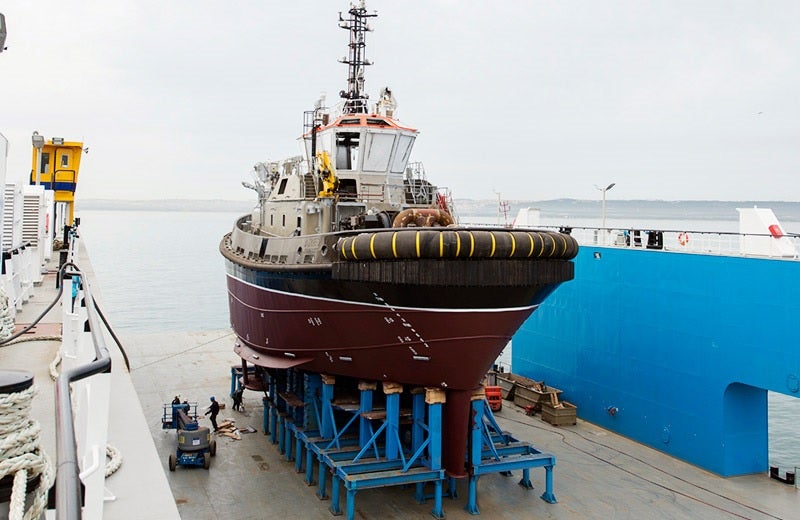 VectRA 3000 is a new series of Voith Schneider propeller (VSP) tugs being constructed by Sanmar for operators worldwide. Designed by Robert Allan, the VectRA 3000 series vessels are the high-performance VSP tugs of tractor configuration.
The first vessel in the series built for Tripmare, M/T Ares was launched in February 2016 at Sanmar Shipyard in Altinova. Its maiden voyage is expected in April 2016.
VectRA 3000 is Sanmar's first tug series to be constructed in accordance with ABS Habitability workboat (HAB (WB)) notation, where specific attention has been paid to minimise vibration and sound levels.
VectRA 3000 tugs will be capable of performing ship-assists, escort duty, external fire-fighting and oil recovery operations. The vessels will be classified by American Bureau of Shipping (ABS) with the +A1, +AMS, ABCU, Towing Vessels, Escort Service, Fi-Fi Vessels C1, Unrestricted Navigation, UWILD and OSR-C2 notations.
Design details of VectRA 3000
The VectRA 3000 series' cost-effective design integrates high-speed engines, electronic controls and MLC-2006-compliant crew accommodation. The hull is made of all-welded mild steel, while the deckhouse and wheelhouse are also constructed using steel.
It has a length of 30.25m, an overall draft of 6.70m and a moulded beam of 13m.
Deck equipment and systems
A DMT TW-H 800kN hydraulic-driven double-drum winch with tension indication is installed on the vessel. The first drum will have a capacity of 710m diameter, 54mm steel wire at ten layers, while the second drum will have a capacity of 150m diameter, 94mm nylon rope at six layers. Total brake capacity of both drums will be 200t.
Communication and navigation systems on VectRA 3000
The VectRA 3000 series tugs are equipped with a radar, global positioning system (GPS), differential GPS (DGPS), echo sounder, automatic identification system (AIS), chart plotter, magnetic compass, autopilot, speed log, a bridge navigational watch alarm system (BNWAS), a general alarm, an intercom, SP telephone, an engine telegraph, and GMDSS A2 radio equipment.
VectRA 3000's accommodation
The comfort and quality of accommodation on VectRA3000 will meet North European standards. Accommodation facilities are provided on the main deck for a total of six people. Two officers onboard will be housed in one cabin each, while petty officers will be accommodated in two single cabins. The boat also has a double cabin for the crew.
Each cabin integrates private en-suite facilities and all cabins will feature plugs for TV and GSM aerial. Rooms will be furnished with teak imitating IMO-approved floor material. The vessels will also feature a galley and mess area next to a central entry and wet lobby area.
"Each engine offers power of 2,525kW at 1,800rpm."
Propulsion system on M/T Ares
The propulsion system integrates two Caterpillar 3516C high-speed diesel engines driving Voith type 32-R5 250 cycloid propellers. Each engine offers power of 2,525kW at 1,800rpm.
A pair of Reintjes model WAF 843 clutch and reduction gearboxes will couple the engines and propellers. The configuration reduces transmission losses and fuel burn, when compared with a conventional Voith Turbo coupling.
A new electronic Voith remote control system incorporated on the tugs saves fuel. The new control system allows the captain to clutch-off thrusters at idle.
The power-plant provides a bollard pull of up to 70t and a speed of approximately 12.5k. Onboard electricity for the ship systems is delivered by two 86ekW Caterpillar C 4.4 generator sets.
Cote d'Opale is the latest E-Flexer-class roll-on/roll-off passenger (RoPax) ferry operated by Det Forenede Dampskibs-Selskab (DFDS), a Danish international shipping…