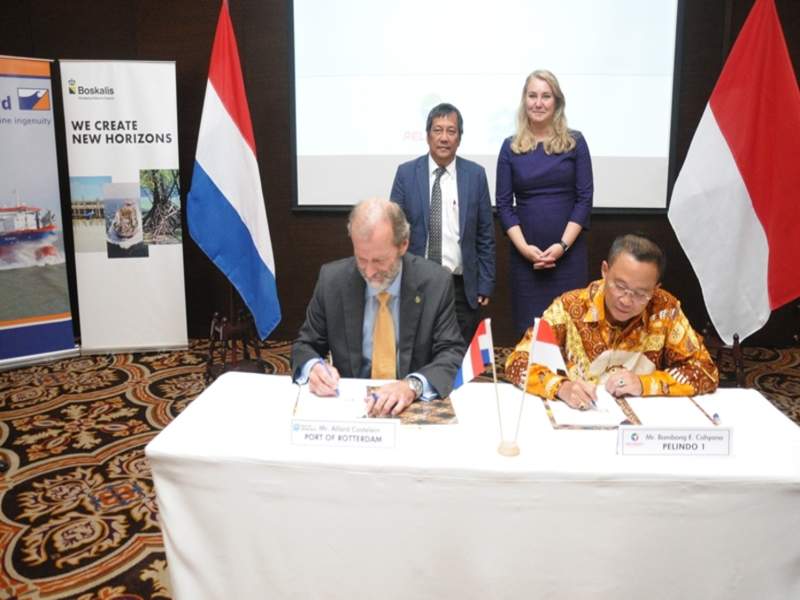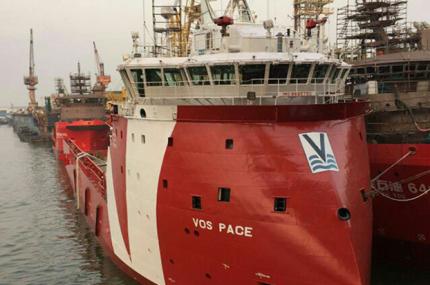 VOS Pace is a new platform supply vessel (PSV) built for the Dutch company, Vroon Offshore Services. The vessel, built at the Cosco Guangdong Shipyard in China, was launched in June 2014 and delivered to her owners in February 2015.
It is the first of the six PX121-type PSVs designed by Ulstein for Vroon Offshore and is outfitted to support drilling activities with longer and deeper boreholes and other offshore activities in European waters.
---
---
MV Gelbray Express is the third livestock carrier built by Cosco Guangdong Shipyard, based in China, for its Netherlands customer Vroon Offshore Services, who placed a contract in 2011 to build six livestock vessels at an estimated cost of $28.25m each.
---
The remaining vessels under construction are scheduled to be delivered during 2015-'16.
Design details of VOS Pace
VOS Pace has an overall length of 83.4m, and a moulded breadth of 18m. The length between perpendiculars is 76.5m and the depth to main deck is 8m. The design and maximum drafts of the vessel are 6m and 6.7m respectively.
"The deadweight of the vessel at maximum draft is 4,200t and gross tonnage is approximately 3,650t."
The deadweight of the vessel at maximum draft is 4,200t and gross tonnage is approximately 3,650t.
The vessel features Ulstein's patented X-BOW hull line design for easy and smooth manoeuvring in severe climatic conditions. This concept delivers high fuel efficiency while ensuring high-levels of comfort for the crew.
The clear deck of the vessel covers an area of 850m2 and offers a deck loading capacity of 10t/m² at the aft and 5t/m2 at forward.
The vessel is equipped with dynamic positioning system Class II regulations and is outfitted to meet the requirements of the ABS 'Clean Design' classification.
Storage capacities of the PX121 vessel
The PX121 is equipped with tanks for carrying oil, water and drilling fluids along with two stainless steel tanks for carrying flammable liquids or corrosive chemicals. Onboard tanks can store up to 1,035m3 of fresh water, 1,674m3 of drill water, 1,464m3 of fuel, 1,294m3 of liquid mud or brine and 255m3 of dry bulk. The vessel also features 391.7m3 heeling tanks, and can carry a 257m3 of base oil and 150m3 of methanol.
Accommodation and deck machinery aboard the platform service vessel
VOS Pace is outfitted to provide accommodation to 26 people in 14 single crew cabins and six double cabins dedicated for 12 passengers.
The vessel features two 10t tugger winches with a pulling speed of 35m/min, two capstans with a safe working load (SWL) of 10t each, and a deck crane with a SWL of 3t at a maximum outreach of 18m.
Communication and navigation equipment
Communication systems fitted to the PSV include JRC JSS-2150 MF/HF radio, JRC JHS-770S Very High Frequency Radio (VHF), three Entel HT8982 portable VHF radio for general and distress communications, McMurdo Model E5 Satellite emergency position-indicating radio beacon (EPIRB), JRC NCR-333 navigational telex (NAVTEX) receiver, JRC JUE-251 Fleet Broad Band, and JRC JAX-9B Weather Facsimile.
Other communication equipments fitted on the vessel include Inmarsat-C packet data service operated by Inmarsat for Ship Security Alert System (SSAS) and long-range identification and tracking (LRIT) of ships. The ship also incorporates two McMurdo S4 search and rescue transponders (SART) and JHS-183 Automatic Identification System (AIS).
Navigation equipment includes S-band JMCJMA -9132-SA ARPA radar and X-band JRC JMA -9122-9XA ARPA radar. Also fitted are two Mc Murdo S4 Radar Transponder Units, JRC JAN-901B-FOR Differential Global Positioning System (DGPS), JRC JFE-680 Echo sounder and YOKOGAWA PT500A-P-Analog auto pilot.
The PSV is further equipped with YOKOGAWA CMZ900d +1 x 900S gyro compass, YOKOGAWA SR-165 magnetic compass, Integrated Joystick Control, JRC Navi-Sailor 4000 electronic chart display and information system (ECDIS) with multi-functional (MFD) system, and a JRC JCY-1800 Voyage Data Recorder (VDR).
Life saving and fire-fighting systems
The PSV is fitted with two 20-man life rafts on each side and a man overboard boat (MOB) to carry six people.
"The PSV is fitted with two 20-man life rafts on each side and a man overboard boat (MOB) to carry six people."
External fire-fighting systems of the ABS FiFi Class vessel make it capable of dispersing 3,820m3 of water an hour. Manual fire-fighting equipment include two fire monitors. The high-capacity water jets are capable of releasing 1,200m3 of water every hour to a distance of more than 120m.
Engine and propulsion
VOs Pace PSV is powered by a diesel electric propulsion system comprising of two 1,630kW diesel engines and a pair of two diesel engines generating 990kW of power each.
The propulsion system includes two 1,600kW azimuthing twin propellers and two bow thrusters, each generating 880kW of power. The ship is also fitted with a 130ekW emergency generator set for shipboard electricity. The propulsion system ensures a maximum speed of 15kt.