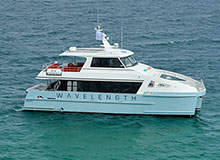 Wavelength 4, a reef tour vessel designed by Incat Crowther, is designed to provide a safe and stable ride in open sea conditions.
Built by Aluminium Marine, the vessel entered service in August 2015. It is operated by Wavelength Reef Cruises on the Great Barrier Reef off the coast of Queensland, Australia.
Aluminium Marine began construction on Wavelength 4 in Brisbane, Queensland, in February 2015 and launched the vessel in June 2015.
Wavelength 4 tour vessel design
"An air-conditioned saloon provides comfortable seating for up to 38 members in a lounge area, which features large panoramic windows that offer wide-angle views."
Based on a catamaran platform, Wavelength 4 features a slim hull with deep forefoot and round chines made of marine-grade aluminium.
The hull is designed to reduce fuel consumption and improve ride comfort at high speeds, and the high bridge deck clearance minimises wave slamming in rough conditions.
The vessel has an overall length of 19.6m, waterline length of 18.5m, beam of 6m, hull draft of 0.95m, maximum draft of 1.5m and a depth of 2.2m. It can carry a crew of five and up to 45 passengers.
Accommodation and amenities
The upper deck accommodates up to 44 seats. The main cabin with a large amenity space houses two change rooms, galley, a server and photo station.
An air-conditioned saloon provides comfortable seating for up to 38 members in a lounge area, which features large panoramic windows that offer wide-angle views. Stairs lead to the upper deck and the main cabin door. The vessel also features a large aft diving deck.
Amenities aboard the tour vessel include warm freshwater deck showers, two toilets on the aft deck and sun areas on the aft top deck and bow.
Environmentally friendly features
The tour vessel achieves zero emissions at the reef. The saloon is well insulated to reduce air-conditioning usage.
Opening hatches and windows provide increased natural ventilation in the saloon at the reef. LED lights installed aboard the vessel reduce generator run time and energy consumption. The large roof mounted solar panels further minimises the generator usage.
The vessel has effluent primary treatment and holding tanks for treating blackwater and greywater. It features phthalate-free high recycled content, safety flooring and phthalate-free seat fabric, both made from eco-sourced materials.
The carpet is designed with high recycled content and exterior seat slatting is made from recycled plastic and bamboo composite materials. The vessel also features reclaimed hardwood tables and counters.
Recessed anodes help reduce drag and improve fuel efficiency. The interceptors improve fuel economy and speed, and the engine generates minimum noise and vibration. It burns approximately 8l of fuel per passenger and emits 21kg of CO2.
Carbon footprint and production costs were lowered by the use of solar power, local build and recyclable materials during construction.
Propulsion and performance of the tour vessel
Wavelength 4 tour vessel's propulsion system consists of two IMO Tier 2-compliant Yanmar 6HYM-WET main engines and two five-bladed propellers.
Each Yanmar 6HYM-WET engine offers clean burning benefits and generates an installed power of 478kW at a rate of 2,150rpm. The vessel also has a Mase I.S.7 6.7kW 50Hz generator.
The vessel is fitted with hydrodynamic stabiliser fins for improved tracking in large following seas. It can carry 2,400l of fuel, 380l of fresh water, 380l of sullage and 2,400l of fuel.
The boat has a cruise speed of 25kt and can attain a maximum speed of 29kt when fully loaded.