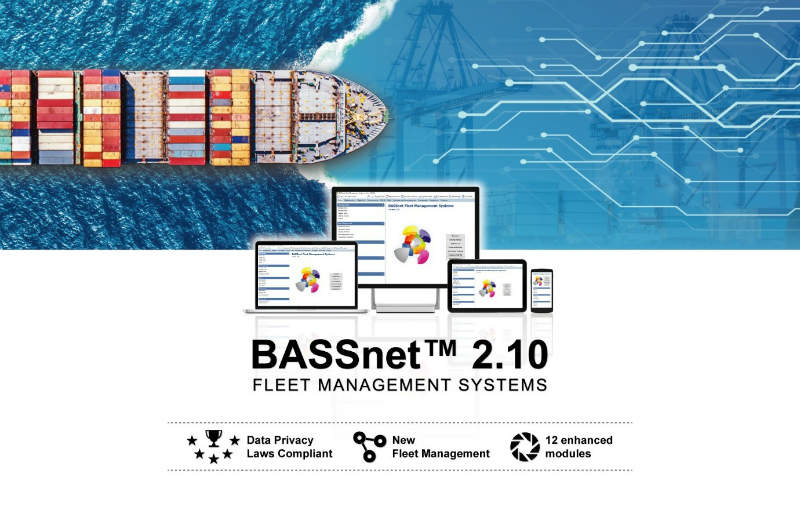 BASS has announced the launch of the BASSnet™ Fleet Management Systems version 2.10, marking a significant milestone in the company's journey as a leading provider of maritime software solutions.
Featuring a modern and sophisticated design with an emphasis on clean lines and user-friendly features, BASSnet 2.10 has been optimised for integrated, powerful performance on a fleet-wide basis. Significant enhancements have been made to key modules. In addition, customer insight has been prioritised at every stage of the development process.
"Since BASS' inception in 1997, customers' needs and feedback have always been at the core of the development of our solutions. This latest release is another fine example of BASS' customer-centric approach in offering problem-solving solutions, with highlights being the new data privacy features and enhanced fleet management", said Per Steinar Upsaker, CEO and managing director of BASS.
Highlights to watch for in BASSnet 2.10 include new and comprehensive fleet management features that allow for fleet-wide central management of equipment data. A new 'equipment setup' feature allows you to create and manage a library of machinery equipment by maker and model. Equipment also contains standard instructions, materials and documents that can be shared across your fleet. Office users can easily get an overview of how a particular equipment is used fleet-wide.
BASSnet's Fleet Management features are closely integrated with BASSnet Maintenance & Materials, a module which allows for high-level planning, scheduling and execution of a chosen maintenance regime against individual vessels or the entire fleet. This module is also fully integrated with BASSnet Risk Management, ensuring quality and safety while supporting the need for work permits, safe job analyses, risk assessment, and event reporting.
In addition, the BASSnet Document Management module provides a powerful document management system to facilitate the 'paperless office' concept. Using this feature, customers can efficiently manage and distribute statutory and company documents across a fleet and offices, with the ability to implement a quality management system by accessing and attaching documents at each transaction level.
Seamless integration between BASSnet Projects (Dry Docking) and BASSnet Maintenance, BASSnet HR Manager System, BASSnet Procurement and BASSnet Financials allow customers to monitor fleet-wide projects with efficiency and transparency. Also, enhancements in BASSnet Procurement's contract management and e-invoice management features, in concert with the integrated BASSnet Projects, provide customers with tighter control in managing budgets.
For customers looking to master vessel operations, BASSnet Operations allows comprehensive management of vessel particulars, with electronic log entry, and features for management of work and rest hours and certificates. In addition, this module provides user-friendly environment management features with in-built logic to ensure vessel compliance with the EU MRV (Monitoring, Reporting, Verification) Regulations for monitoring carbon emissions.
Many parts of the BASSnet 2.10 system have also adopted the new user interface technology, Windows Presentation Foundation. "In BASSnet 2.10, adoption of Microsoft's Windows Presentation Foundation (WPF) as a UI technology is becoming more prevalent to allow for a more modern and user-friendly experience", added Martin Bjoernebye, BASS's VP of research and development.
BASSnet 2.10 boasts a number of other useful features to ensure fleet productivity, safety and risk management.
BASSnet SAFIR (Safety & Information Reporting) ensures that quality management principles are implemented in all business processes performed in the system, with methodology based on the main principals within the revised ISO 9001 standards and ISM Code. This module includes features for event handling such as accidents or incidents, audits and inspections, vettings, lessons learned,  training, and drills. A powerful statistics feature additionally allows customers to enjoy in-depth analysis related to safe operations across the fleet.
BASSnet Risk Management is integrated with a number of modules such as BASSnet Maintenance. Various approval workflows under this module, including for work permits, risk assessment and safe job analysis, allow the customer to manage fleet-wide risk-free operations.
The third edition of the Tanker Management and Self-Assessment: A Best Practice Guide (TMSA) is available on the TMSA Overview screen under BASSnet Reviews & Improvements, with updates to reflect current legislation and emerging issues, while incorporating feedback from companies and users of previous editions of TMSA, as well as providing guidance on the Oil Companies International Marine Forum's (OCIMF) view of industry best practices. The module includes a powerful feature to review company-wide processes as part of the management cycle.
BASSnet Ports Management provides all port forms required by ports worldwide to comply with state authorities and the International Maritime Organization (IMO), with auto-population of data into related forms from other BASSnet. This module provides port information of all worldwide ports through a port guide feature, while new updates are immediately available to vessels by replication.
Integration is a hallmark of the BASSnet suite of products. In this spirit, customers can also choose to install comprehensive financial and human resource systems for their fleets, including:
The BASSnet Financials system, which covers all aspects of the accounting cycle (such as general ledger, accounts payable and receivable, fixed assets and budgets) which provides incredible value in fleet management operations, seamlessly integrating data from other modules while delivering unparalleled operational efficiency.
The BASSnet HR Manager system, which ensures efficient crew management, comprising entire processes from recruitment, planning, compliance with the STCW Code and Crew Matrixes, management of crew travel, training, crew budgets as well as comprehensive payroll workflow, crew nationalities and statutory requirements. This module provides integration to external systems such as training providers, travel agents as well as banks for crew payments.
Customers can also be assured that significant enhancements were made to ensure personal data protection and privacy in the BASSnet 2.10, BASSnet HR Manager 2.10 and BASSnet Financials 2.10 Systems, including:
Strong password security through use of a one-way hash algorithm
The ability to use access rights to restrict access to personal data to authorised users only (in BASSnet and BASSnet HR Manager)
The ability to keep a record of crew consent obtained for collection and display of personal data (in BASSnet HR Manager)
The new BASSnet User Masking Tool to anonymise selected inactive users in the BASSnet, BASSnet HR Manager and BASSnet Financials Systems by permanently masking their personal information from view. Inactive crew in the BASSnet HR Manager can also be permanently anonymise.