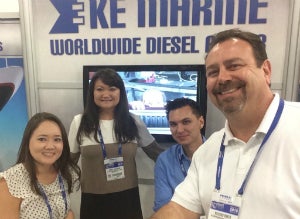 KE Marine and Worldwide Diesel Power (WWDP), formerly Chris-Marine USA has been providing outstanding services for the maritime and stationary power industries since 1980.
KE Marine and WWDP specialise in diesel engine maintenance solutions, namely, providing repair and maintenance to two and four-stroke diesel engines and turbochargers, in-situ machining, honing, grinding, reconditioning services and diesel engine spare parts supply.
Complete sales, repair and training of Chris-Marine and IOP marine maintenance equipment are also performed from our facility. We are conveniently located on the US East Coast in Jacksonville, Florida, and proudly offer our services worldwide.
Worldwide Diesel Power, formally Chris-Marine USA, Inc. has continued providing quality service since 1980 and continues to offer superior diesel engine services in worldwide repair,...