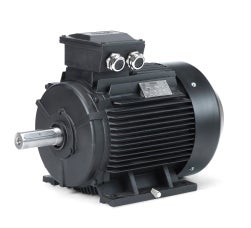 Hoyer Motors is proud to announce that its IE2 motors have been officially approved by the Danish authorities.
The process from application to final approval has taken a couple of months, and the documentation was given the green light just before Christmas – and now, about one month later, the motors have now also been approved. The approval will soon be published on the Danish Environmental Protection Agency's (EPA) website.
"With the EPA's approval of our energy-efficient IE2 motors, we are very proud to be able to document that we yet again are leading the way within eco-friendly products," says Erik Just Petersen, technical manager at Hoyer Motors.
At the forefront of international developments
For Hoyer Motors, the most recent approval is proof that its strategy of offering more energy-efficient and eco-friendly motors is the right way to go.
"At the end of January, we had more than 66,000 motors in stock – and we are thus ready to meet the demand for energy-efficient motors from our international customers," states Erik Just Petersen.
More certifications in the pipeline
In addition to the approval of the IE2 motors, Hoyer Motors has obtained ABS design approval, and GL (Germanischer Lloyd) and BV (Bureau Veritas) type approval test certification processes have been initiated. They are expected to be completed during the first half of 2012.