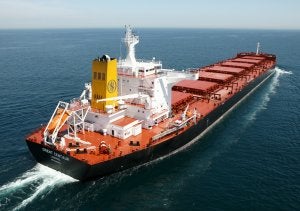 The Norwegian marine training specialist Seagull is now the sole provider of onboard training systems to the Interorient fleet.
Cyprus-headquartered Interorient employs over 300 shore-based employees and more than 1,200 seafarers on around 60 fully-managed ships, including a number of predominantly ice-class product tankers, containerships, roll-on roll-off vessels and bulk carriers.
The global provider of marine transportation services has used Seagull training modules since 2005, starting with Seagull's crew evaluation system (CES), the computer-based assessment tool which is used to evaluate the knowledge of seafarers as part of the company's recruitment and promotion process, and to identify future training requirements.
Shane Rozario, Interorient's corporate training coordinator, says, "The CES is a tool we continue to use extensively to verify the competence of new joiners to the company, as well as to enhance the professional knowledge of our existing crew members."
Each vessel operated and managed by Interorient, through either of its two main offices in Cyprus and Hamburg and its managing office in Miami, is equipped with a Seagull training computer loaded with Seagull training systems (STS). The STS incorporate Interorient's career development system (CDS), and company-specific training programs, as well as a wide range of generic CBTs and training videos.
Mr Rozario says, "In view of our recent fleet growth, and our desire to raise the skills of our officers to a higher level, we realised the need to enhance crew training and provide seafarers with a systematic career development strategy. The result is the CDS."
Interorient and Seagull have been working together for almost four years to create a CDS specifically for Interorient's seafarers. "We determined that this should be a structured system of onboard training courses, including Seagull's standard CBTs as well as various bespoke training modules developed to meet our specific needs," says Mr Rozario. "Most importantly it also had to include hands-on training based on our in-house safety management requirements."
The CDS has gradually been rolled out across the fleet and by early 2011 all vessels operated by Interorient were equipped with and running the Seagull CDS.
"The CDS is designed to evidence the onboard, company training requirements for a seafarer's current rank, and also the next higher rank, for all vessel types," says Mr Rozario. "It is used as a promotional tool to provide a career path for all our seafarers, as well as a knowledge base for competence and skill development."
Interorient intends to obtain class approval for the CDS in the near future. "Together with Seagull we aim to develop the CDS system as a central point for maintaining all onboard training activities, including drills and training related to the types of cargos being carried," says Mr Rozario.
For its onboard and ashore training regime, the company uses more than 40 Seagull CBT titles and training videos, covering a wide range of subjects including safety, navigation, cargo handling and engineering, as well as the development of 'soft skills' such as communications and leadership.
This year Interorient switched to Seagull's online platform, allowing its seafarers to use CBT training, conduct CES tests and view their training records via the internet.
According to Mr Rozario, the new online systems have proved to be considerably more flexible and versatile, and they are not limited by hardware specifications. The biggest benefits have been seen by the seafarers. "The message we were getting from our seafarers was that they would like to have the option of carrying out CBT while they are on shore leave, as sometimes it can get quite hectic onboard ship, making it more difficult to complete courses," says Mr Rozario. "With the Seagull online platform we have given them that option and we have had a very positive response so far."
Onboard training for officers and crew will increasingly be the only way of coming to terms with the volume of requirements demanded by new and...