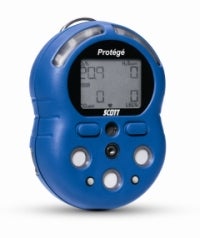 Scott Safety announces the introduction of the Protégé Multi-Gas Monitor- a technologically-advanced, feature-rich portable multi-gas monitor for industrial and fire applications. This easy-to-operate, easy-tomaintain gas monitor is tough and rugged for use in harsh environments, yet lightweight enough to make it ideal for everyday work activities for the detection of oxygen, combustibles, hydrogen sulphide and / or carbon monoxide.
"The Scott Protégé Multi-Gas Monitor is the most innovative, low-cost four gas monitor available today," says Charles Watkins, Scott's Petrochemical, Oil and Gas Marketing Manager, "We designed it with simple, but powerful features that are not available on any other personal gas detection instrument. The features of Protégé monitor are extensive and focus on user convenience and ease-of-use. Compact and ergonomically-designed, the Protégé monitor comfortably fits into the palm of the hand allowing for simple, intuitive operation. Because of this small, efficient design and simple two-button interface, users can easily operate all of its features with one hand. The overall profile of the Protégé monitor, with accessories, is smaller than most standard instruments without a pump.
Numerous alarm features are built into the Protégé monitor to warn for high gas levels and battery depletion. These features are presented via bright visual, piercing audible and vibrating tactile alarm indicators. All visual alarms and operational readouts are easily viewable on the instrument's large LCD screen with a convenient backlight.
Applications for the Protégé monitor are varied ranging from industrial, petrochemical, oil and gas, hazmat, and first responder emergencies. With its easily changeable sensors, the Protégé monitor can be configured in five different sensor combinations for use in multiple applications. It is perfectly suited for confined space applications when using the optional pump. Utilising the optional parasitic pump of the Protégé monitor does not require its own power supply because it draws power from the Protégé monitor lithium-ion battery. This feature helps to keep the instrument's profile small, especially when compared to other personal monitors. When configured with its optional pump, the Protégé is transformed from a personal gas monitor into a confined space monitor.
Mr. Watkins adds, "We concentrated on making the Protégé monitor feature-rich and rugged, while still keeping it user-friendly. Our intent was to manufacture a gas monitor that will be standard issue for any worker in various applications. We believe we achieved our goal with the Protégé Multi-Gas Monitor."
Scott Safety announces the introduction of the Protégé ZM Single Gas Monitor - a zero...