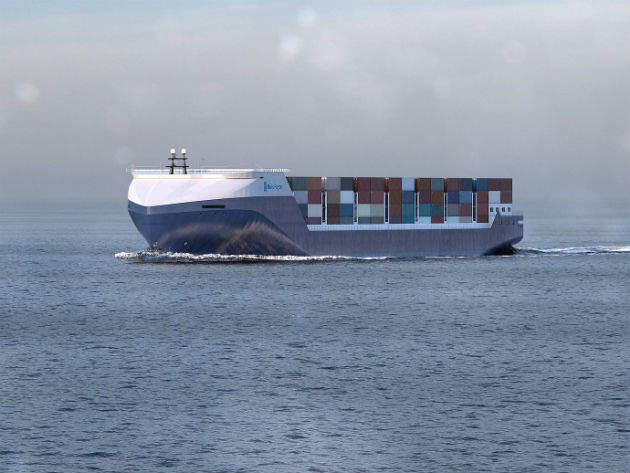 Could commercial autonomous cargo ships truly be navigating ocean shipping routes by 2030? As world trade expands, so does demand for shipping solutions, but in a market where competitiveness is increasingly difficult, with volatile fuel costs and strict environmental legislation, a feasible autonomous shipping solution requires the right combination and integration of technology, regulation changes and economic viability.
"My personal opinion is that 95% of the required sensor technology, algorithms and communication methods exist already today, and the major challenges are in systems integrations and process implementations," says Jouni Lehtinen, director of R&D at MacGregor's cargo handling division. "Vessels are full of equipment from various makers and together we need to find ways to handle emerging integration needs."
A synergy to bring autonomous ships to the seas
The recently signed MoU aims to explore the "impact of developments in autonomy for cargo ship navigation and cargo systems onboard container ships," and the partnership is geared towards discovering new systems, applications and processes to promote the journey towards autonomous container vessels.
"Rolls-Royce will bring to the table its extensive knowledge on machinery systems, ship design and remote and autonomous operations, and MacGregor's expertise lies in the cargo side and especially on loading and placement of cargo," says Liro Lindborg, general manager of remote and autonomous operations for Rolls-Royce.
Lehtinen says that his vision for entirely autonomous ships follows a gradual progression, which starts with smaller applications to eventually reach "full autonomy". He compares the development to what we see now in the automotive industry, "where parking pilots and adaptive cruise control systems are taking tasks step-by-step from the driver," and sees the increased knowledge within the industry about today's technological possibilities as the most important change – and the one that will bring the fully autonomous ship to the seas.
"Parking pilots and adaptive cruise control systems are taking tasks step-by-step from the driver."
Oskar Levander, vice president of innovation at Rolls-Royce, highlights the use of big data, advanced automation and smart applications as the technologies that will help operators to manage their ships more efficiently. "New sensoring technologies, object detection, advances in satellite communication, the Internet of Things, The Cloud and robotics technology – all present opportunities for ship owners and operators to manage their ships and their fleets more efficiently, effectively and safely," he says.
"Ships will be more closely integrated into the supply chains of the customers whose goods they are transporting, and services and schedules will be optimised to provide the most cost-effective service," he continues, adding that customers using smaller, more standardised ships with reduced or no crews will be able to offer more flexible point-to-point services.
With the Internet of Things enabling the monitoring and trading of capacity online, Levander believes the real value can be provided to the customer through an alternative model of "low-cost smart shipping" – which is also used to describe the company's 'Electric Blue' concept ship. Electric Blue maximises cargo carrying capacity and could be autonomously operated in the future, reducing risk for ship owners who need to procure vessels in a rapidly changing industry.
The world's first autonomous, zero emission ship
Maritime technology company Kongsberg has been working on its own concept for autonomous solutions within the short sea segment on a vessel called the YARA Birkeland. Developed with global fertiliser company YARA, it is a 100-150 twenty-foot equivalent unit (TEU) open top container vessel and the world's first zero emission, autonomous container feeder.
For Kongsberg, the technology developments for batteries and sensors used in automotive applications have been significant enablers of the concept. "Advances within the areas of sensor fusion, perception and cognition contribute to enable maritime utilisation as well," says Gunvor Hatling Midtbø, vice president of communications at Kongsberg.
The YARA Birkeland will have an operational radius of 65 nautical miles (nm) and is part of the Norwegian Green Coastal Programme looking at concepts requiring 100nm. For now, though, it is still a concept, and for some time Midtbø says the team have been looking for a "real" vessel that can provide a platform for the integration of their technology.
"There are still some obstacles for YARA to overcome before contracting the vessel," he explains, adding that despite this, the intention is to have a manually operated vessel sailing in 2018, which will be remotely operated in 2019, and able to sail unmanned and autonomously in 2020.
The regulations risk
Midtbø believes that there will be commercial remote-controlled – but not necessarily unmanned – ships sailing the high seas as soon as the International Maritime Organization (IMO) can agree on common regulations. While the authorities and government have been fully supportive of the YARA Birkeland, Midtbø cites rules and regulations to be the largest risk for fulfilling the concept vision within the estimated time frame.
"We guess that the development within short sea shipping will contribute to convince IMO that this is a safe way to go," he says. "IMO regulations in place within 2030 seems to be obtainable."
The IMO says that there have yet to be any developments regarding regulation and liability that could bring the first voyage of an autonomous ship to reality. However, such developments are expected to start happening later this year.
"The Maritime Safety Committee meeting in June will consider proposals for the Committee to undertake a 'regulatory scoping exercise' to determine how the safe, secure and environmentally sound operation of Maritime Autonomous Surface Ships (MASS) may be introduced in IMO instruments," says Natasha Brown, communication officer at the IMO. Once this exercise has been carried out, Brown says they may then be in a position to give more information from the regulatory side.
For remote and autonomous shipping to become a reality, efforts are needed at all regulatory levels. "The legal challenges of constructing and operating a demonstration vessel at a national level need to be explored, while simultaneously considering appropriate rules changes at the IMO," says Levander. "Legislation can be changed if there is the political will."
The world's first test area for autonomous ships
Rolls-Royce is a member of the Norwegian Forum for Autonomous Ships (NFAS), which is supported by the Norwegian Maritime Authority (NMA), the Norwegian Coastal Administration (NCA), the Federation of Norwegian Industries and the Norwegian Marine Technology Research Institute (Marintek). The forum's goals are developing strategies with and strengthening cooperation between the various parties involved, from researchers to users, authorities and national and international stakeholders.
"Norwegian authorities (NMA & Coastal Administration) have shown their ability to be very cooperative and supportive of our initiative."
An aspect of this initiative (as part of an agreement signed by the NMA and the NCA) has led to the creation of a designated test area for autonomous ships in the Trondheim Fjord, the first of its kind in the world. The initiative involves the Norwegian University of Science and Technology (NTNU), Kongsberg Seatex, Kongsberg Maritime, Marintek, Rolls-Royce and Maritime Robotics.
"Norwegian authorities (NMA & Coastal Administration) have shown their ability to be very cooperative and supportive of our initiative," says Midtbø. "To achieve the goal of having an autonomous vessel sailing in Norway within three years' time, both are teaming up with highly competent personnel, from the design of the vessel, via testing to complete operating vessel."
Commercially optimised ships vital to autonomous shipping success
In terms of when autonomous ships will be a reality, Levander says he envisages there being a remotely operated vessel in local waters by 2020. By 2025 he believes they will have a remotely and autonomously operated vessel at open sea, and five years after that he expects them to be a common sight on the ocean. "Tugs, along with road ferries, are likely to be one of the first places we will see the commercial use of remotely operated and autonomous vessels," he says.
Lehtinen also believes that remotely operated vessels will be a reality by the end of the decade in certain limited applications and coastal areas. "But whether these vessels will be with reduced crew or completely without crew is highly dependent on regulatory issues, and vessel type and purpose," he says.
But overall, adds Lehtinen, these types of predictions are of little use.
"Reduced crew cost will not pay back the required investments, at least in the short term," he explains, adding that what is needed is the simultaneous increase in the overall efficiency of operations. "We need to take care that future container vessels are not just more autonomous, but can also carry the maximum amount of containers in an efficient way."
He continues: "The most important question is: when will we see the first commercially driven and successful application that is based on actual business value, instead of research purposes or a national or company level demonstration?"